"Facebook banner for 'The Coalition to End Sheriff Violence in Los Angeles Jails'" Graphic Design by: Street Inc Media
By Matthew Morowitz
On March 9, 2013, "Freedom Harvest Presents: #RISEOFTHEDANDELIONS" premiered at the Pieter Performance Space.  Spearheaded by Patrisse Cullors and her coalition, The Coalition to End Sheriff Violence in Los Angeles Jails, this piece was created in response to the excessive force and brutality by the L.A. County Sheriff's Department (LASD).  The Coalition, on the other hand, is:
"…a grassroots multiracial organization bringing together community organizations, health providers, clergy, attorneys, community residents, friends and families and survivors of the brutality inside L.A. jails to fight for real accountability. We are proposing a People's Civilian Review Board comprised wholly of citizens that has subpoena power, where citizen complaints are reviewed and investigated, and recommendations for disciplinary or policy action are made by the board."
Patrisse's Story
 "Patrisse Cullors at iMAP Visiting Artist Lecture Series," spring 2013.  Video courtesy of Veronica Paredes.
Patrisse founded the Coalition as a result of her family's firsthand experience with violence at the hands of the LASD.  Thirteen years ago, when Patrisse was sixteen years old, he brother was incarcerated by the LASD and brutally assaulted by sheriff's deputies.  During his incarceration, Patrisse's brother was:
"…beaten so badly that he blacked out and when he awoke he was in a pool of his own blood.  He was then handcuffed to a bedpost by deputies, he was denied a cot to sleep on, he was denied a blanket, he was stripped naked, they had sent him to the hospital because he had a concussion, [but] the sheriffs told him to tell [the hospital] that he did not want to stay so he did not get proper medical treatment."
When Patrisse's mother attempted to visit her brother, she was consistently denied access and had no idea what was happening to him.  By the time she was able to make contact, he was "completely emaciated and they had dressed him up on psychotropic drugs because my brother had basically lost it, [as] he was up for 5 days."
This incident changed Patrisse's entire family's life, and to this day her brother is still dealing with the effects of his abuse:
"My brother was diagnosed with schizophrenia because of this incident.  We can't completely prove that it's from the abuse in the county jail, [even though] he did receive a major head injury, but there is a lot of evidence that TBI, traumatic brain injury, often results in mood disorders and psychosis."
"Stained"
"STAINED(performance art piece)- Patrisse Cullors"  Video courtesy of Maxwell Addae Johnson.
In January of 2012, the LASD was under investigation both by the Citizen's Commission on Jail Violence and the ACLU, the latter formally pressing charges on the department for excessive force.  Utilizing the ACLU complaint from this investigation, which consisted of inmate and civilian eyewitnesses recounting what they had either gone through or witnessed, Patrisse decided to stage an art piece.
The piece, titled "Stained: An Intimate Portrayal of State Violence," was directed and produced by Patrisse, and co-produced by Noni Limar; the performance involved Patrisse and four other performers and the 86 page complaint that was evidence in the investigation, as well as the documentation of her brother's own account of abuse at the hands of the LASD: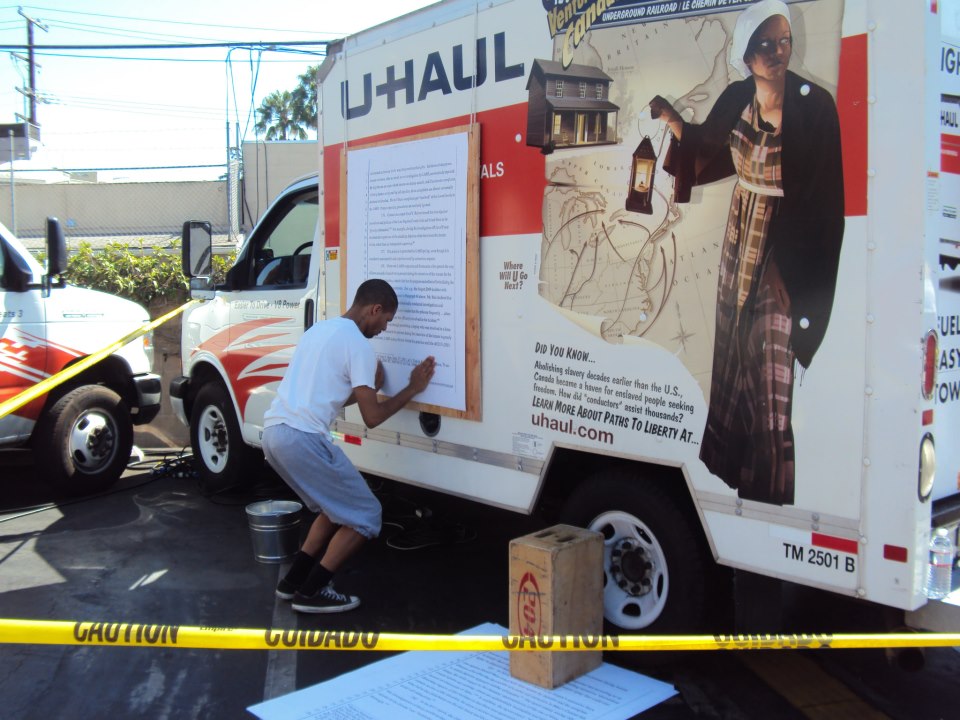 "Stained" Image courtesy of Stained: A Freedom Portals Production Facebook page.
"…basically, I blow up the 86 page document and I have four performers and they're repasting the document on boards, on blackboards, and the performers are blocked off by caution tape and there is an audio overlay while they're repasting, which is me.  My mother documented everything my brother went through and so I am reading all the documents, with no emotion, cold, reading all the numbers she ever called, all the people she ever tried to get ahold of, and so you're hearing the audio overlay and reading the actual complaint while the performers are repasting.  Every 5-6 pages, each performer comes out and they do some sort of physical activity until fail; one performer is doing burpees until fail, another performer is jumping until fail, another performer is laughing until they're crying, crying until they're laughing and another performer is pacing back and forth.  This goes on over and over again until the repasting is done."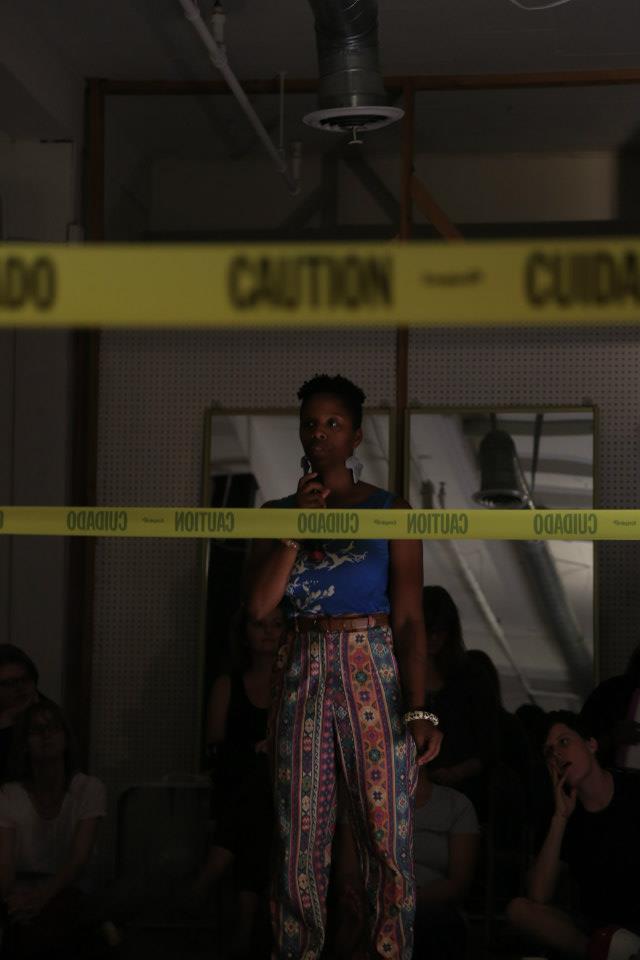 "Stained" Image courtesy of Channing Martinez.
This piece toured from January 2012 and all of last year until December, and was described by Patrisse as having "birthed everything."  Around June, many of Patrisse's colleagues were asking her, "what are we gonna do next?" As this was, and still is, an issue happening in L.A., Patrisse wanted to do something more with it, but outside of just launching a new piece that would draw public anger towards it.  Having worked as a community organizer in L.A. for the past 11 years, receiving her training from the Labor Community Strategy Center, Patrisse decided to start the Coalition as no other organization is specifically working on this issue of violence inside the county jails.
The Coalition creates dialogues
"Coalition Members Representing!" Image courtesy of End Sheriff Violence in L.A. County jails Facebook page.
The Coalition was started very quickly but also quickly gained a lot of support from county board supervisors, being officially endorsed by one of the county board of defenders, and was involved in multiple press conferences, multiple protests, and gained a lot of news coverage.  However, despite the coverage that the Coalition was receiving, Patrisse wanted to reframe the conversation around the scope of violence that was happening in and around the county jails:
"The history of violence has been reoccurring with the county sheriffs, and I really wanted to develop art that looked at the issue of violence and incarceration, not just any violence, state violence, violence that is perpetuated by the state, and also [explore] what's the breath of fresh air, what's the hope in this?"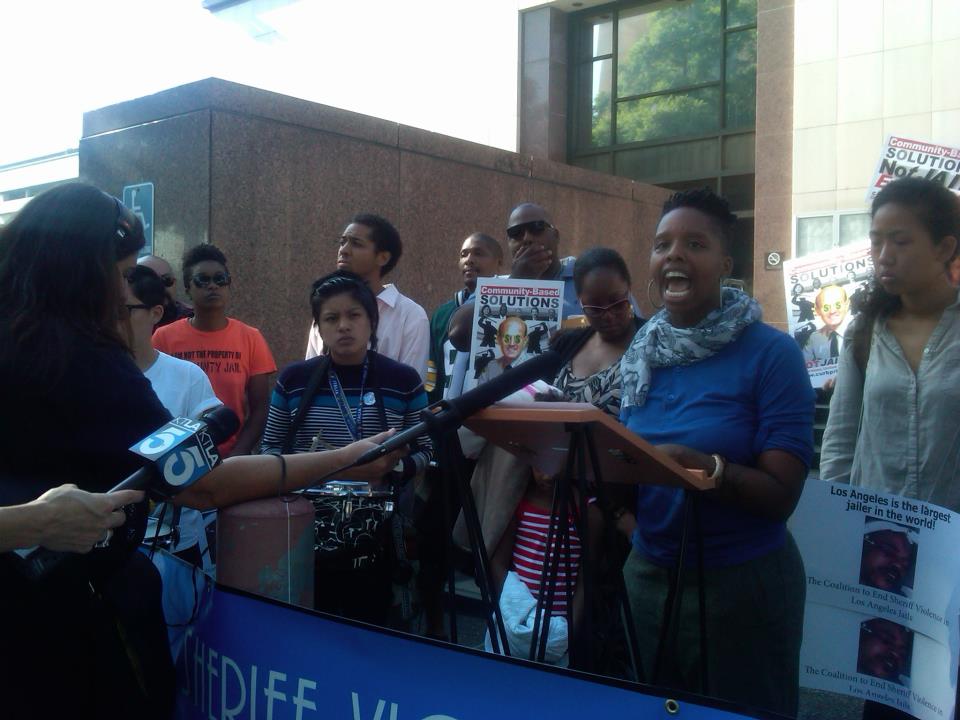 "Leader Patrisse Cullors speaking at press conference." Image courtesy of End Sheriff Violence in L.A. County jails Facebook page.
Patrisse's brother's story, although horrifying is not unique.  Stories such as his have regularly surfaced in and around L.A. county since the 60s and 70s, many recounting other horrifying treatments, such as sheriffs carving into inmates, as well sheriffs running their own gangs of deputies inside the jails and around the county.  As the LASD is in charge of security in all of L.A. County, it is unnerving to many of the inhabitants to know that the same individuals who oversee and protect public institutions, such as museums and parks and recreations, could also become potential abusers if they find themselves in the wrong situation.  On top of that, the areas around the jails are lonely and intimidating, offering no kinds of support or outreach to the families of the incarcerated, especially when they go there to visit their loved ones.
Racial justice has also been another big part of Patrisse's efforts, as many of the civil and human rights violations that happen in L.A. County jails has a large impact on marginalized communities who are mostly black and brown and reinforces negative perceptions and sentiments of them; these perceptions are only further reinforced when related to the issue of incarceration.  Currently, out of the 2.3 million people incarcerated in the U.S. jails and prisons now, about 1 million are Black and 500,000 are Latino.  The unfortunate reality of the situation for everyone, the incarcerated, families, and the inhabitants themselves, only furthered Patrisse's resolve to create something that not only drew light to the issue but set out alternatives to help change the system for the people who are effected by it: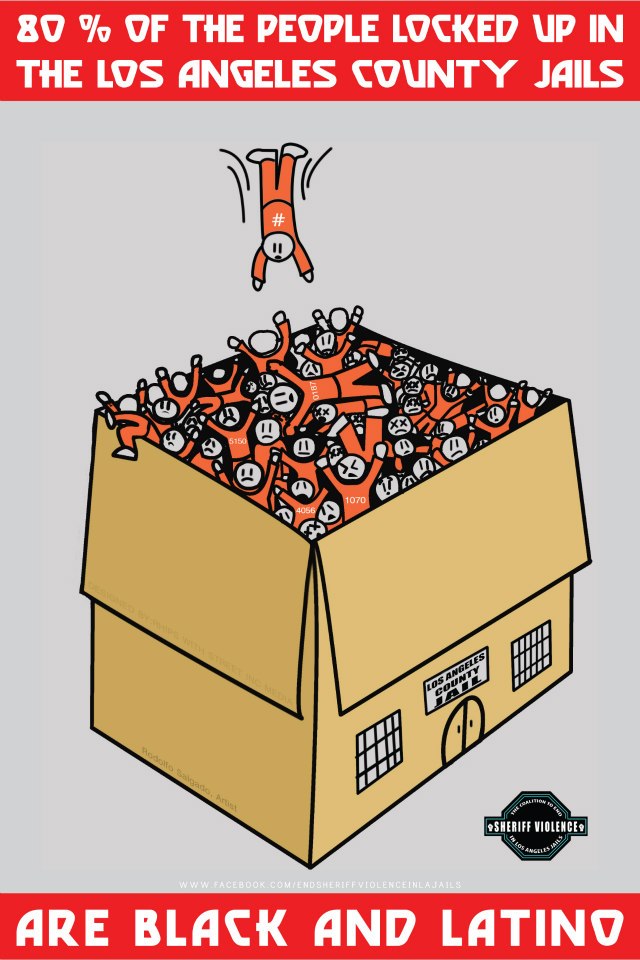 Image courtesy of End Sheriff Violence in L.A. County jails facebook page.
"We had a lot of pain around this issue and there was never really any sort of hope or light at the end of the tunnel; sometimes that will come from the powers that be, sometimes the community itself.  Going down to the county jails is depressing; there is nobody outside the jails except bail-bonds people and the people going to visit their loved ones, and often times people going to visit their loved ones were distraught, it's a pain to go through it alone.  We started going outside of the jails organizing, we'd go outside of the jails twice a month and we'd pass out fliers to passing people.  I was like 'maybe we should start doing art?  Do some sort of workshop outside the jails? No one's doing anything.'"
We Rise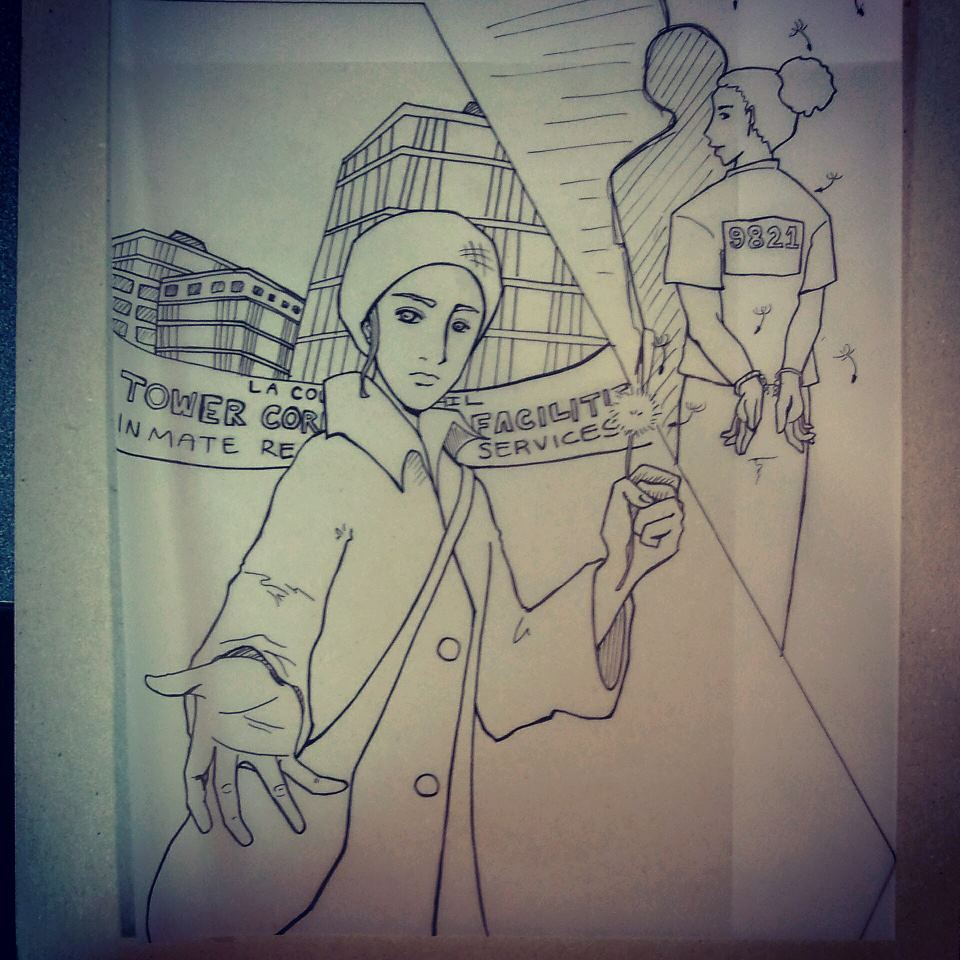 "#endsheriffviolence" Image courtesy of End Sheriff Violence in L.A. County jails facebook page.
Alongside being an experienced community organizer, Patrisse has received formal training in dance and theater, having been mentored by Augusto Boal, the late founder of the Theater of the Oppressed.  Keeping in mind her own background, Patrisse gathered together a crew of local artists who she also knew had community-organizing experience within L.A. County in order to brainstorm a piece:
"I really wanted a group of people who are also in the community, thinking about the community, and our relationships to the community and are part of the community.  I brought together a team and I said, 'I want an artist group that is talking about state violence and mass incarceration, and really focusing on those issues, and I want us to have a symbol that is about hope.'"
Along with Patrisse, this group also included Gonji Lee, Shruti Purkayastha, Jasmine Wade, and Jermond Davis.  During their first meeting, the group was doing some theater of the oppressed around the questions "what do you want to see? What do you think of when you think of people incarcerated?" that Patrisse had put forth, when one of the members, Gonji Lee: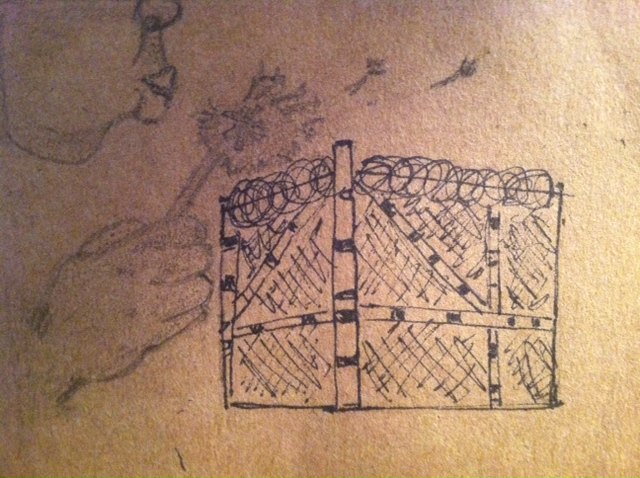 "We are more than just a booking number.  life and breath always wins." Image courtesy of End Sheriff Violence in L.A. County jails Facebook page.
"…kind of whisked their hair, everything was silent, and blew out in their hand and all of us kind of took a deep breath and we sat down and we said 'what was that?' and she said 'it was the image of a dandelion' and almost immediately the group just kind of like screamed 'that's our image!'"
After the decision had been made, the group began researching the dandelion, and the more they learned about it, the stronger their commitment to using it as an image became:
"Our first meeting and we looked up the dandelion, did all this kind of research on the dandelion, and we started to find out about the dandelion and we all know it's a weed and many of us who grew up in the hood, in ghetto neighborhoods, the dandelion grows in all of our neighborhoods, it's the one flower that we have, it's the one image we have.  The dandelion is kind of seen as abused, people will kick it up in their yard when they see it grow in their garden, but the few things that happen with the dandelion, you try to uproot it and it gets stronger, so it grows deeper.  That's one and we thought that was a powerful image for us, even if you try and beat us and uproot us, we will get stronger, we will survive.  The other part is that it's medicinal, the leaves are really powerful, the leaves are really powerful medicine, there's a lot of research on its ability to act as a preventative aid towards cancer, around it ending cancer, it has a lot of healing properties."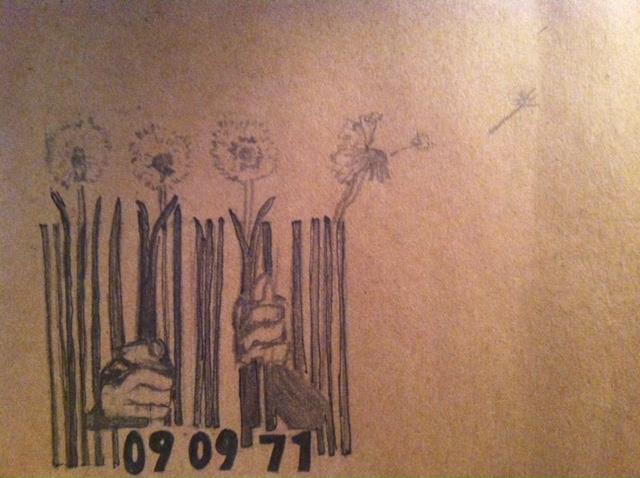 "We are more than just a booking number.  life and breath always wins." Image courtesy of End Sheriff Violence in L.A. County jails Facebook page.
After reaching out this new symbol to their fans and supporters over the End Sheriff Violence in L.A. Jails Facebook page, by their second meeting the group amassed a collection of images, blurbs, and poems about the dandelion and what it meant to all of these individuals; from there they came up with the name "Freedom Harvest Presents: #RISEOFTHEDANDELIONS" for this new piece.  With the title decided on and a plethora of reference material, Patrisse had no trouble figuring out what direction she wanted the piece to take:
"We understood that we wanted to see ourselves like a crew that's planting the seeds of freedom, and the dandelion is our symbol for that, and we decided that we wanted to do a big show.  We wanted to have a show be two art installations: one that focused on family and the impacts of incarceration on family, and another installation that focused on our ancestors, where we come from."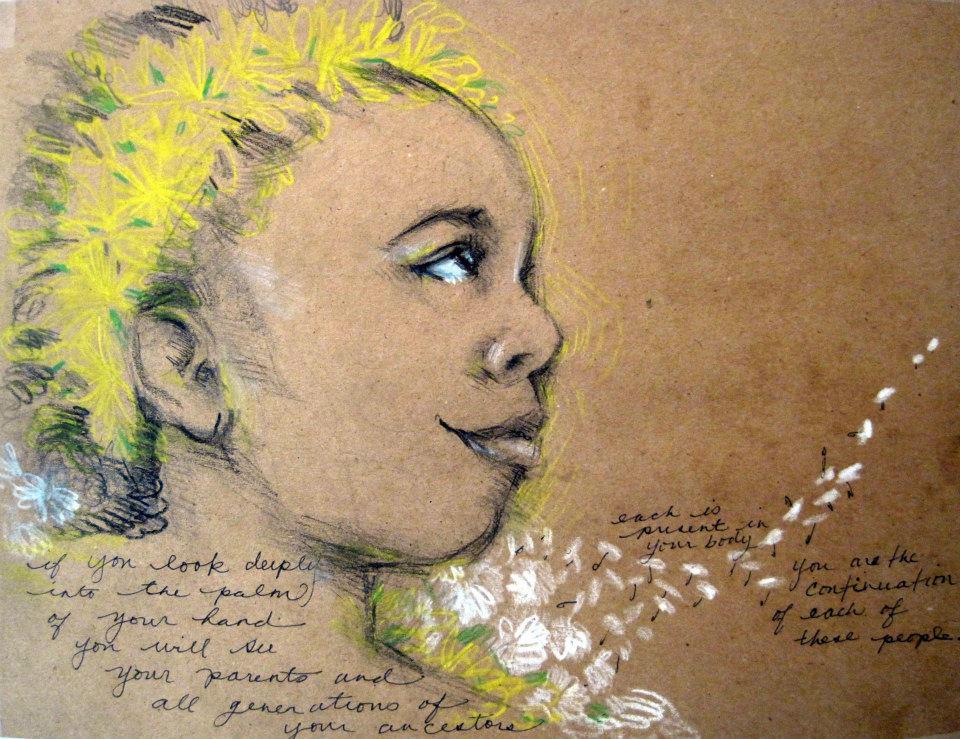 "we are all motivated to see our communities heal. #riseofthedandelion #endsheriffviolence"  Image courtesy of End Sheriff Violence in L.A. County jails Facebook page.
This focus on ancestors, especially earlier relatives who would have been subjected to this type of state violence, was not only a way to further highlight the history of abuse and racial profiling surrounding the LASD, but also a way to identify with those earlier family members and individuals who were part of the Civil Rights movement.  By doing so, the collective is hoping to look back on history in order to help find strategies and solutions to combat this present issue:
"Right now in history, a lot of us all we see is kind of the trauma and effects of state violence and incarceration, but there's this time before this, what did our ancestors do? How did they deal with these issues of state violence, and how did they deal with all the issues they had to face during the civil rights movement? What did they do?"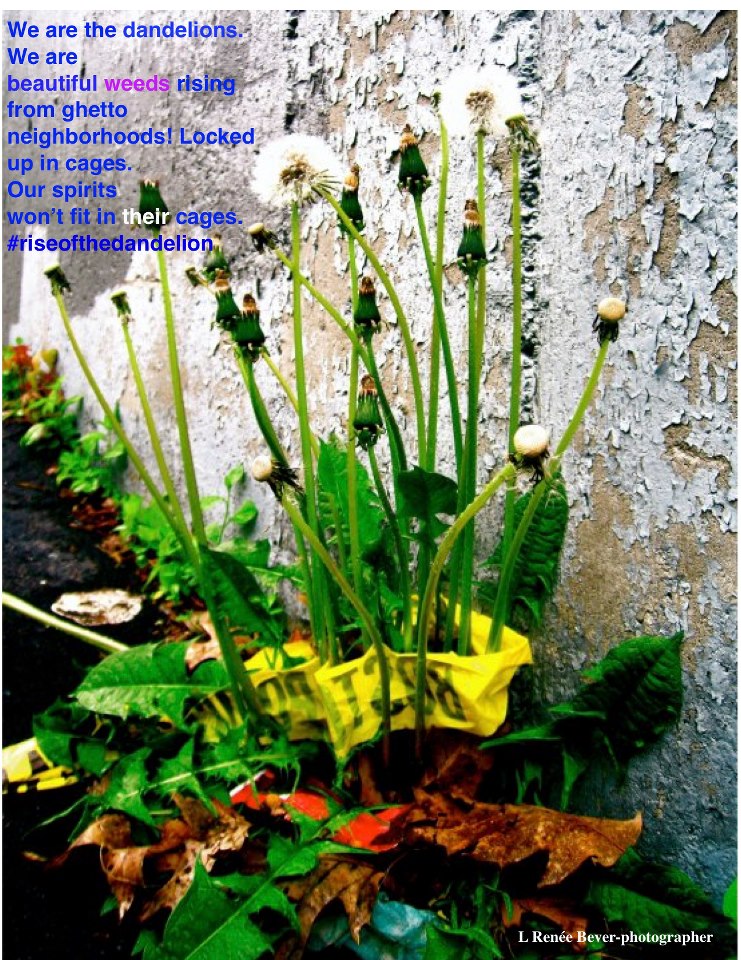 "#freedomportals" Image courtesy of L. Renée Bever.
"Freedom Harvest"
Patrisse and her group began curating the work and collaborating with a bunch of artists across L.A., including videographer Anthony Brown with "Gabriel's Eye Photography," who came all the way from Atlanta, Georgia to record and create a video of the event.  On March 9th, 2013 "Freedom Harvest Presents: #RISEOFTHEDANDELIONS" premiered at the Pieter Performance Space, exhibiting live installation and visual and performance art using the image of the dandelion as a symbol for helping to create communities to fight for the freedom of the abused in the L.A. County jails, as well as to fight the culture of violence that exists within these jails and the LASD.  The artists/performers/installers for #RISEOFTHEDANDELIONS includes Darryl King, Ana Ruth Castillo, Mark-Anthony Johnson, Damon Turner (aka Real8), Andres Rivera, Haewon Asfaw, Almas Fatima, Rey Fukuda, Diana Flores, Melo Lemus, Eden Jeffries, Kelly Archbold, Three Olivas Breazell, and Christine Wang.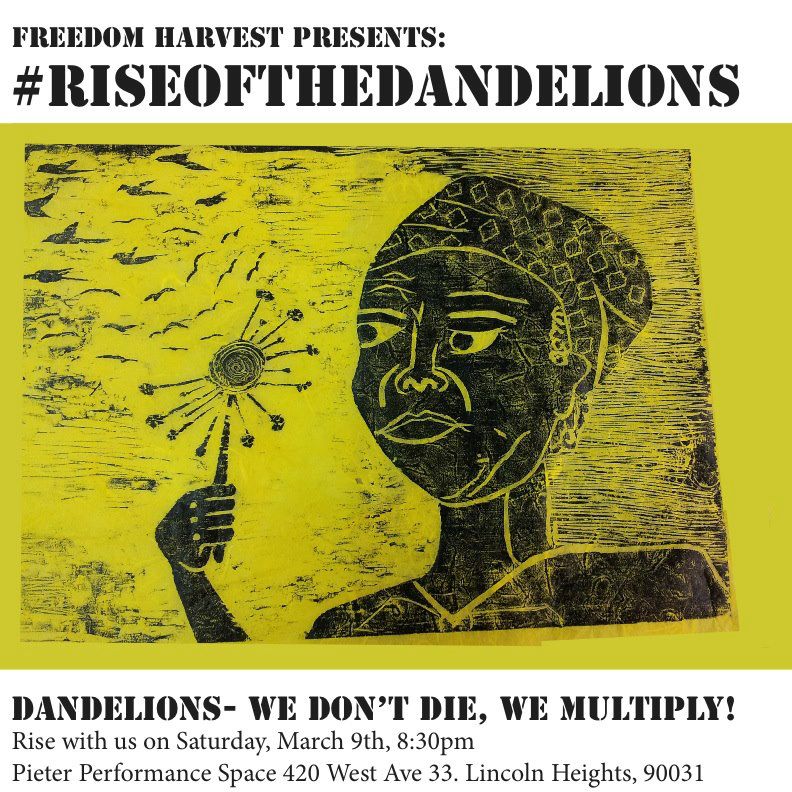 "#RISEOFTHEDANDELIONS poster" Image courtesy of Kitzia Esteva.
Two goals came out of this event: the first is that at some point this piece will be installed in front of of the L.A. County jail itself.  The second goal, which is much more long term, is that "#RISEOFTHEDANDELIONS" will not only be performed all across L.A. County, but that video of it and a blurb about it will be sent out nationally.  The hope is that the piece will be linked up with artists across the country, who in turn will build their own "#RISEOFTHEDANDELIONS" teams and install works related to this theme inside local gallery spaces and, eventually, outside of their own county jails.
For Patrisse, "Freedom Harvest" is also as much against the violence in L.A County jails as well as a commentary on this country's relationship to slavery, prisons, and racism towards Black Americans that still exists:
"I believe that the issues around mass incarceration come from a history of racism inside this country, specifically racism that responds to blackness with hatred and violence. So, the Freedom Harvest crew although not ALL black is a black centered movement. Believing that if we as a country deal with anti-black sentiment we will be dealing with a whole lot of other issues. Freedom Harvest is a commentary on this countries relationship to slavery, prisons, and cages."
"Stop Abuse in LA County Jails!" Video courtesy of Brave New Foundation.
The Coalition has thirteen community partners all across L.A. County, as well as many other supporters.  Both the Coalition and "#RISEOFTHEDANDELIONS" are deeply collaborative and the latter has been working with Damon Turner, founder of the group, "G.R.E.E.D.Y. City," which stands for "Generation Righteously Enduring to Eradicate Dying Young" and explores mass incarceration and state violence through the mediums of hip hop and spoken word.  They have also been collaborating with the group "Beats, Frames, and Life," which is led by Giovanni Solis and Ashley Blakeney.  For more information on the Coalition to End Sheriff Violence in L.A. Jails, be sure to check out their website and Facebook page, as well as follow their activities on their WordPress, or send them an email at endsheriffviolence@gmail.com.  Follow them on Twitter as well, @PowerDignity and #endsheriffviolence, and to join the conversation with "Freedom Harvest" use #riseofthedandelions and #freedomportals.