by Chelsea Keys
VDREY is a French, multimedia artist. Schultz is an electronic musician. The two dynamic personalities began collaborating in 2006 and have performed throughout Europe. White Blood Cells, their latest work, involves red ballons, live, harsh, industrial music, red paint, blank white canvases and video of microscopic white blood cells. I contacted Schultz over email for an interview about their experimental new work.

Video streaming by Ustream: White Blood Cells- VDREY feat. Schultz
AiOP: What are the themes you explore in your work White Blood Cells?
Schultz: White Blood Cells is our second work on the themes of transparancy and dominance. Here, the dominant color is white. This work combines video, painting, music and dance. There is a video projected onto a large, white canvas which is used for painting and for displaying the video. Because of what is on the ground, VDREY is totally immersed in the video which then forms a kind of constantly changing scenery.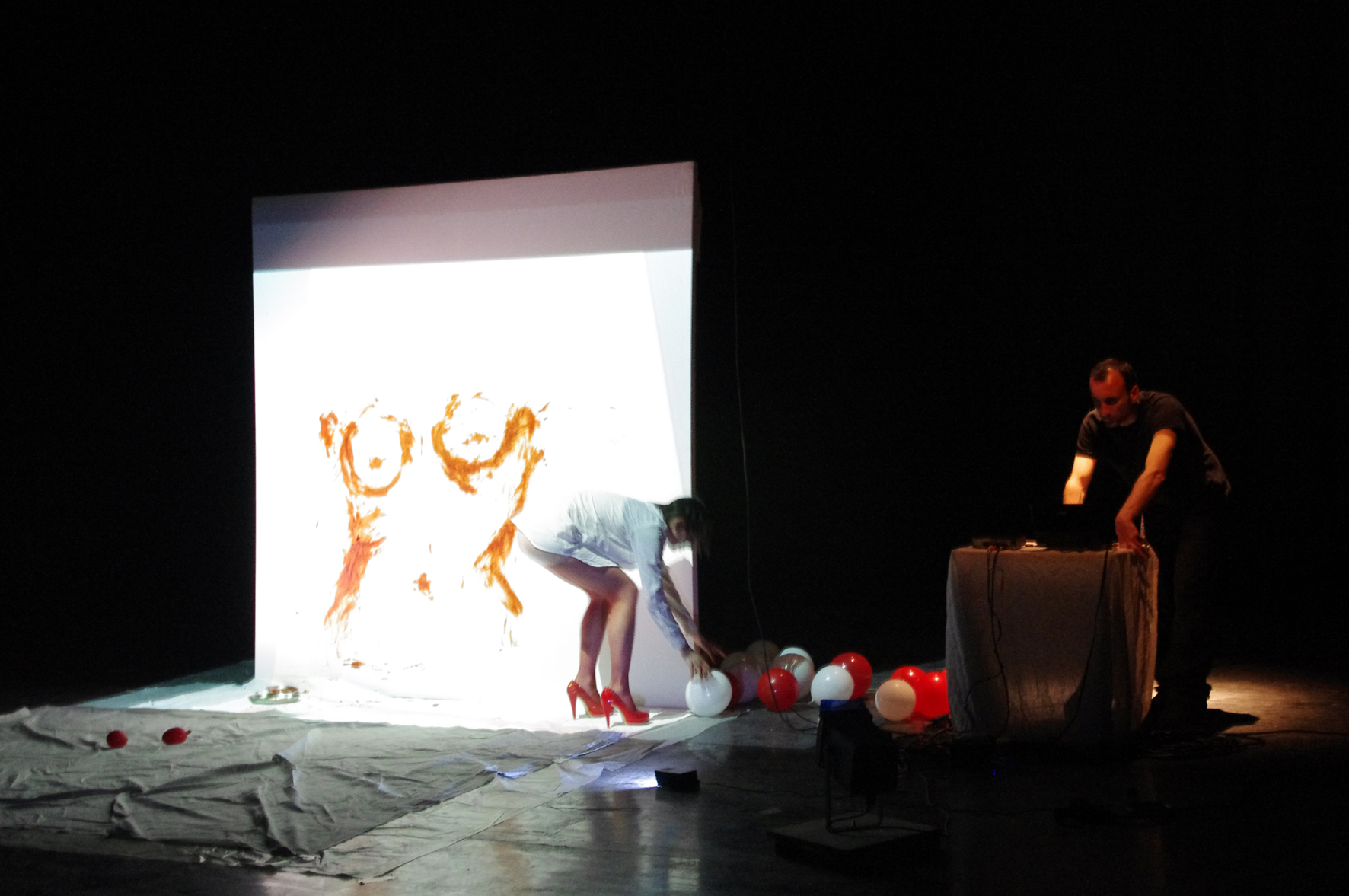 AiOP: What and who is the inspiration behind your work?
Schultz: Our inspiration comes from everything around us, moments that we live or will live. The painting part of this performance reflects a given time. It is unreflective and immediate. VDREY is influenced by expressionist art, her grandfather, cinema of the 70's and all kinds of music.
AiOP: Tell me a little bit about the music. How does the music affect the performance and what was the inspiration or intended theme behind the music?
Schultz: The music is there to give a bigger performance value. It is cohesive with the performance and it is a full part of it. When the subject of the performance is found, we think of music at the same time. I (Schultz) make music and propose it to VDREY to make sure we are going in the same direction. Of course, if one of us doesn't agree we talk about it, and rework it.
AiOP: How much of your work is staged/choreographed and how much is improvised? How much planning is put into a live, interpretive performance?
Schultz: The video and the music are not improvised so there is a guideline set for the rest of the performance. However, in order to offer different performances each time we do it, we use samples that are added based on the live music to create something new and unique to that specific performance.
Painting, dancing and staging in general are totally improvised. It really depends on the mood of the moment, what we have lived before the performance and during the journey. This is why each performance is unique. For my part, with the music, I never know what VDREY will do when we go on stage.
AiOP: Talk about your use of props, here the red balloons. How do they add to your performance?
Schultz: We mix several medias to create a different performance every time. Video and music are a basic.
In White Blood Cells, we use red balloons which symbolize red blood cells. By the end of the performance, the balloons are gone meaning that the red blood cells are gone. The red is a given color palette for VDREY as a painter. Sometimes there is a ball is there, waiting to be used. The audience wonders what VDREY will serve, but in the end, it is not used.
We like having several elements, colors and accessories so as to not be limited in creation.
AiOP: Who is the intended audience for you work?
Schultz: We think our work is for everyone when the public has an open mind. It is certain that our work can sometimes shock and surprise. All people watching our work have different reactions. We have seen people surprised and taken aback and others who left the room. Those who left the room misunderstood the work, we think.
We have performed at many different places and events. From parties with people we know to music festivals to contemporary arts festivals. We have performed for 10 people and for hundreds.
AiOP: Do you ever see yourself performing in public spaces?
Schultz: We have never worked in public places, but we think it could be very interesting. We constantly work with the constraint of specific location. We have to adjust our work and find an approach that works with our ideal. We have had some interesting experiences with adjusting our work to fit a space. For instance, a few years ago we had a performance in a nuclear fallout shelter in Latvia. It was an experience as bizarre as it was unforgettable.
AiOP: Do you have any new projects in the works?
Schultz: We always have works in progress. We try new ideas and materials when we have the opportunity.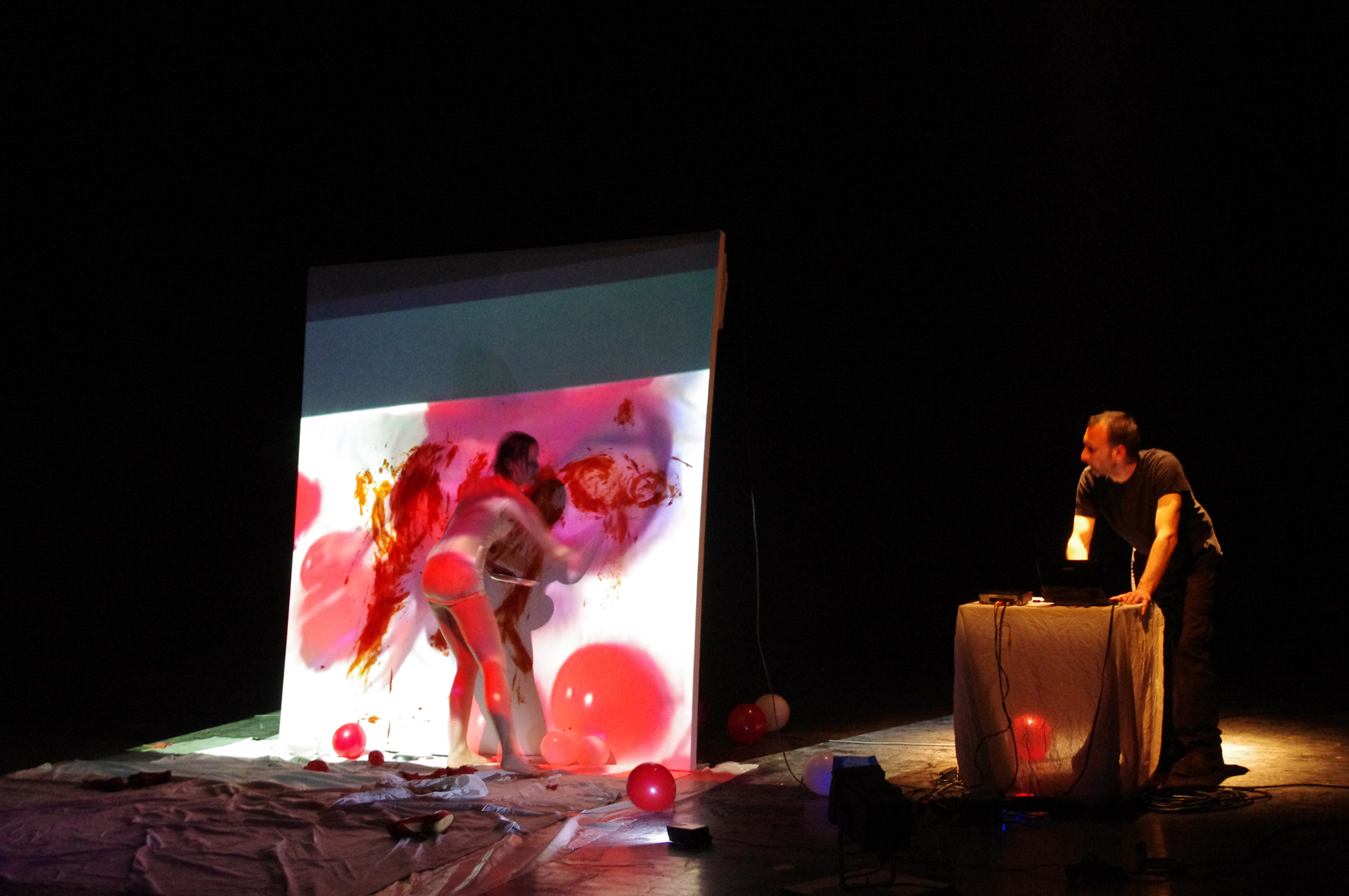 AiOP: Anything else you would like to say?
Schultz: We are always seeking places and opportunities to perform in the US so please contact us if you know of anything! Thank you for the interview.
Check out more of VDREY and Schultz and their experimental, innovative and haunting work.