How was this public space experience similar or different to your earlier ones?

I participated in AiOP 2012: Model. I enjoyed the project performing in public space so much I reapplied, and was accepted for, the 2013 festival with a new project, "Human Cannonball Countdown" I engaged with the public as a human cannonball sans cannon.
This new project was different in that I presented more of a spectacle through costuming and engaging with architectural elements found on the street. I have twenty colorful capes made by a dairy farmer in Michigan who makes doll clothing (and now capes) on the side. I wore a cape, tall boots, a sparkly gold crash helmet and dark aviator glasses. I sauntered, posed, modeled, clung to poles and lay prone on the edge of the sidewalk, on newspaper kiosks, crosswalk light boxes, walls, or post boxes in a flying position emulating the stance of a human cannonball flying through the air. A fantastic take on the archetypal fool or village idiot, the roving performance project invited people to consider the use of public space, to face the unexpected in mundane ways, and, together, to transform public space into an adventurous playground.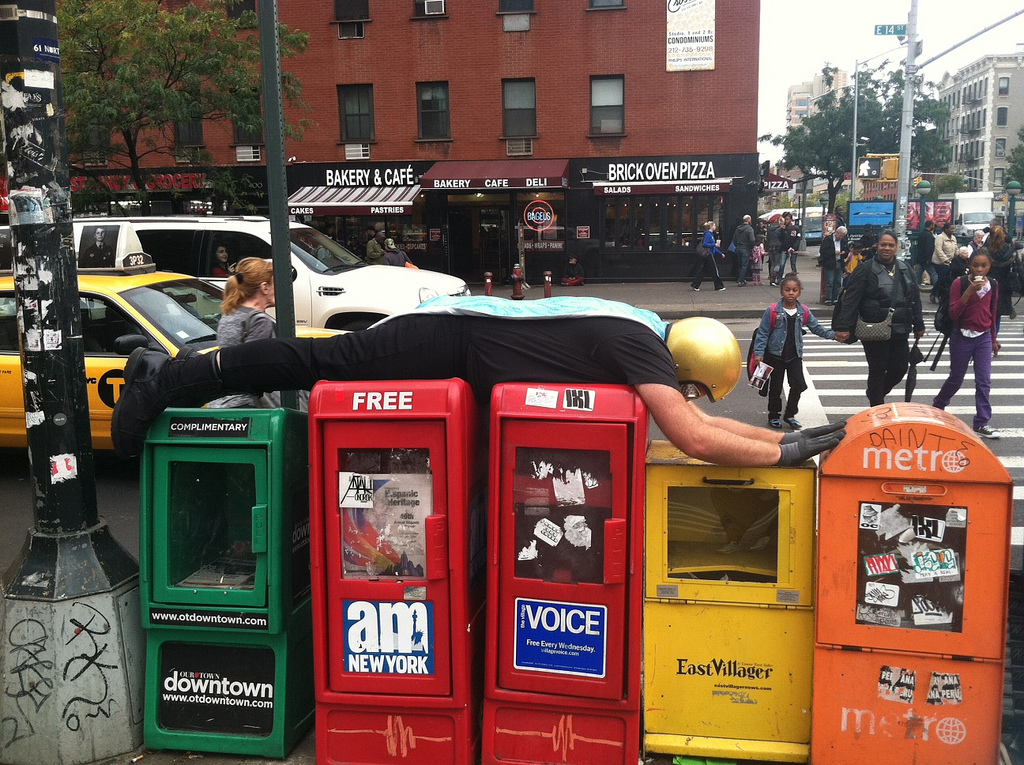 "Human Cannonball Countdown." Photographer: Amy Lord.
14th Street is AiOP's biggest collaborator – both as an ally and as a competitor.  How did you adapt your work to the location?

14th Street became a collaborator as I adapted to the elements and people on the street. I asked people to carry – and thus propel – me across the street as if shooting out from a cannon. I carried people, sat on laps, rode skateboards on my stomach, and invited people to stand on my back as I lay on the ground.
I found ways to engage with elements of public space that have a specific function but are otherwise typically overlooked. For example, I climbed and posed atop a fire hydrant, cape flying in the wind. I stood or lounged on the edges of columns, ledges, fences, post boxes, water hose connectors attached to building walls, benches, and so on.
Was there one memorable moment?  
My favorite activity was when I climbed on top of green box on a cross walk light pole, lay on my stomach with my arms out as if flying. Passersby would do a double take and then smile when they saw more closely what I was doing.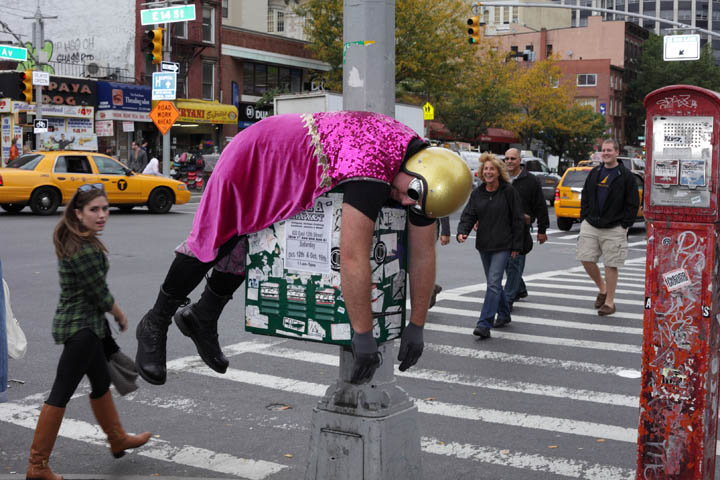 "Human Cannonball Countdown." Photographer: Enrique Ortiz.
Do you have an association between number and place to add to our numerologies?

The idea was that I would count down from 5 to "blastoff" to various acts. I think the idea of counting down can propel us to acts of bravery, audacity or fun.
What was the oddest experience or the greatest surprise?

On Thursday, October 16th, 2013 at 1:15PM, towards the end of my performance that day, I was harassed by the NYPD and taken to Bellevue Hospital in handcuffs. Even though ten minutes prior to their assault, I had given these particular officers a flyer about the festival, their second approach was violent and abusive. They grabbed and pushed and yelled at me from the start of this second interaction. There was no opportunity to explain or demonstrate to them that I was harmless and not out of my mind. They handcuffed me in my costume. I was wearing my purple silk charmeuse cape, which has a frilly, lilac collar, lined with large purple, black and magenta polka dotted fabric handcuffed on the corner of 6th Avenue and 14th Street, another kind of spectacle. I was alone this last hour. Normally (as recommended by AiOP) I had a volunteer docent with me to pass out festival cards and programs. I had no advocate with me and passersby were more interested in taking photos and laughing than being of any help despite my pleas for assistance or at least to email photos to me.
A bit after 2:00PM (my scheduled finish time) they put me in an 18-passenger van, handcuffed and took me to Bellevue Psychiatric Hospital emergency room, handcuffed, still in my entire getup. There, I was interviewed and examined (including an EKG and drawing of blood) and released. Later I got a $1600 bill from the hospital, which I am disputing.
AiOP recommends artists "know their rights" if stopped by the NYPD. This is a good idea.
That was an unnerving experience but you continued with your performance the next day. Why? And how were you able to summon the courage/nerve?
I had a commitment to do the project so I did it. I didn't think of canceling. The incident happened on a Thursday, I had Friday off and then two more performances scheduled for the weekend. I think having that day off to rest and recuperate was helpful (if it had been the next day out there who knows what I would have done).  I was clear that I didn't "want" to continue but I was committed. I have learned from past experiences that my head will say "no!" when I am confronted by fear, so I have learned to act according to my commitments rather than my feelings in such times.  In this case, I do think past experiences of being confronted by fear but taking action anyway supported me. For example, I worked on a project where I moved to rural West Virginia for six months to research a violent murder even though my fundraising did not go as planned and I had no idea how I would accomplish what I was setting out to do. I was terrified but committed, and I did it.  These types of experiences supported me in just moving forward, period, no question.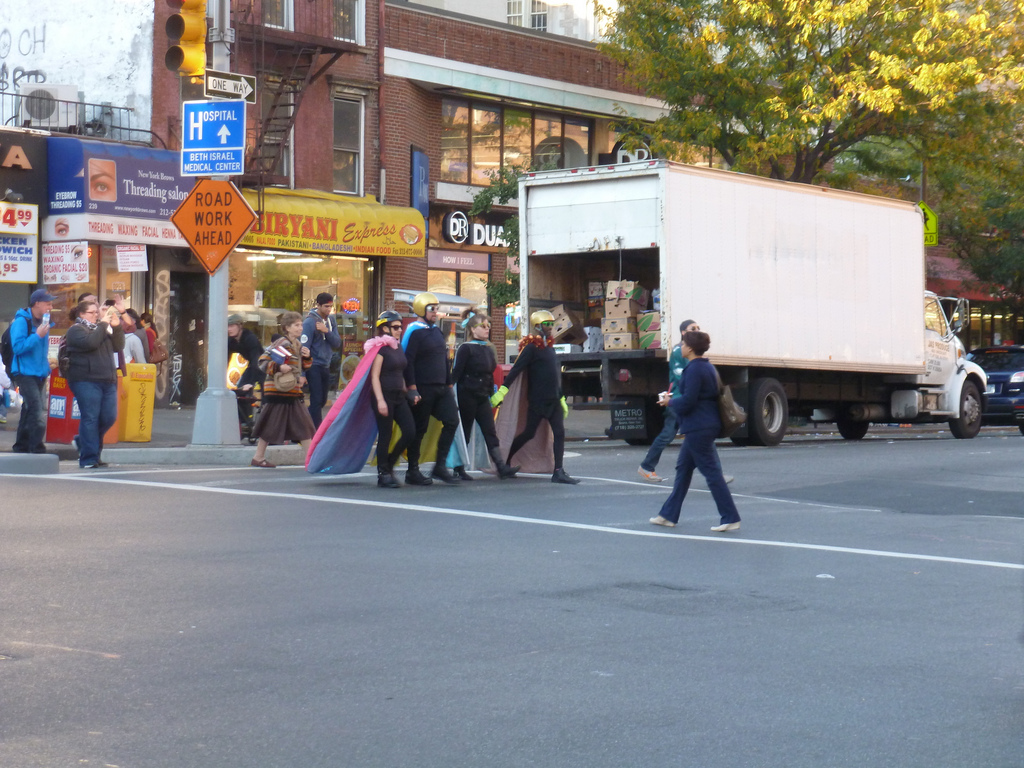 "Human Cannonball Countdown." Photographer: Radhika Subramaniam.
For this project, after the incident, I gathered more volunteers to be with me during the performance. I had a videographer and a photographer Saturday, and an AiOP volunteer the entire time. I shared with them what happened and asked them to keep an eye out and tell me if the police were coming ("hoodeehoo!")  so that I could jump down from a fire hydrant or mail boxes.  On Sunday, I had three friends do a group performance using my extra capes and their bike helmets. It was empowering to do the project as a unit of four, and it made more of a spectacle. We ended Sunday's performance by walking hand in hand in a square around four cross walks.
What insights did this give you? Any advice for other artists wanting to perform on the street?
Advice first: Read the AiOP manual "what to know if the police stop you" and find other resources on handling NYPD harassment. Read about and learn your rights.  Do not block traffic!  And, have a volunteer with you at all times equipped with a camera and festival materials so that they can document anything strange that happens. Explain to them and ensure they know your/their rights as well.
Insights: First, I am pretty resilient and capable, that's good to know. Except for the initial shock of being grabbed, etc., I was pretty calm. I was in a meditative state and at peace in the face of the garbage spewed at me. I was powerless in many ways.  I felt glad the work I have done on myself personally made a difference in a tough spot.
Second, I learned first hand why so many people, and especially people of color and homeless people, and others disenfranchised by socioeconomic status, (from what I have read and heard) do not respect the NYPD.  How much more terrible it must be for someone truly mentally ill to have their trauma multiplied by ill treatment. I think it's possible for officers to enforce the law without bullying or being violent or even shouting (but that's just me). This type of treatment must stop!
I also gained insight into the nature of my project. In a way, the Human Cannonball functioned as an outsider, performing activities on the street that most people do not, and treating architectural features of the street (post boxes, newspaper kiosks, fire hydrants) as a playground. I realized later that I was fulfilling the artchetypal role of the "village idiot" or simpleton. Thanks to AiOP Number fellow artist Karen Elaine Spencer for that insight! We had a great conversation and email dialogue about how the Village Idiot used to be a socially acceptable role, and how I put myself in this vulnerable position with the actions I performed.  I was an archetype!
With more clarity about what I was doing, I more easily accept the reasons the police officers chose to behave the way they did. Not that their behavior or treatment was acceptable, but that I understand better.  And, the project was not merely a frivolous cape wearing "superhero" photo opportunity/spectacle. It provided more than I realized. Even though I was powerless in the face of their behavior, to generate that strong of a response is a fairly potent act!
Overall, I learned a lot about performing, about interacting with people on the street, and more about my rights as a citizen and public artist from the project and from the NYPD incident. Now that the bruises are gone it makes a good story. I still have that $1600 bill to pay though! But first, the rent.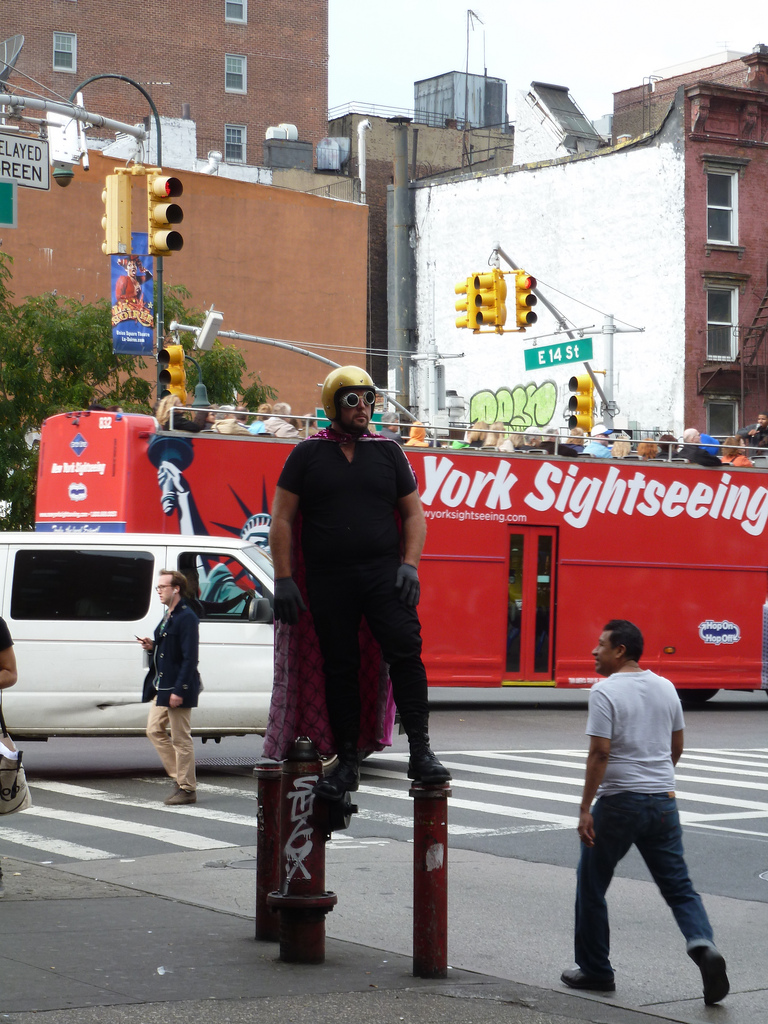 "Human Cannonball Countdown." Photographer: Radhika Subramaniam.
Anything else you'd like to add?
Overall and despite the above-mentioned awful treatment by the NYPD, I had a great time doing the project as part of the festival. I grew and learned, and the project was certainly an intervention into the day-to-day lives of 14th Street passersby. Thanks to Materials for the Arts/NYC Department of Cultural Affairs (from whom I received donated fabric for capes!), my photographers Biruta Auna, Ricky Day, Enrique Ortiz, Videographer, Hayat Hyatt, and volunteers Hjordis Linn-Blanford, Lauren Malinovsky, Sophia Kramer, Charles Long, and to AiOP volunteer/staff, in particular Ed Woodham and Radhika Subramaniam for their support!