By Zoe Weitzman
Sherry Aliberti's work is not easy to ignore. Seriously. We dare you. Just try and walk by one of her Cocoons without lowering your iPhone and taking a good, hard look. As part of an ongoing project, Aliberti sheathes actors and dancers head-to-toe in neon elastic fabric and encourages them to move "abstractly." No inert chrysalis, an Aliberti Cocoon contracts and contorts down New York City sidewalks, across parks and through train stations.
There's a lot of thought behind these seemingly carefree covered dancers. In part, Aliberti's Cocoons represent her interest in understanding how we occupy and shape space. As the individual within an Aliberti Cocoon (its larvae, if you will) flexes an arm or pivots a hip, it manipulates the form of its elastic envelope. Like an architect designing his or her own dream house, the body is granted total spatial agency to model and remodel its own dwelling. Simultaneously, the Cocoon structure shifts the nature of its surroundings at large, temporarily changing New York's urban fabric.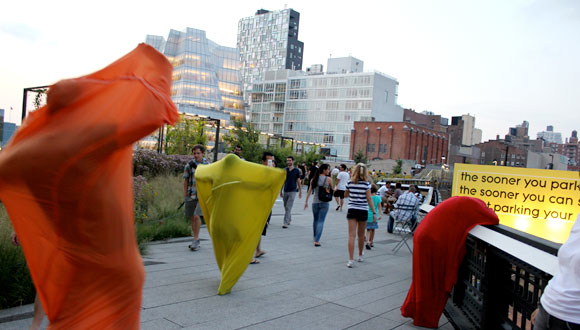 Photo by AiOP
Equal parts yoga, architecture and installation, Cocoons oftentimes perform in or around freestanding structures deemed 'collages'. Aliberti has constructed a number of these collages with segments of PVC piping, wood planks and fabric. Dance props and ad hoc extensions of New York, sculptural elements are intended to "splice Cocoon forms into the cityscape". 
If you do catch a glimpse of Aliberti's work, prepare yourself to hear, see and smell something entirely unique. Performances are multi-sensory in addition to interdisciplinary. In the past, shows have included video projections, lighting effects, music and added fragrances that serve to create an almost synesthetic "immersive environment" for viewers.
Aliberti writes that, "one of [her] favorite reactions [from viewers] is that 'it's like watching a flame, never the same.'" So whether you're a passionate lepidopterist, or vaguely interested in dance or design, make sure to check out Aliberti's Cocoons at the Art in Odd Places festival this upcoming October. I contacted Aliberti for her thoughts on architecture, abstraction and inspiration.
AIOP: Tell us a little about the Cocoon project.
Aliberti: The Cocoon Project is about using your body to create abstract, spatial shapes.  We use our bodies and a stretchy fabric enclosure, the Cocoon.
AIOP: How did the Cocoon project come together? What inspired you?
Aliberti: The Cocoon began as my thesis in architecture school.   I was using the body abstracted by fabric to generate the form for a Bathhouse or Spa Complex.  The act of creating the Cocoon and the experience inside became an inspiration in itself, as performance art.  Since then, I've gathered a lot of incredible inspirations like Martha Graham, Ernesto Neto, Christo and Alwin Nikolais.
AIOP: You've alluded to the Cocoon project as a sort of interdisciplinary endeavor, one that "[brings] together photographers, dancers and other artists." How does your work unite diverse artistic parties?
Aliberti: Coming from an architectural point of view, I started working with dancers and performers to develop interesting shapes with the cocoons.  Actors and dance artists brought personalities to each Cocoon, which was evident especially when performed for Art in Odd Places on 14th street.  Photographs and videos of performances are extremely important to keep track of spontaneous interactivity with the public and guests so I've been lucky enough to work with some great people behind the camera. Recently, I've been incorporating textural video artists' work by projecting it onto the Cocoon during performances and experimenting with rhythm, sound and loose choreography.
AIOP: How do you hope passersby will interact with your work? How have viewers responded in the past?
Aliberti: Viewers respond in unpredictable ways, mostly positively.  Depending on the creature-like personality of the cocoon, viewers have attempted to communicate with Cocoons with their bodies or been utterly baffled by whether it is a person in there.  Sometimes they have tickled our feet.  Especially for Art in Odd Places, people really stopped whatever they were doing to watch and consider the pieces.
AIOP: Tell us about the free-standing sculptures that you've deemed "collages." How are these collages integral to the cocoon project?
Aliberti: The collages are for now renderings of large-scale installations, where the cocoon's form is the size of a building.  The collage incorporates photographs of buildings with the Cocoon shapes.   The future of the Cocoon Project is a building itself, that might look like giant dancers caught in webs of fabric, where you could have a dance studio, gallery or healing center.
AIOP: You have a strong background in architecture and have referred to full-body cocoons as "structures." How has architectural knowledge impacted your understanding of the body?
Aliberti: When practicing yoga, I started thinking of my body as a structure, of how the forces running through my back, arms and legs, balanced with the rest of my body interacted with gravity.  The effort is completely structural. The trick to "getting" yoga is about finding ways to position your body that everything counteracts and balances itself, so you can really activate those forces. Proportionally, it works in an organic way that's related to how things grow and the golden ratio.  Studying the body has always been pertinent when studying architecture but it's typically obsessed with how the body inhabits the space.  I consider this once the body is exploring the Cocoon, that a tiny person is in there too, within the enclosure of the fabric.
AIOP: As temporary installations, how do you envision your cocoons will change their public sites (if at all)?
Aliberti: Most of all the cocoons change the public site in the "memory of a city" whether this belongs to the people who experience it or the energies of a city itself.  Something that excited me about Art in Odd Places was that it engages the city in such a conspicuous way, and it really was an opportunity to see this city that I've called home for almost ten years in a new way.  Many, many pictures were snapped and some of my favorites capture moments when Cocoons are "installed" in parts of the sidewalk that most people typically walk right by and don't give a second thought, like phone booths and scaffolding.  I think of that moment every time I walk by now.
AIOP: Many of your cocoons are lime green, magenta, or neon orange — among a host of other outrageous shades. What role does color play in your work?
Aliberti: New York is a very gray place.  My mind is a very colorful place.  Color in any way can instantly change someone's mood or trigger a memory.  It's similar to smell which I also use in the Cocoons.  Bright, fresh colors I've found help clear the mind at first glance, especially in the public realm, and then viewers can start to think about what exactly it is they're watching.  The fabric has some translucency, especially when stretched, so the light is very exciting to watch, both from the outside and inside.  The colors are obviously bright in the daylight, but even indoors the bright colors seem to bring a sense of "outside" anywhere.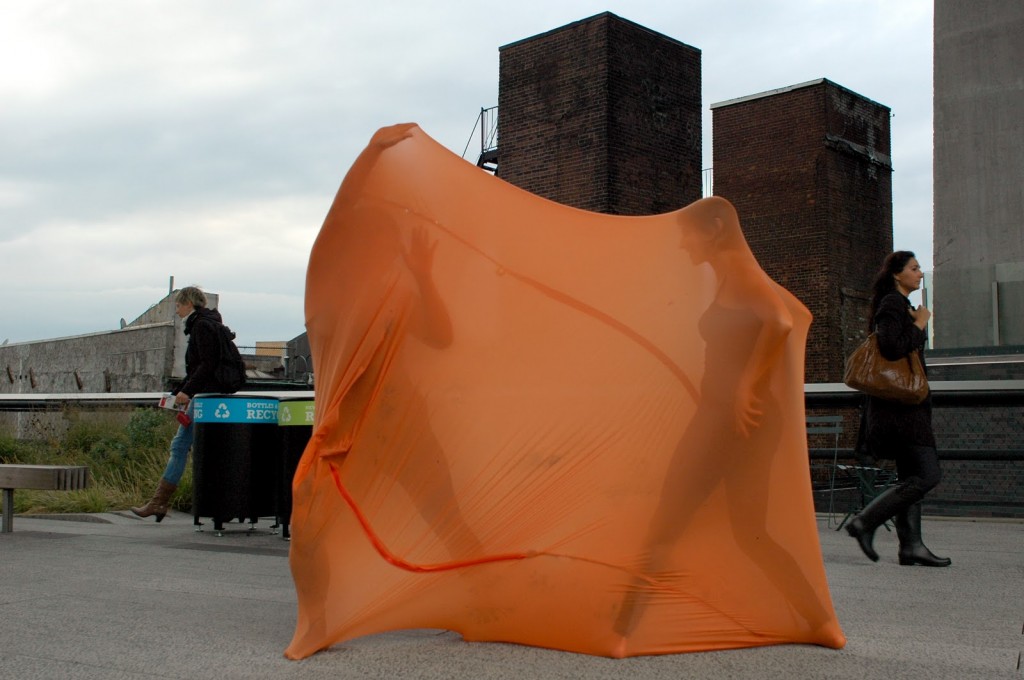 Photo by Sherry Aliberti
AIOP: Do you have any upcoming projects?
Aliberti: In September I'll be presenting a video piece featuring the Cocoons as part of a group show, "Frenzy into Folly" at the Church of St. Paul the Apostle in Columbus Circle.  The Cocoon Project is also staging some ambushes in Athens and London this summer.  Look out for an incredible artistic music video we shot on the beach too.