By Minji Lee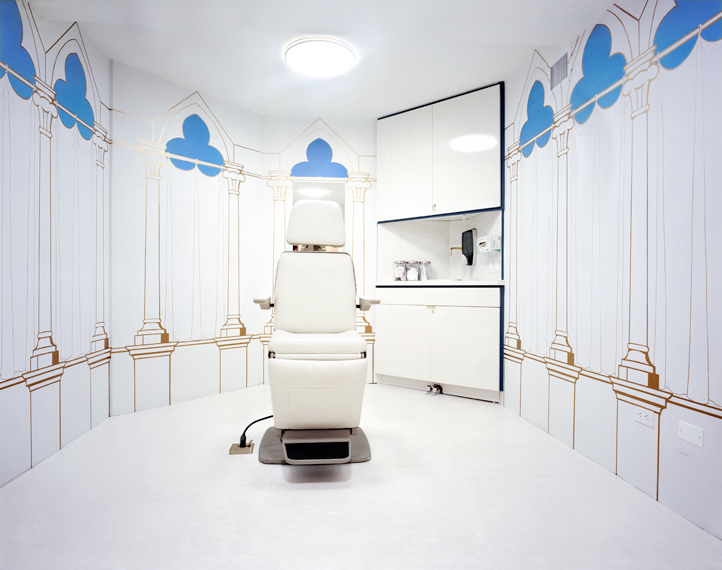 Desire is a powerful concept. Whether it is manifested in the pursuit of prosperity, stability, or beauty, among many other things, human nature begs the notion that we will never be completely satisfied with the way we are. Some people spend a thousand dollars on a designer purse; others spend ten thousand on a tummy tuck, nose job, or face-lift. Although there is no shame in lavishing ourselves every once in a while, how far would we go to alter ourselves through material pursuits? In her up-and-coming book, Singular Beauty, photographer Cara Phillips explores these very questions through her intimate, captivating work.
Discovering Her Love for Photography

Cara Phillips explored the concept of physical beauty via various professions, serendipitously translating them all into Singular Beauty.
"Previous to studying photography in my late twenties, I was involved in the beauty industry as a child model and a makeup artist," she states.
When she transitioned from posing in front of the camera to being behind it, Phillips found a refuge for self-understanding and exploration in her pursuit of beauty through her photography.
When we asked her why she decided to pick up photography, she replies, "I felt like the beauty industry, which I had spent so much time in, was not explored through the medium of photography."
She goes on to explain her bittersweet relationship with photography. She believes that her exposure to the beauty industry prior to her experimentation behind the camera is a difficult concept to reconcile. Phillips admits, "I only experienced photography as a predatory exploitation of myself. It's been interesting to be on the other side of the camera and to directly engage with the camera, though I will admit that I'm still reconciling myself with it."
However, good things stem from difficult experiences. Phillips' exposure to photography through different perspectives has shaped her work in a unique, intimate way.
"Photography came into my life at a time when I tried to understand my place in the world—through a camera lens," she says. "Putting my energy into being an artist has helped me gain self-understanding through having a larger experience than myself. Taking something personal and shifting my gaze outside of it has helped me reconfigure myself."
Singular Beauty

In many ways, Singular Beauty allows us to see the personal struggles with physical beauty that many individuals, Cara Phillips included, have undergone. Her distinct photographs of seemingly simple elements such as cosmetic surgery offices, liposuction machines, and silicone implants are doorways of insight for complex questions about beauty.
When we asked her how she became interested in the notion of beauty through cosmetic surgery offices, Phillips states that she was always interested in the perception of beauty because of its powerful, diverse influence on every individual.
"I knew that I wanted to document places where women go to seek beauty. After a year or two, I learned that cosmetic surgery offices are the ultimate expression of the desire of beauty. I spent three or four years documenting this experience all over the country," she states.
One of the motives behind her documentation of cosmetic surgery offices is to shift attention away from judgmental notions or solutions that surround beauty. Rather, Phillips' purpose behind Singular Beauty is to raise questions of what these offices mean for individuals. She states, "By manipulating the existing room and lighting, I created the psychological meaning that the spaces had."
Cosmetic surgery is a controversial cross between our natural beauty and the materialistic pursuits that society encourages. With this said, Phillips' work poses a question: "Would our same insecurities resurface in different forms even if we were to undergo cosmetic surgery?"
Beauty as a Multi-dimensional Concept
Cara Phillips used photography and Singular Beauty as mediums of reconciling her personal qualms with beauty. Reflecting on her days as a childhood model, she states, "Previous to pursuing photography, I was so immersed in a world that was based off of what I looked like. I distinctly remember myself as a 9-year-old child…being told that there wasn't enough space between my nose and upper lip, so I might consider adjusting this when I got older."
Furthermore, her career as a make-up artist allowed her to realize the issues that many women have with their biological features.
"When I was a make-up artist, the first thing that women would do was complain about their flaws…as if they had to confess that they weren't good enough," she explains. Singular Beauty is a means of uniting all of her previous experiences with an issue that we all face in extremely personal ways.
After experiencing beauty through the eyes of a child model, the foundation brush of a make-up artist, and the lens of a camera, Cara Phillips believes that beauty is, in many ways, a multi-faceted notion that we are all still trying to understand. Furthermore, her perception of beauty has allowed her to better relate to individuals who choose to undergo cosmetic surgery. Singular Beauty seeks to steer away from judging those who choose to have their physical features altered, but rather to raise questions about the larger concept of beauty. She states, "I think that the experience of photographing cosmetic surgery offices has helped me develop a larger sense of empathy for these individuals."
Although the immaculate rooms of many cosmetic surgery offices that Phillips has photographed are bound by four physical walls, perhaps the more subtle, invisible walls we build up for ourselves as imperfect human beings can be addressed through Phillips' work.
"I began to think about how we feel about ourselves and how much of our lives we spend trying to be different than what we are. Whether we try to make more money, have a different partner, or move to a different place, would we be happier?"
The desire to change certain parts of ourselves is a human need that none of us can escape. For this reason, Phillips humbly states, "It helped me develop empathy for myself and for other people."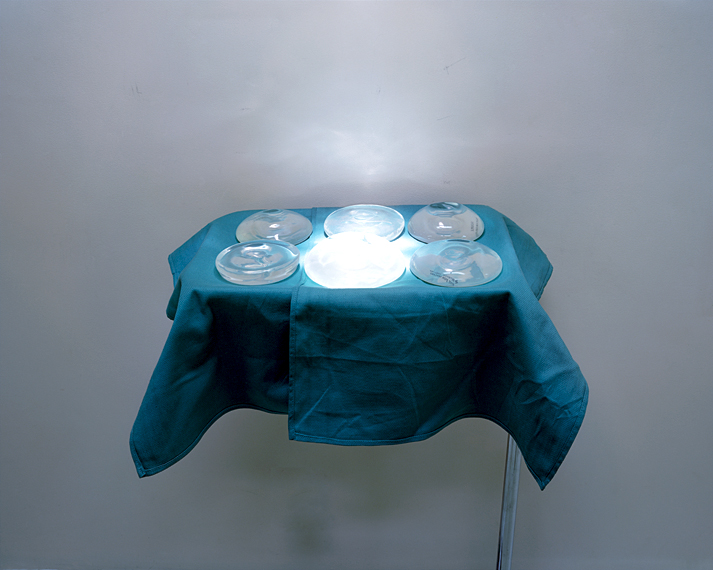 Moving Forward
Although her photography in Singular Beauty is not meant to be a judgmental piece, Phillips hopes that her viewers will adopt their own powerful opinions toward her work and toward this topic.
Whether or not you agree with the idea of altering one's physical appearance through the means of cosmetic surgery, one thing is certain: you will not walk away from Phillips' work without a newfound, strangely provocative, intuitive curiosity about this subject.
When we interviewed her a couple of days ago, Cara Phillips had recently returned from Europe in which she was able to showcase and publish Singular Beauty.
"It actually went to press this week and will be released in Amsterdam in September," she excitedly says. Her book will also come to New York City and will be featured at The NY Art Book Fair at MoMA PS1 from September 28-30th. For more information about Cara Phillips, her past and present work, and her upcoming displays, visit www.cara-phillips.com.
At the end of our conversation, she reflects, "Some people have the belief that an experience such as stepping into a cosmetic surgery office or praying at a church will transform them, but will they really feel different on the inside?" This is a bold question that Cara Phillips' work seeks to slowly unveil.