By Zoe Weitzman
Gather ye rosebuds, my readers! College freshmen are raiding Bed, Bath and Beyonds, sweaters and jackets are awakening from their seasonal hibernation, and we're all enjoying the afterglow of Labor Day. After three lackadaisical months, summer is coming to an end.
Like our feathered friends, public art will soon be migrating someplace warmer in the winter. We still have October's Art in Odd Places festival to look forward to, of course. But lest September become an insipid, colorless month, I offer you aesthetes a little salvation.
This is my eleventh hour list laundry list of 5 public art wonders that won't be around come December. Each piece was erected in late spring, so it's up to you to lend them some eyeball time before their impending expiration dates. And if you've already come across a few of these structures (I'd be surprised if you haven't noticed the towering ketchup bottle in City Hall Park) I promise, you wont regret a second or third gander when they're gone for good.
More than just a random smattering of this summer's public art, these works are symptomatic of some of 2012's more salient trends and themes. They toy with monumentality, and endeavor to balance historically-informed humor with sober reverence for the individual.
So, without further ado, I bring you five large-and-in-charge summer sculptures by some real artistic big fish. Each artist chose to bypass museum institutions (and their $14 admission fees) and offer their work to the city on a silver platter – so why not reach out and grab it before it's too late?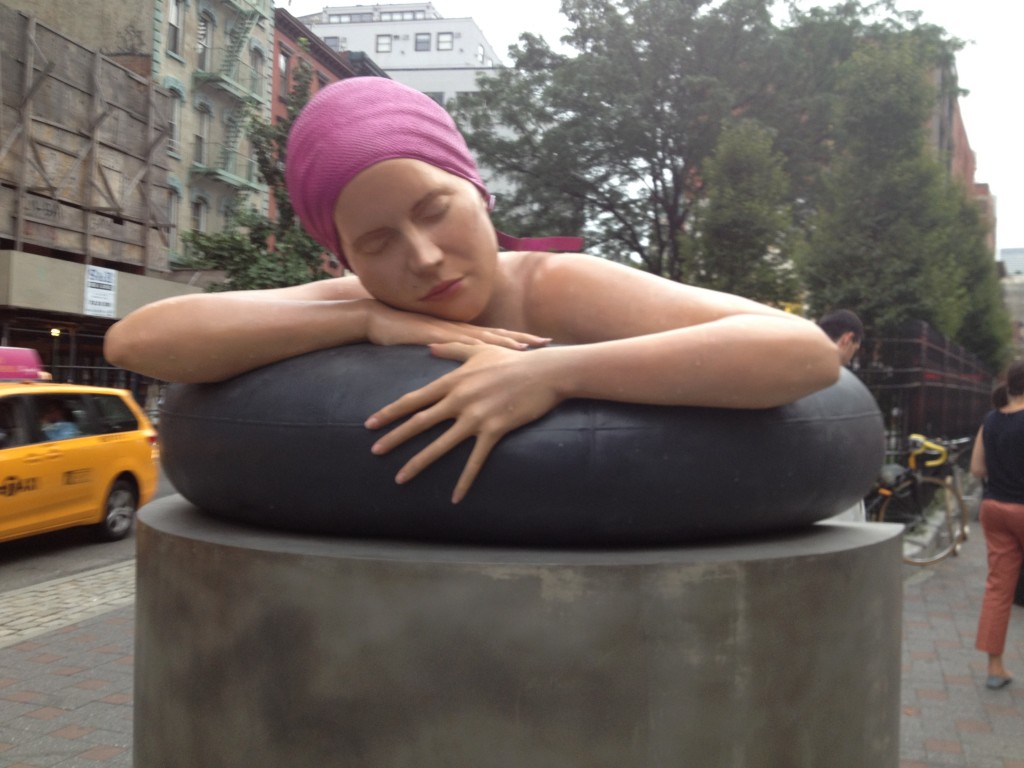 Survival of Serena. Please excuse the shoddy quality of my iPhone photos.
Carole Feuerman's Survival of Serena – Petrosino Square. On view through September 23. Presented by Parks and Recreation.
Carole Feuerman's supersized, hyperrealistic portrayals of the be-goggled and bikini-clad have launched her into the pantheon of contemporary sculpting greats, and Survival of Serena is no exception. Feuerman introduced the piece at the 2007 famed Venice Biennale; the works title, apparently, makes references to Venice's pet name, La Serenissima (the most serene). An earlier painted resign rendition of the sculpture received "Best in Show" at the 2008 Beijing Biennale. New York is lucky to have it.
Perched on a landlocked city square, Survival of Serena gives high art a below-sea level twist. The painted bronze sculpture depicts a larger-than-life, droplet-dappled woman clinging to a life preserver. Her eyes are closed, but she's still communicative. Feuerman lets us fill in Serena's narrative. Does her face read quiet desperation and an Odyssean will to live? Or has Serena come to accept her lost-at-sea fate? Head to Petrosino Square before September 23, and you can decide for yourself.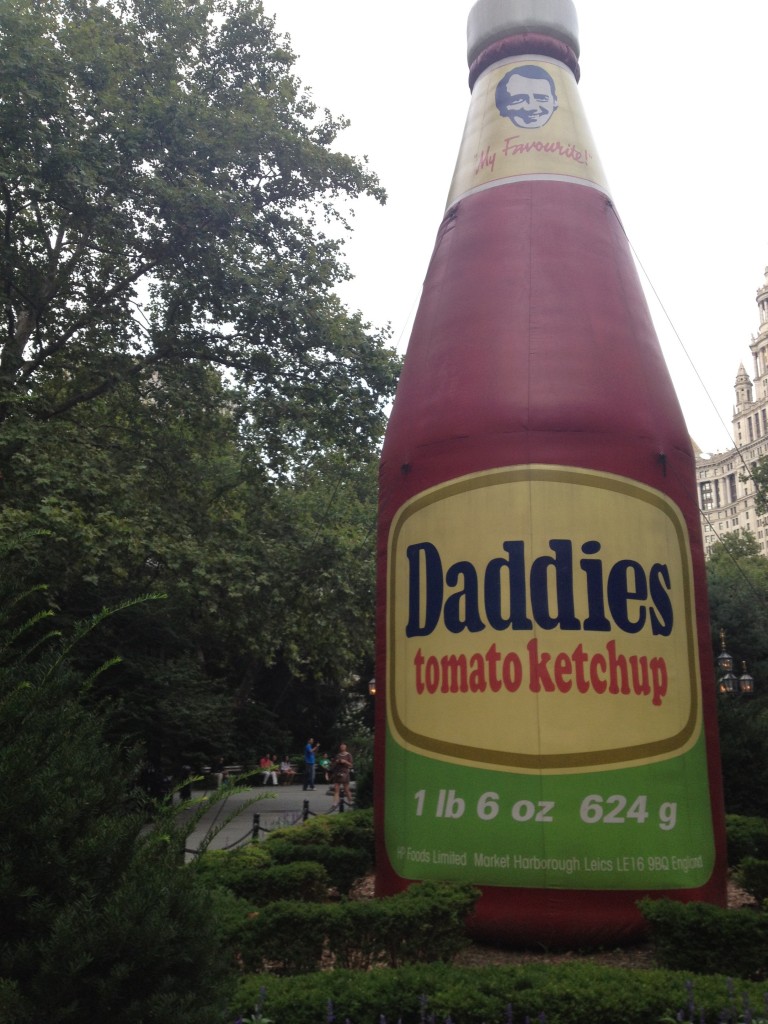 Daddies Ketchup.
Paul McCarthy's Daddies Ketchup – City Hall Park. On view through November 30. Presented by the Public Art Fund as part of the "Common Ground" exhibition.
If you're hungry for a more epicurean spin on public art, look no further than City Hall Park. In the tradition of Oldenburg-ian inflatable eats, sculptor McCarthy has fashioned a 30-foot bottle of Daddies Ketchup, based on real British condiment brand (overseas, it's apparently as ubiquitous as Heinz).
Installed in City Hall Park as part of the summer-long exhibition, "Common Ground," Daddies Ketchup probes us to rethink the role of classical public sculpture. McCarthy inserts a distinctly patriarchal bottle of ketchup where a more orthodox, male figure might stand. He asks, provocatively (but not too provocatively – the piece sits in Bloomburg's backyard and the exhibition was under his purview) how just the sizes and settings of public monuments tacitly ennoble and masculinize those depicted.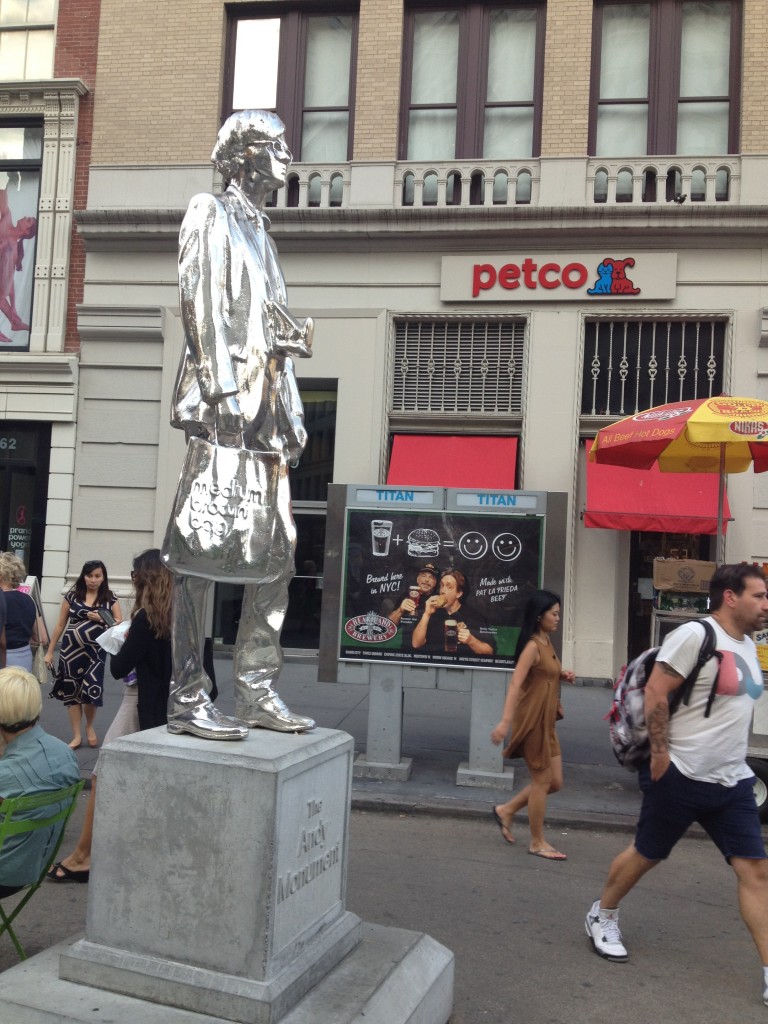 The Andy Monument.
Rob Pruitt's The Andy Monument  – 860 Broadway, Union Square. On view through September 4. Presented by the Public Art Fund.
Gandhi and George Washington have had some company this summer. Union Square effigies of both men are sharing the downtown spotlight with a chrome-sheathed Andy Warhol. With his Levi's 501s and now-extinct Polaroid camera, Warhol has added a little 70's-era flair to the popular tourist spot.
But according to sculptor Rob Pruitt, The Andy Monument is more than just supersized salute to generations past. He imagines the piece's raison d'être as two pronged: both signpost and memorial.
First and foremost, the piece functions as a sort of 10-foot tall, anthropomorphized plaque.  Pruitt's pseudo-Andy shepherds uniformed tourists towards his illustrious studio and Factory, located in both the Decker Building and 860 Broadway. But The Andy Monument also serves as tender tribute to Warhol's revolutionary artistic ideology and unabashed embrace of the commercial; hence, the sculpture's Medium Brown Bag from Bloomie's and Brooks Brothers blazer. Pruitt understands Andy as "a beacon that brought people to New York," and certainly entitled to an urban homage, however temporary.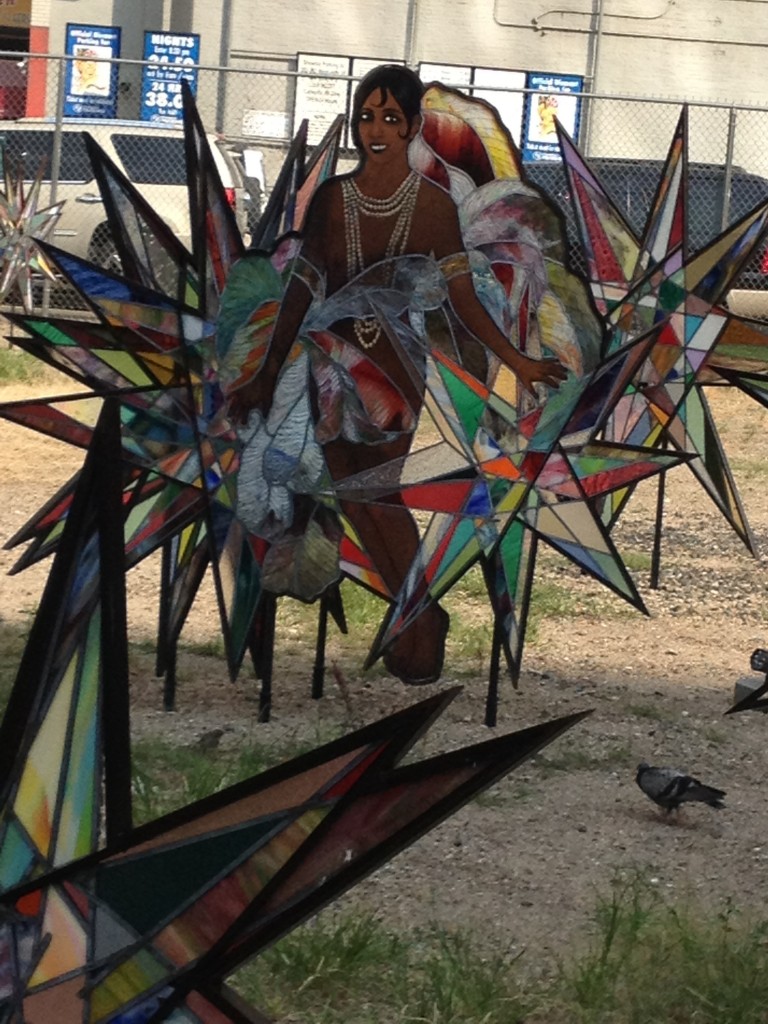 Chorus.
Kiki Smith's Chorus – 46th and 8th. On view through September 4. Presented by the Art Production Fund.
At large, Kiki Smith's oeuvre is characterized by its monochromatic palette and Kafkaesque subject matter. In her new installation, however, Smith has set aside the doom and gloom to make a big, bright, Technicolor reference to Times Square. Entitled Chorus, the multipart, stained-glass piece sings the praises of bygone starlet Josephine Baker in a loud, Broadway soprano.
To Smith, "Baker's past amplifies many of the social political problems of the United States." Baker rose to fame in the 1920s as the first African American film star and international burlesque performer. With sobriquets such as the "Creole Goddess" and "Black Pearl," Baker is known exploiting Caucasian crowds' implicit orientalism.
Simultaneously, Smith's material choice of stained glass pairs together the 20s-era emphasis on "spectacle pageantry" with aesthetically colorful but morally ascetic medieval period. The stained glass also interacts with sunlight – her freestanding, multicolor starburst cast tinted shadows on the empty lot's dirt surface.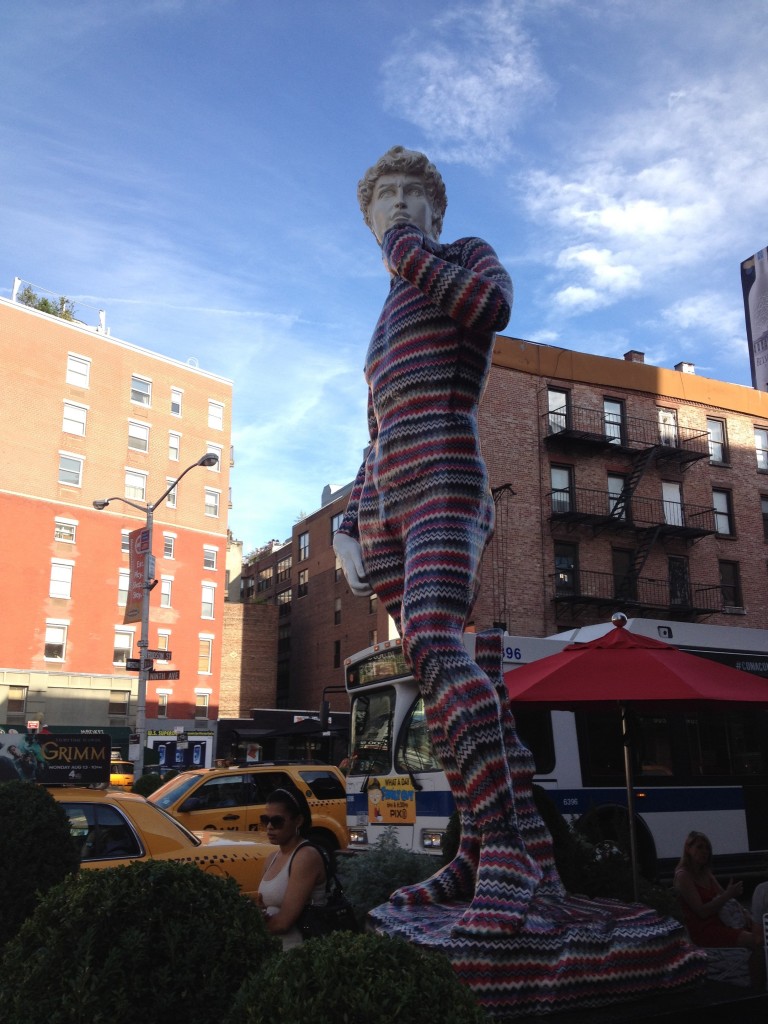 Movimento Clasico.
dEmo and Luca Missoni's Movimento Clasico – 14th and 9th. On view through September(?)
Finally, a piece to warm the heart of the most persnickety of gallerinas. Kooky Spanish sculptor dEmo has paired up with the Missoni Empire's middle child, Luca, to marry haute couture with classical art. In honor of Madrid's Fashion Night Out in 2010, the dastardly duo outfitted a scale model of Michelangelo's David (yes, that one) head to toe in Missoni's signature chevrons.
Movimento Clasico wandered through Spain before roosting this summer, appropriately, in the arts-and fashion-filled Meatpacking district. This new, trendy David will serve as an apt patron saint for New York's Fashion Night Out festivities on September 6.