By Zoe Weitzman
Justus Bruns dreams of jumbotrons turned canvas. This Dutch design student is the founder and ringleader of Times Square to Art Square, a non-profit organization he established back in 2010. Working with a tight-knit troupe of techno-savvy artists and entrepreneurs, Bruns wants to trade out all of Times Square's billboards for gallery space, providing artists with an exhibition platform of unprecedented proportions. To this European import, art is a crucial vehicle for self-awareness and fostering that elusive sense of community. In a recent interview, Bruns quoted Oscar Wilde: "We are all in the gutter, but some of us are looking at the stars." So while stories-high monitors may technically obscure our view of the sky, Bruns assures us that Times Square to Arts Square with enable a much more profound type of stargazing.
Bruns faced his fair share of naysaying skeptics, but was ultimately able to gain some media and monetary traction (helped, no doubt, by a flawlessly designed website, and avidly updated Facebook, Kickstarter and Twitter pages). And really, how far-fetched is Times Square to Arts Square? Lest we forget, this urban hub has been home to over 30 temporary art shows since 2008, a stage for everything from sculptural sheep to street pianos. Bruns says he's not opposed to reaching out to organizations like the Times Square Alliance that have put up work in the past; for him, this project is focused on collaboration and inspiration, rather than usurping commercial space or discrediting capitalism. Times Square to Arts Square is a self-proclaimed neutral party, aiming above all else to use the arts to "bring people together…[and] make people think."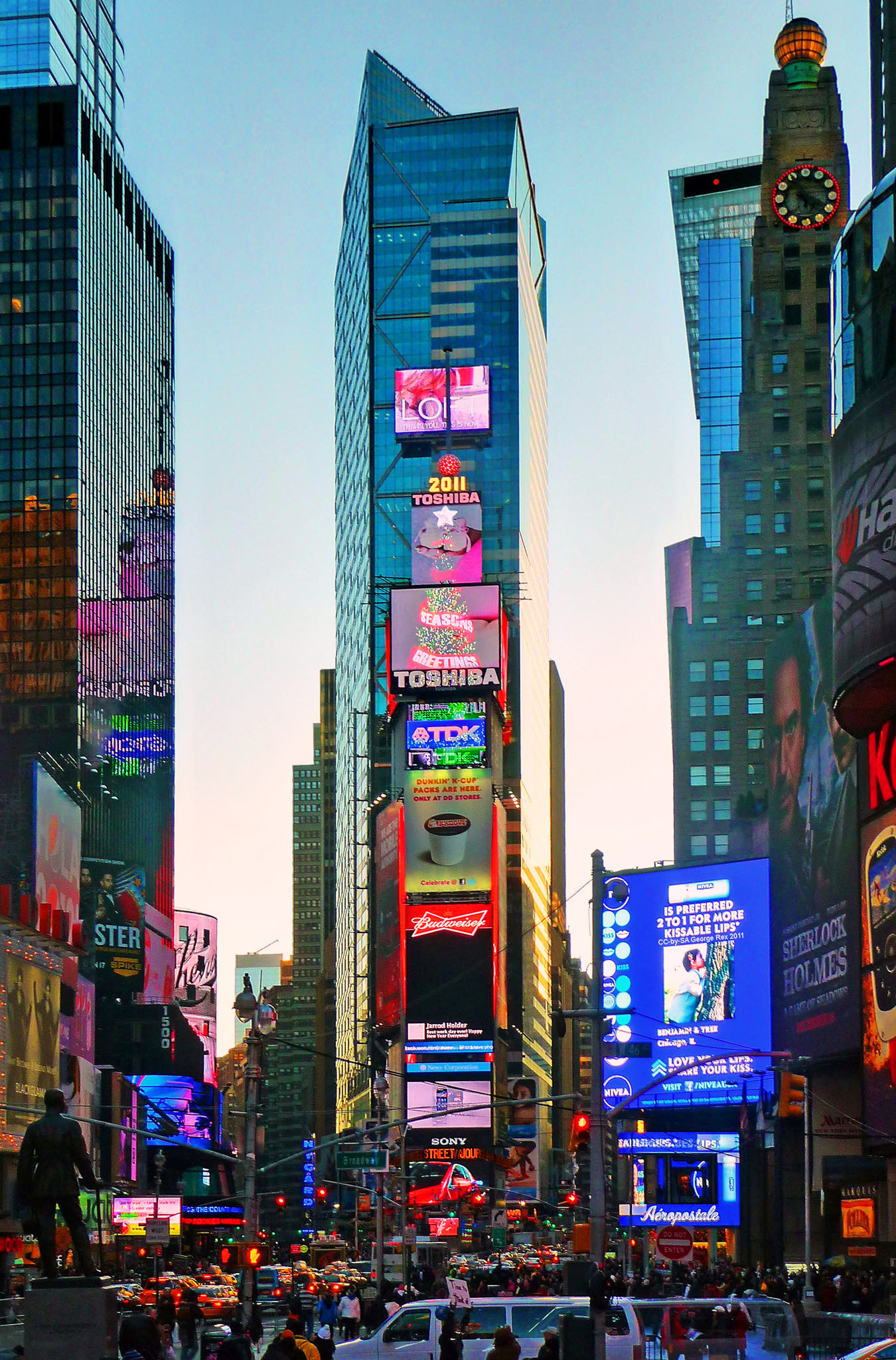 Tourist trap or digital museum in the making? Photo courtesy of George Rex.
Bruns' ideas seem to have caught the eye of a few Times Square power players, equally keen on substituting stories high soft drink ads with something a little more aesthetic. Anyone passing through the city's commercial epicenter in the month of May, for example, could have seen 14 of Times Square's digital screens graced with by video art. Part of the new "Times Square Moment: A Digital Gallery" program, work by experimental theater pioneer Robert Wilson, played every night starting at exactly 11:57 pm. Quirky, star-studded footage plucked from Wilson's oeuvre overcame, for just a few minutes, Nasdaq, JVC and ABC super signs.
If you missed out on Wilson's work gone widescreen and are still hungry for some very public art, make sure to visit the Crossroads of the World on June 18th for "Art Takes Times Square." The brainchild of Chashama, Artists Wanted and the Times Square Alliance, "Art Takes Times Square" has asked all of us to don our curator hats and send in designs. Now, a panel of judges is sifting through submissions to find a handful of prints, paintings and photographs truly worthy of a billboard-sized swathe of canvas. So finally, Bruns' ideas may be coming to big, bright fruition. (And if Times Square still isn't quite to your aesthetic liking, why not take matters into your own hands?