By Matthew Morowitz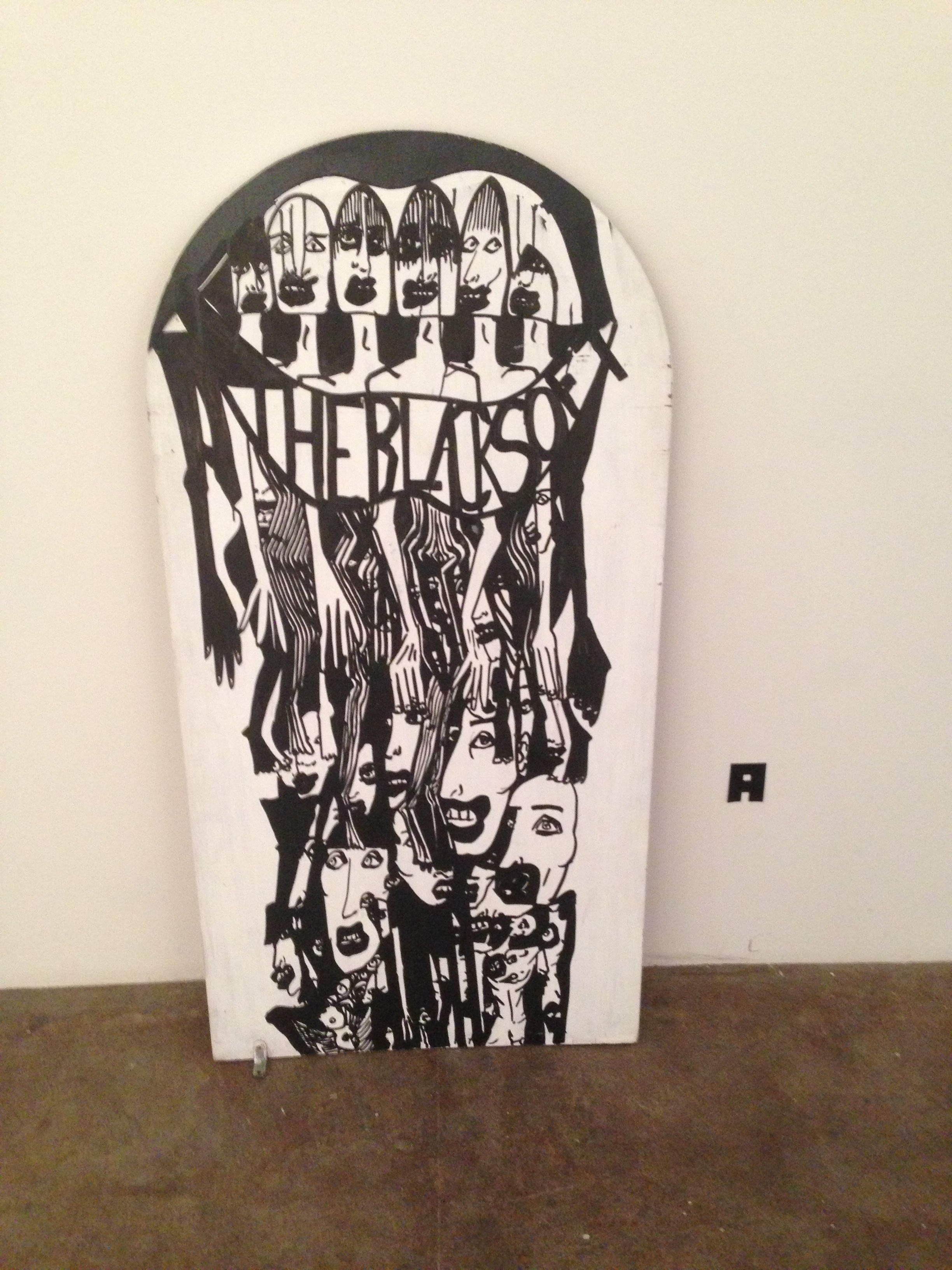 "3rd and 2nd." 2011, acrylic and ink, on wood countertop
On September 7th, 2013, a man came into the gallery I was working in at the time and told me about an art show that was happening that night, said he could get my name on the list, and, before I had a chance to respond, called the venue and told me everything was confirmed, leaving me with a time and address.  Now normally I wouldn't accept a stranger's invitation to a place I had never been, but I figured if he went through the trouble to tell me about it and make sure I was welcome, then I might as well stop by for a bit.  I arrived at the venue, the Highline Loft, at the allotted time, and much to my relief found that there was indeed an art opening happening there that night.  After a short ride on a very old-timey elevator, I entered the space.
My first reaction to the show, "Below 14th Street," was that the works had a Kirchner meets Hellraiser and punk rock vibe to it; all of the pieces were dark, with many displaying grotesque figures that were highly sexualized.  Intrigued, I wanted to know more, who were these artists? What motivated them to create these works? And especially, why 14th Street? As Art in Odd Places (AiOP) runs their festival on that particular roadway every year, this show became even more fascinating to me.  After being introduced to Chase Coughlin, one half of The Black Soft, the artists responsible and, despite looking as though he walked out of one of the works on the walls was very friendly and personable, I was completely convinced that I needed to learn more about the artists and this show.  Chase, along with Joey Topmiller, the other half of the group, was able answer some questions about their collaboration, their aesthetic, and what drew them to this world below 14th Street.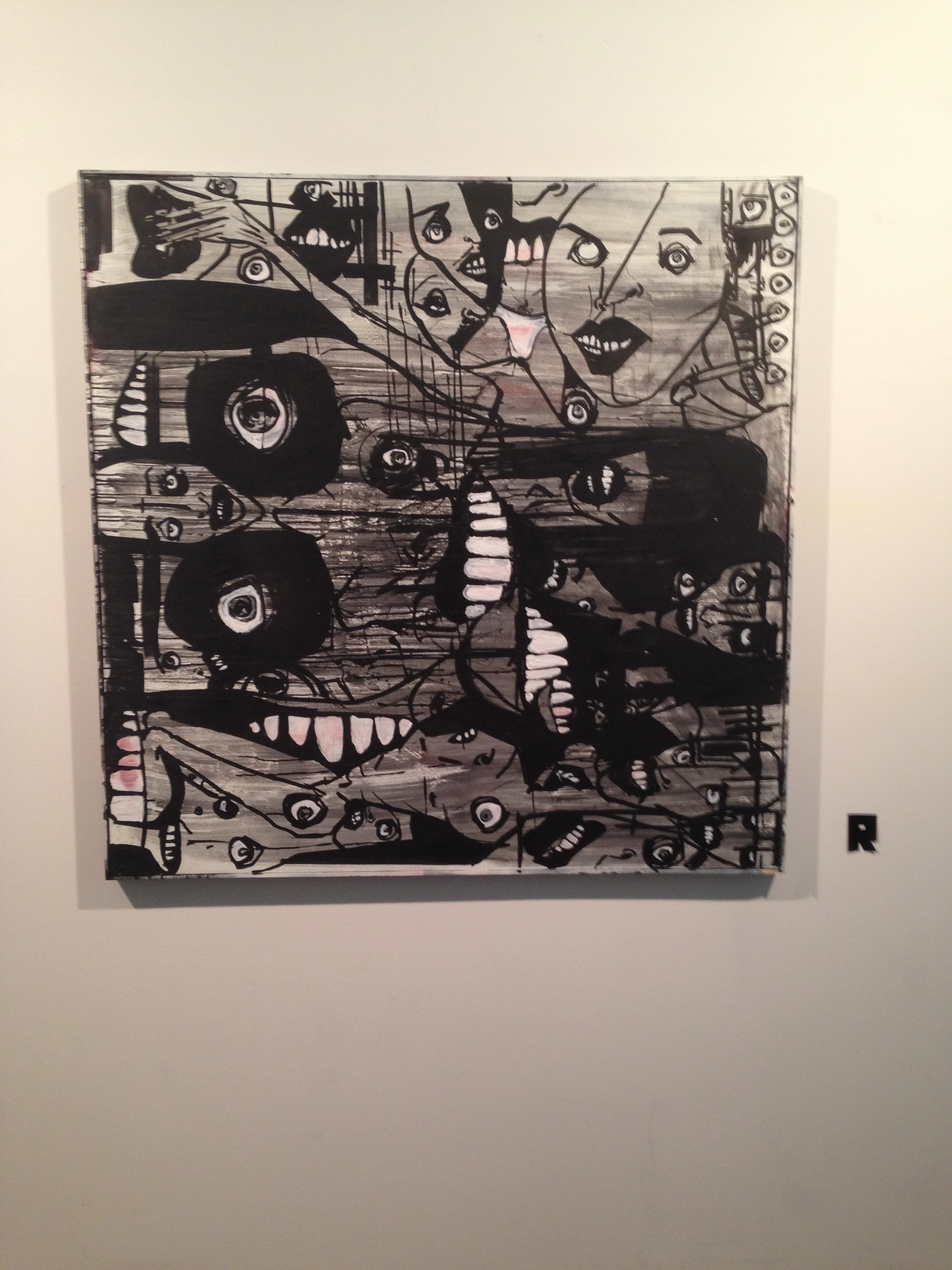 "13th and B."2012, acrylic, ink, spray and oil on canvas.
The Black Soft
The Black Soft describes themselves as "artists working in fine art, fashion, and music."  Originally started as a band, through "creative collaborations," Chase and Joey "exposed our other talents and interests," becoming "multi dimensional artists that have created a cohesive world of fashion, fine art, and music."  Their aesthetic, based in a world of black and white, gothic punk imagery, was first created as a visual representation of their music.
"As it progressed it evolved from music videos to sketch books to album art and eventually becoming the art you see in BELOW 14th ST. The music and the art were created at the same time, so you see overlapping themes and aesthetics such as playing with light and dark and sex, politics, sub cultures, etc. "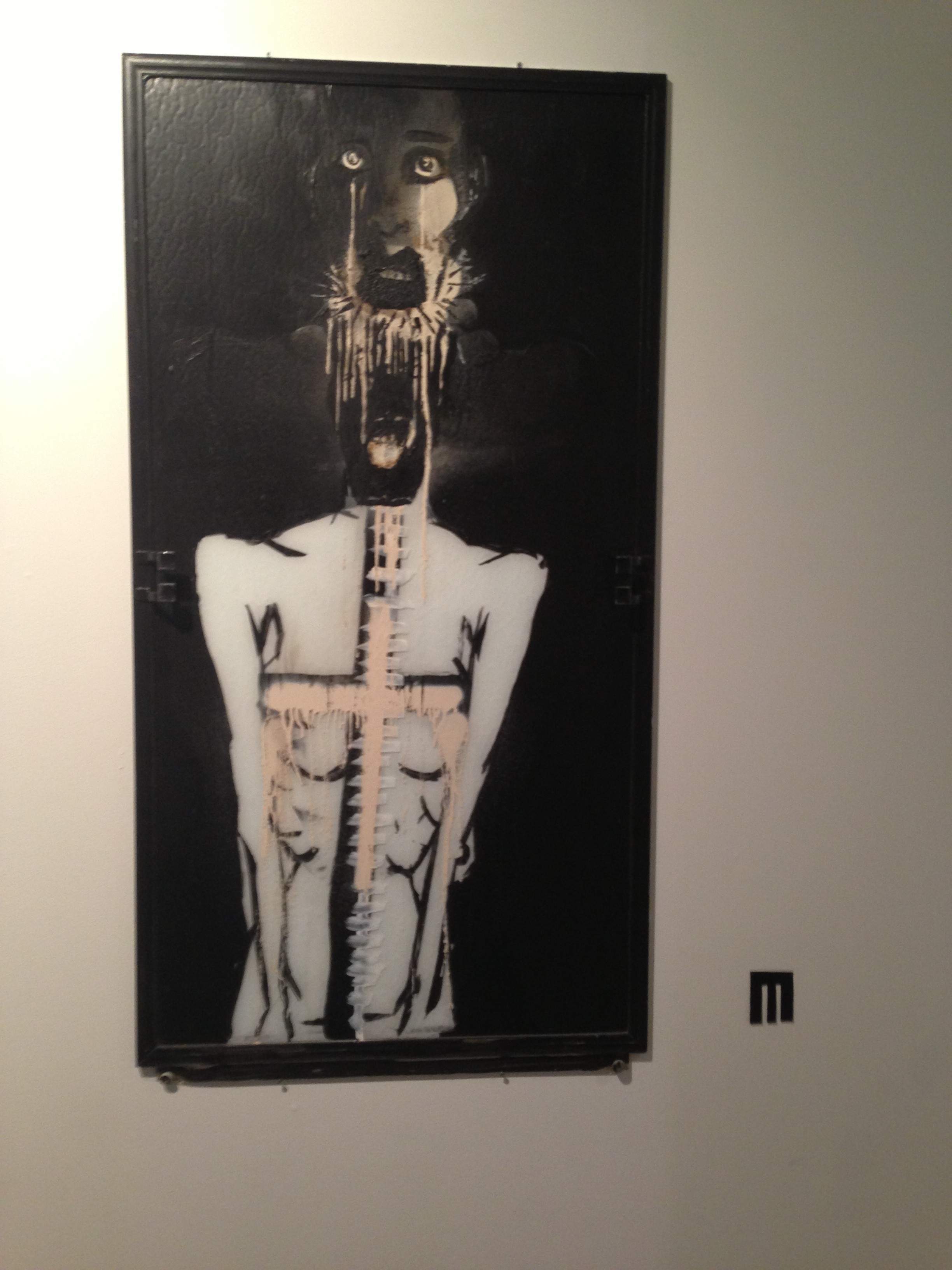 "10th and 3rd." 2012, acrylic, ink, and spray, on shower door.
As for what inspires them:
"We pull inspiration from absolutely everything; music, paintings, nature, life experience, anything…  It's all about how you harness that inspiration in a creative way without leaving its influence in your end result."
"Below 14th Street"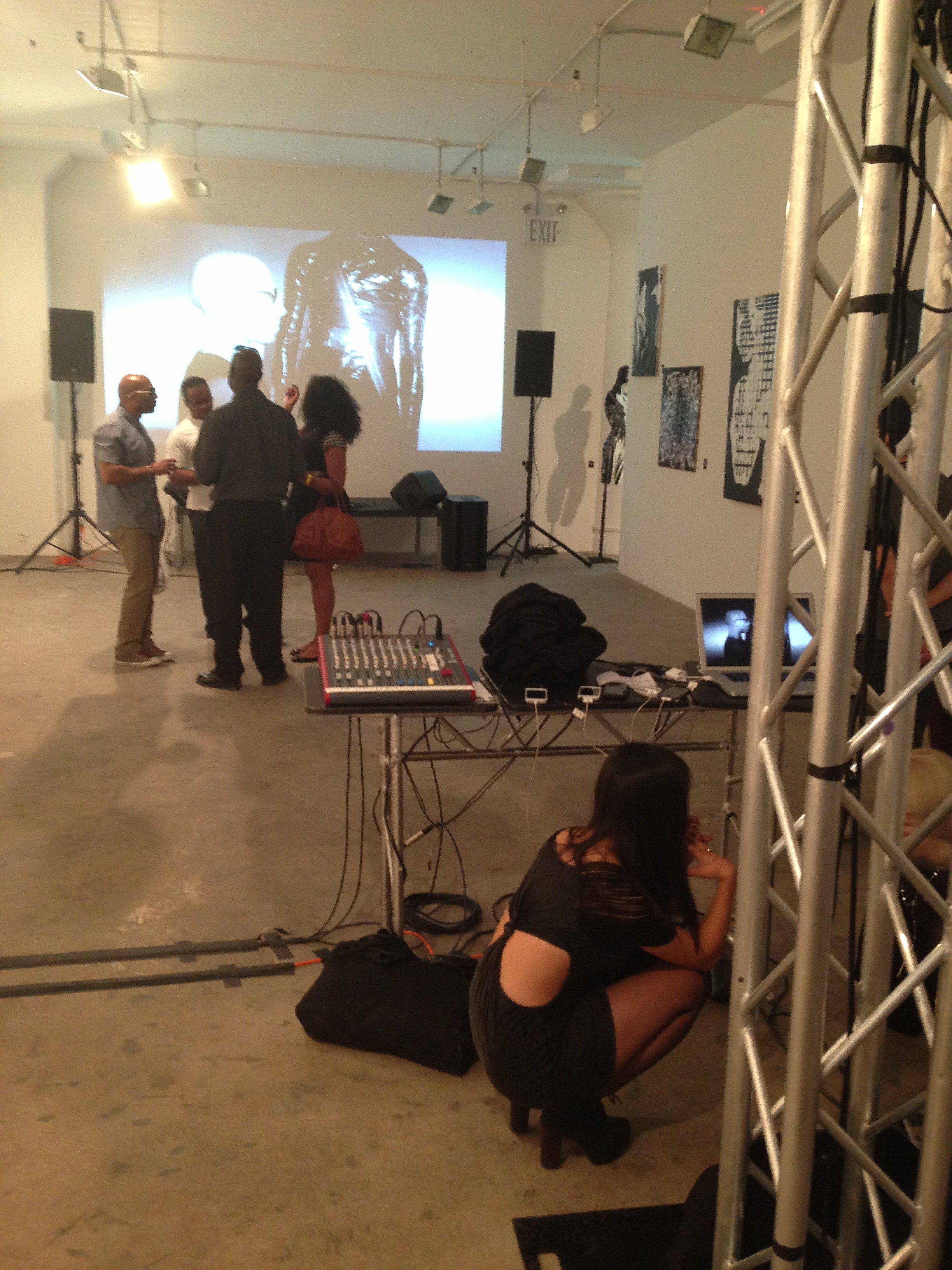 View of the "Below 14th Street" opening.
The culmination of two years of working, "Below 14th Street," which takes its name from the fact that both Chase and Joey live below that street, was inspired by the artists' necessity to create art and desire to do so from their surroundings:
"We live below 14th street where all of the pieces were found. We wanted to take pieces that came from our surroundings. Our neighborhood has such a rich history and these found objects inherited that history. The inspiration was mostly based in a necessity to create art, even if you seemingly have nothing."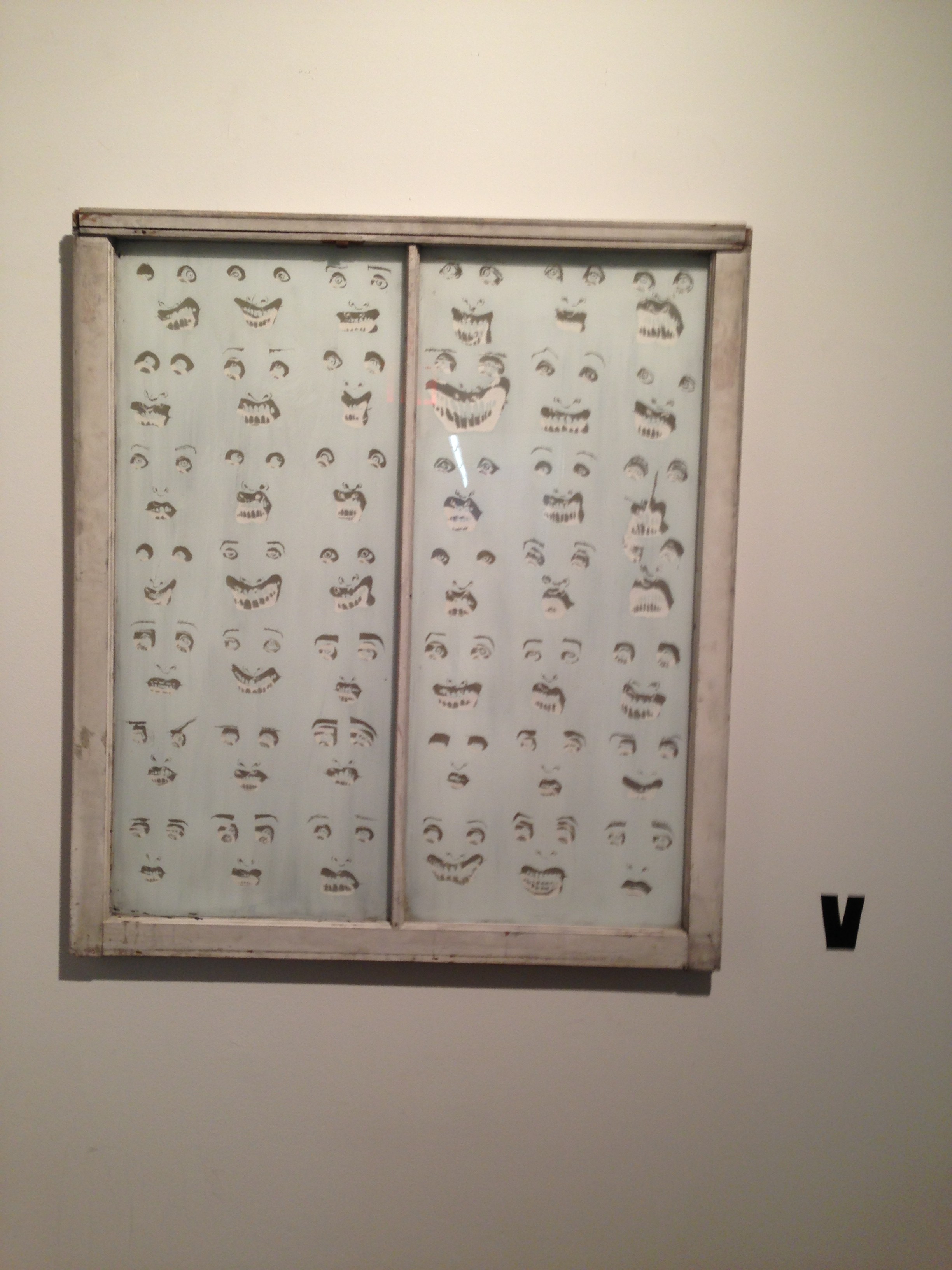 "12th and C' 2010, etched acrylic, on window pane.
The works and the finished product stood up to The Black Soft's original intention for this exhibition, noting that while the art and techniques evolved over their two year exploration, it never wavered from the way they wanted to present it to the world. "It was surreal," they remarked, "standing in a room that looked exactly like the original sketch created 2 years prior."
The works themselves, twenty four pieces made from discarded materials, such as windows, screens, canvases, doors, etc. that Chase and Joey found in their East Village neighborhood, were almost all done entirely in black and white, with most displaying grotesque figures and faces.  On one of the walls there was also a video performance that the duo created being continuously looped.  When asked if there was a specific theme that ran throughout all the works, The Black Soft informed me that while there are "hundreds of new and repeated themes throughout the collection," the whole process of creating this project was more of "a time where we found our voice" and a record of their creative exploration:
"It's like looking at tree rings; you see when certain theme/techniques chronologically developed and how they would eventually all harmonize."
The Black Soft: TOTU POPEP Video Trilogy from The Black Soft on Vimeo.  This video was playing on loop for almost the entirety of the "Below 14th Street" event.  Opening Credits by The Black Soft
Part 1 Directed by Francsico Garcia, Fashion by Yana Kamps
Part 2 Directed by Evaan Kheraj, Fashion by Luisa Rino
Part 3 Directed by Tim Richardson, Fashion by Nicola Formichetti
When asked what dialogues they hoped this event would spur, The Black Soft hoped these works would serve as beacons of hope and innovation in a declining creative world:
"We are sad to see the current decline of all creative industries. We wanted to prove that you can compete in this world and not sacrifice honesty quality or integrity. We wanted to scare you. We wanted to inspire you. We wanted to entertain you. It's black and white."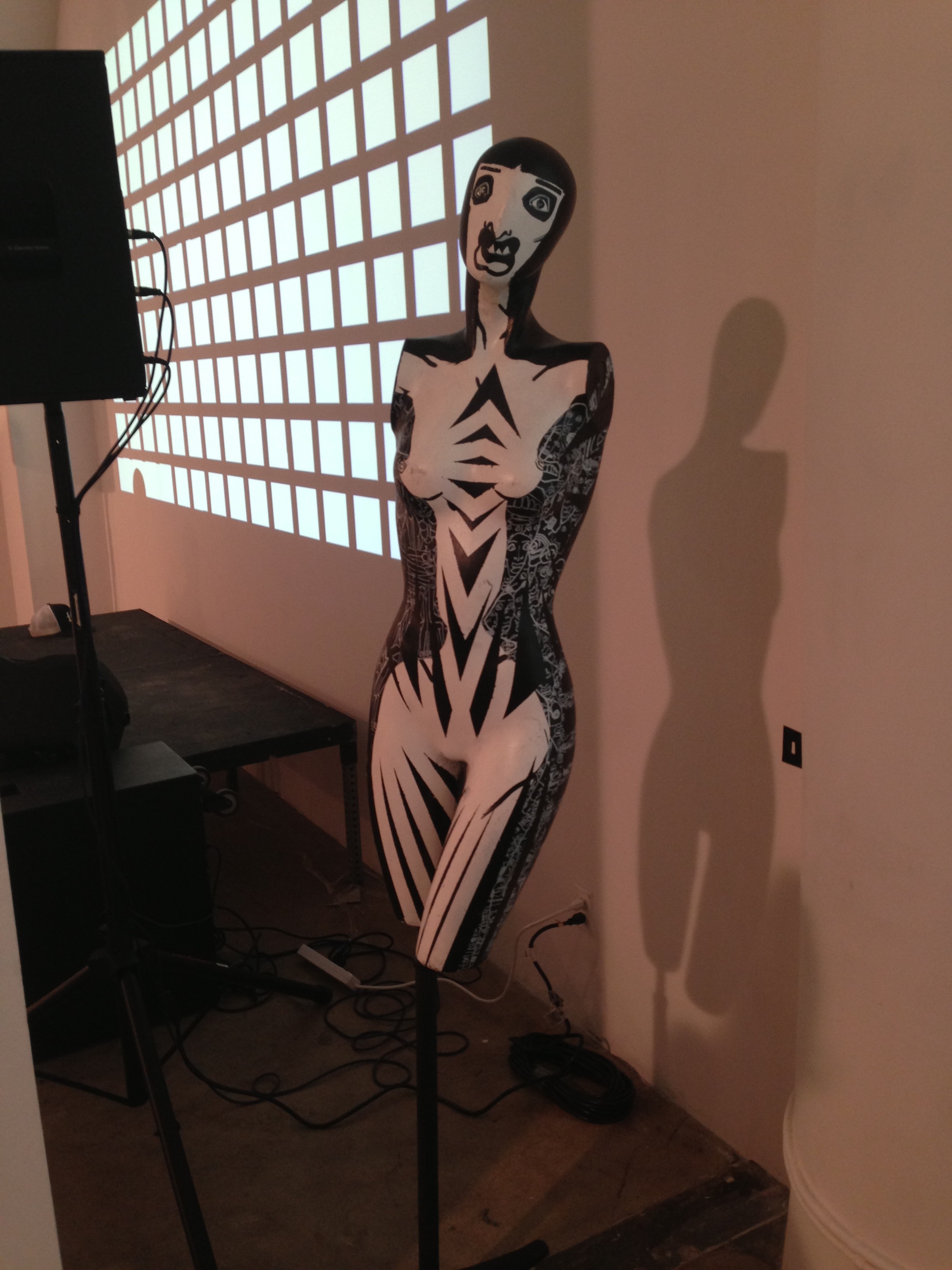 "13th and 3rd." 2011, acrylic, ink, oil, and spray, on mannequin.
Surrounded by art and capped with a live musical performance, The Black Soft's "Below 14th Street" combined visual and performative elements to create all around experience.  The works themselves had already been finished for over a year (and since then Chase and Joey have finished many other series in both music and fine art), but for the creative duo it was important to them to have taken the initiative and organized this whole event themselves and on their terms:
"Throwing this event ourselves and without the help of a gallery, [it] made us realize that if you want to make something happen, make it happen by doing. "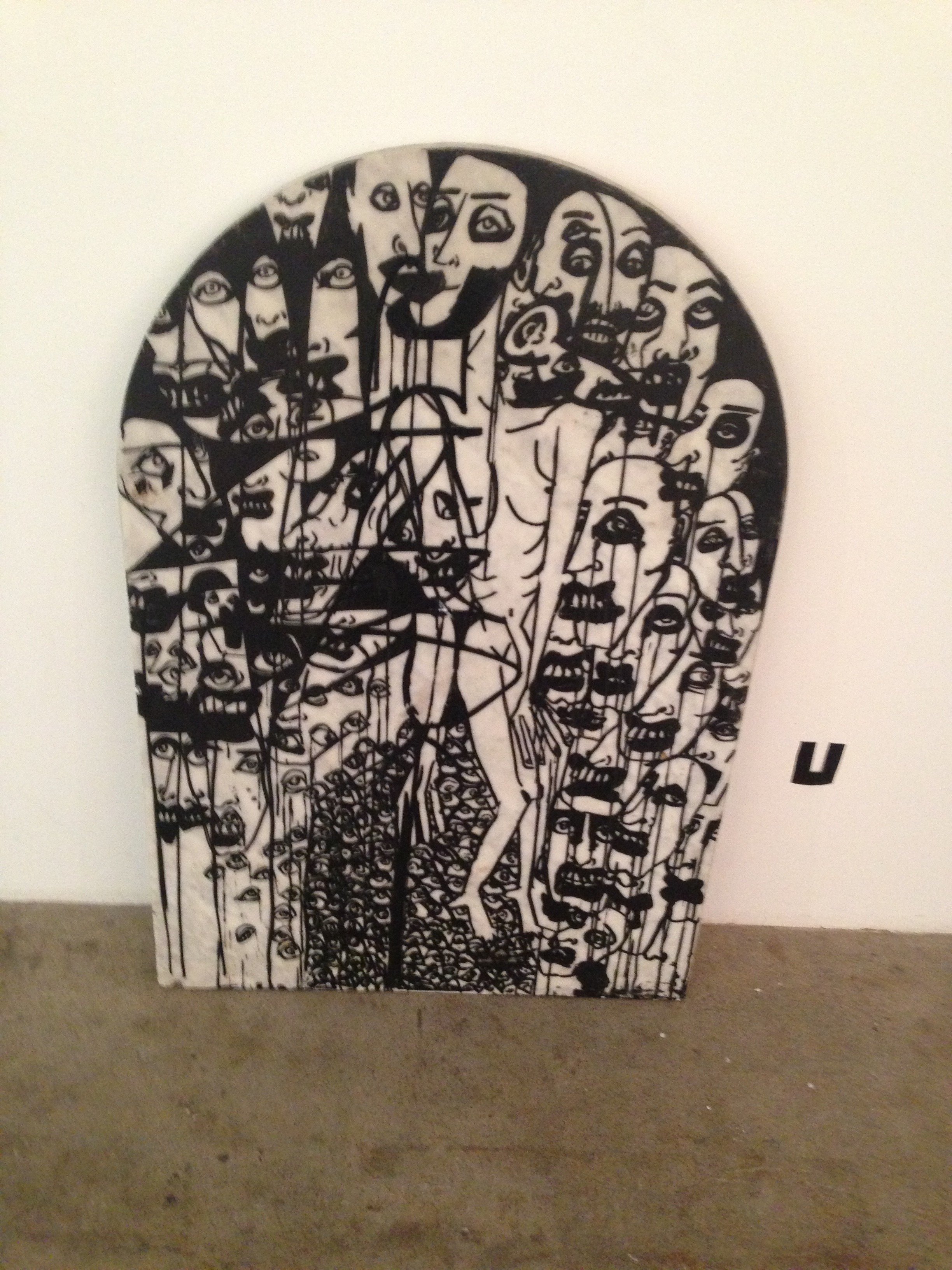 "St. Marks and A." 2012, ink, on marble slab.
As previously mentioned, I was fortunate to have had the opportunity to attend this event and I can honestly say it was unlike any art event I have attended previously.  Unlike a gallery opening, where the crowd is generally older and the style more suit and tie, people of different ages and all walks of life attended "Below 14th Street."  The atmosphere was very social and engaging, almost opposite from the stark, sexual, and heavy aesthetic and subject matter of the works on display.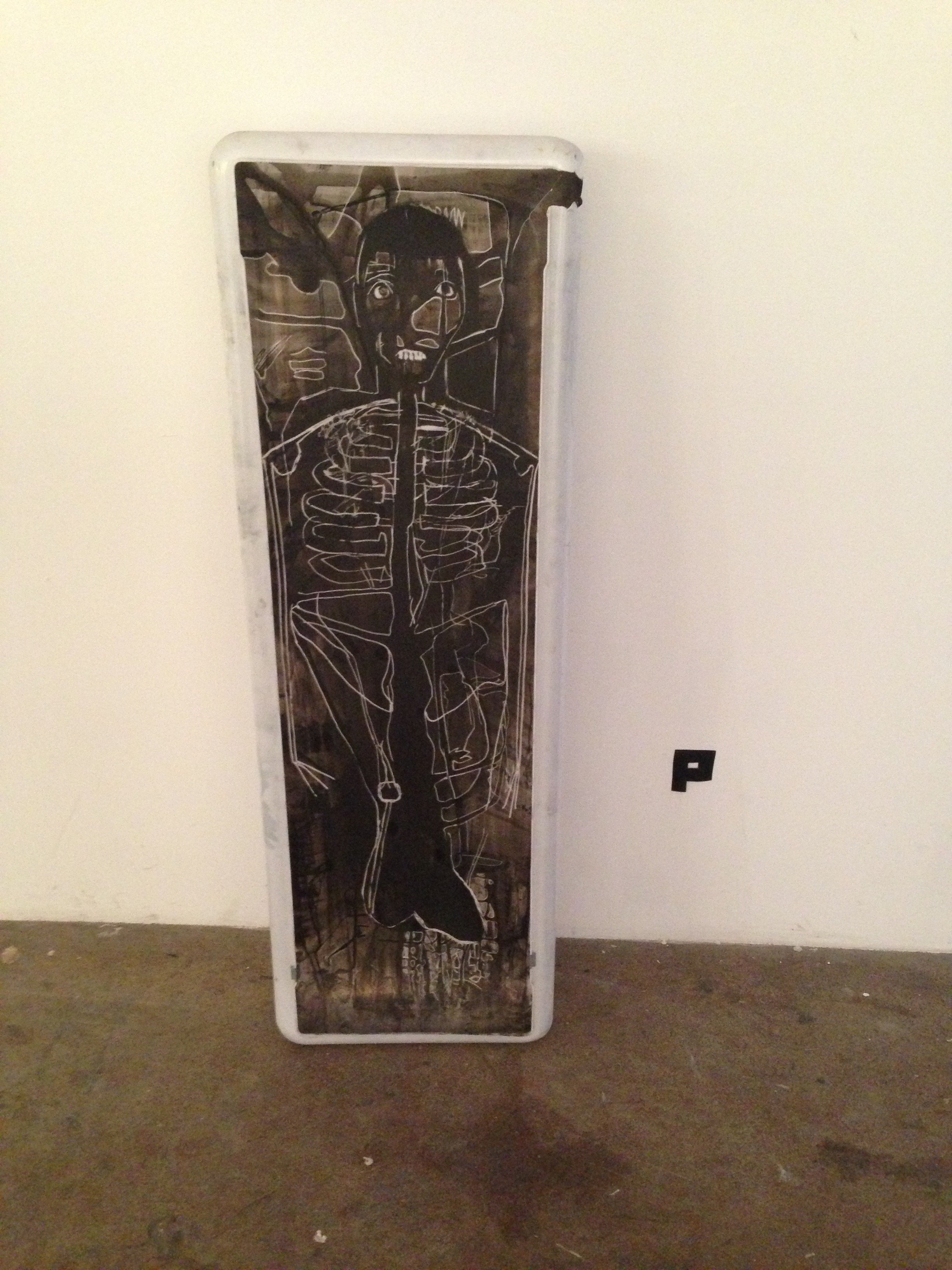 "6th and B." 2011, ink, on vintage lighting fixture.
While discarded materials from a world below 14th Street were repurposed and brought forward in a display of creative force, this was not some kind of Duchamp-esque, pushing-the-boundaries-of-art-and-object show.  These pieces were intentionally altered, displayed specific themes, and set out to have a desired impact on the viewers.  The "Below" in "Below 14th Street" then not only referred to the physical area in which these objects were discovered, but also the psychological realm that exists within the mind and spirit, and which harbors those dark and often unexplored emotions that help define personal identity and the human condition.  Through their visual works, their music, and their performances, The Black Soft pushes through these boundaries and brings forth this darkness, embracing what they like to call the "schizophrenia of this generation."  Only time and further exploration will tell what direction The Black Soft will travel next, but in the meantime their journey to this world below was a raw meditation on the often-ignored neuroses that help define humanity and add to the richness of human expression.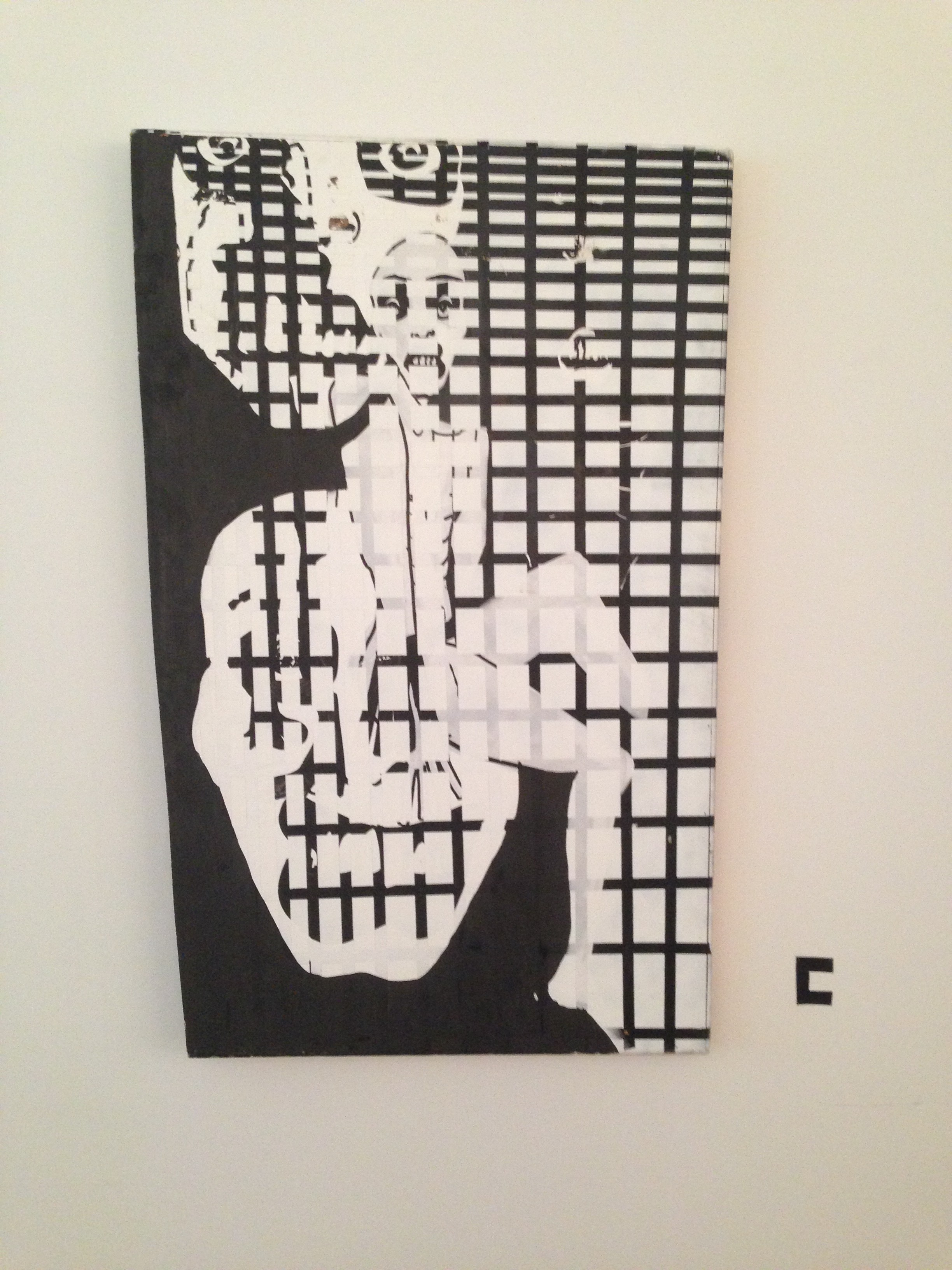 "12th and A." 2012, acrylic, ink, and spray, on wooden panel.
To learn more about The Black Soft, be sure to check out their website, along with their Facebook, Twitter, and Tumblr.  If you are interested in learning more about the works that were on display at this event, and/or purchasing one of them, Chase and Joey can be contacted directly at info@theblacksoft.com.