By Matthew Morowitz
In December of 2012, Art in Odd Places (AiOP) ran a feature on The Kite Collective, a collective of kite enthusiasts and makers.  Back then, the Collective was running playlabs in NYC, working on installing kite machines, and had organized their "Kite Relief" initiative to help those affected by Hurricane Sandy in Far Rockaway.  Recently, we were able to catch up with Whitney Richardson, one of the founding members, to see what the collective has been up to since we last spoke with them.
Chicago
Since speaking with The Kite Collective back in 2012, their operations have mostly moved from NYC to Chicago.  In their time there, the Collective has been working on new programming and events.  Plans are being made to build the Kite Machine Chicago out of an old dresser, which will then be moved around to different community farms and gardens within the city and potentially some cultural centers, as well as to Harold Washington College in the Chicago loop.  The machine itself is being constructed by Ben Newman, a woodworker and friend of the Collective, and the public should "expect peepholes, wind documentation, spontaneous assembly (of kites, performance, etc.) and items that grow to complement the build out.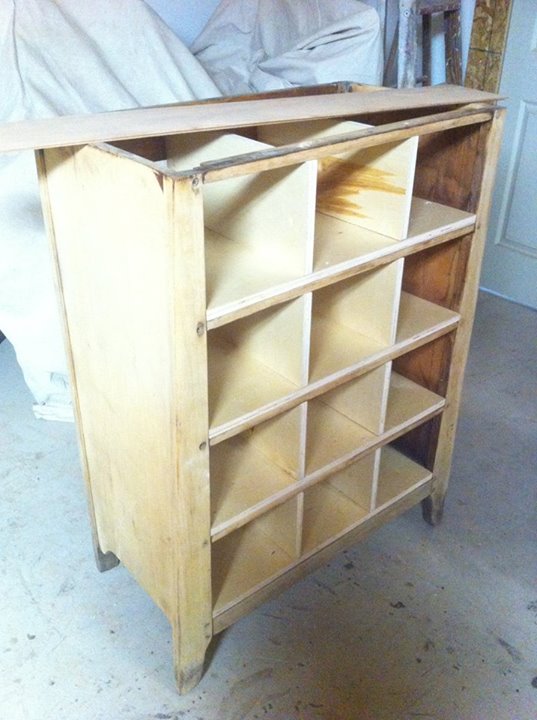 Chicago kite machine in progress.  Photo courtesy of Maureen Walrath.
Future Hits and "Flying Paper"
Last fall, The Kite Collective partnered with Future Hits; Future Hits is a fun (yet secretly educational) music group marrying literacy & harmony-making.  Kite Collective joined them for a series of events, exploring live altering of environments through art and play.  The Collective also co-hosted a screening of the documentary "Flying Paper" at the Peanut Gallery in Chicago.  This documentary, shown as part of the Chicago Palestine Film Festival, tells the uplifting story of Palestinian children in Gaza who are on a quest to break the Guinness World Record for most kites ever flown and highlighting their resilience despite the difficult realities they face in their daily lives.  Pictures from this event can be found on the Collective's Facebook page.
Conceal + Carry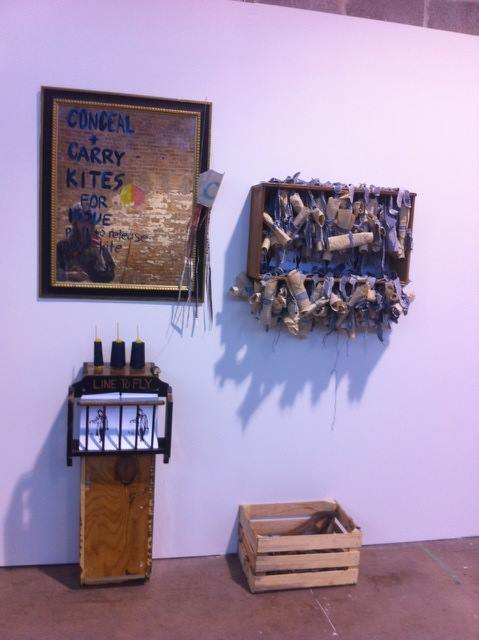 Conceal + Carry Kites at the Concealed Carry Exhibition.  Photo courtesy of Maureen Walrath.
The Kite Collective was also involved in the Concealed Carry Exhibition that took place in Chicago at Experimental Station back in January.  On January 1st, 2014 the Carry Act passed and went in effect in the city.  As a result of this change in firearm legislation, gun owners can now carry concealed firearms in public spaces, unless explicitly and conspicuously disallowed by property owners.  Many artists, including the Kite Collective, feel this shift in public policy will have a radical impact on public spaces and in response created this exhibition to relay information about this issue.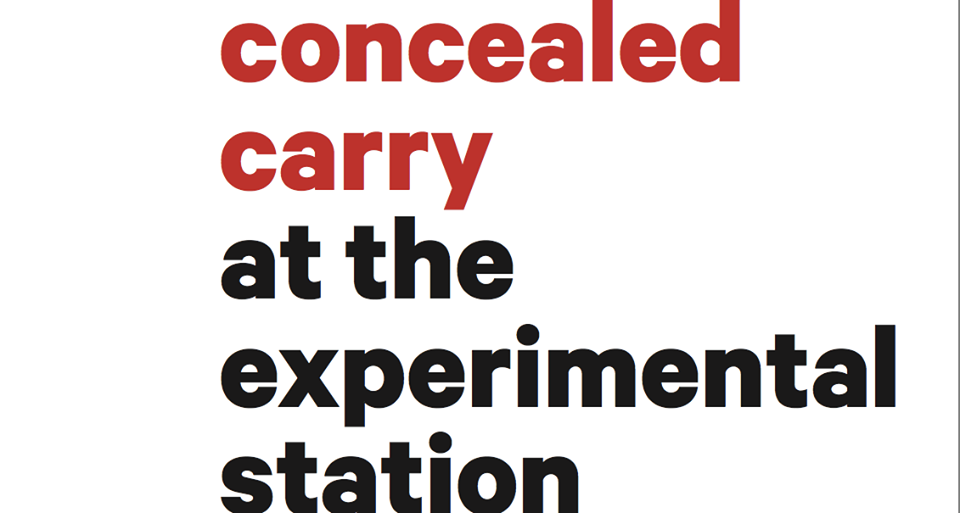 Concealed Carry poster.
For the exhibition, The Kite Collective issued 100 "conceal and carry" kites as part of the exhibition installation as a means of pointing out the paradox of arming individuals to create safety:
"For the installation taking place at the Experimental Station throughout the month of January, the month the legislation takes effect, the Kite Collective shall issue 100 "conceal & carry" kites in response to the Concealed Carry Act – arming urbanites with kites as a nonviolent tool for processing and perspective. These "conceal & carry" kites will be crafted with intent to begin distribution at the opening.  The materiality and procurement of the kites will explore the paradoxical nature of arming individuals with violent means to create a safer environment."
More notes on the Collective's "conceal and carry" kites, as well as their thoughts on the recent legislation can be found on their Tumblr.
Why Kites?
The Kite Collective's Maureen Walrath recently gave a talk addressing the question "why kites?" while also leading a kite making demonstration.  This talk covered ideas that included:
Symbolism behind the kites.
The motivations of the Collective.
The use of kites as more than a recreational tool.
Included below is a scanned image of Maureen's notes that go over these ideas in greater detail.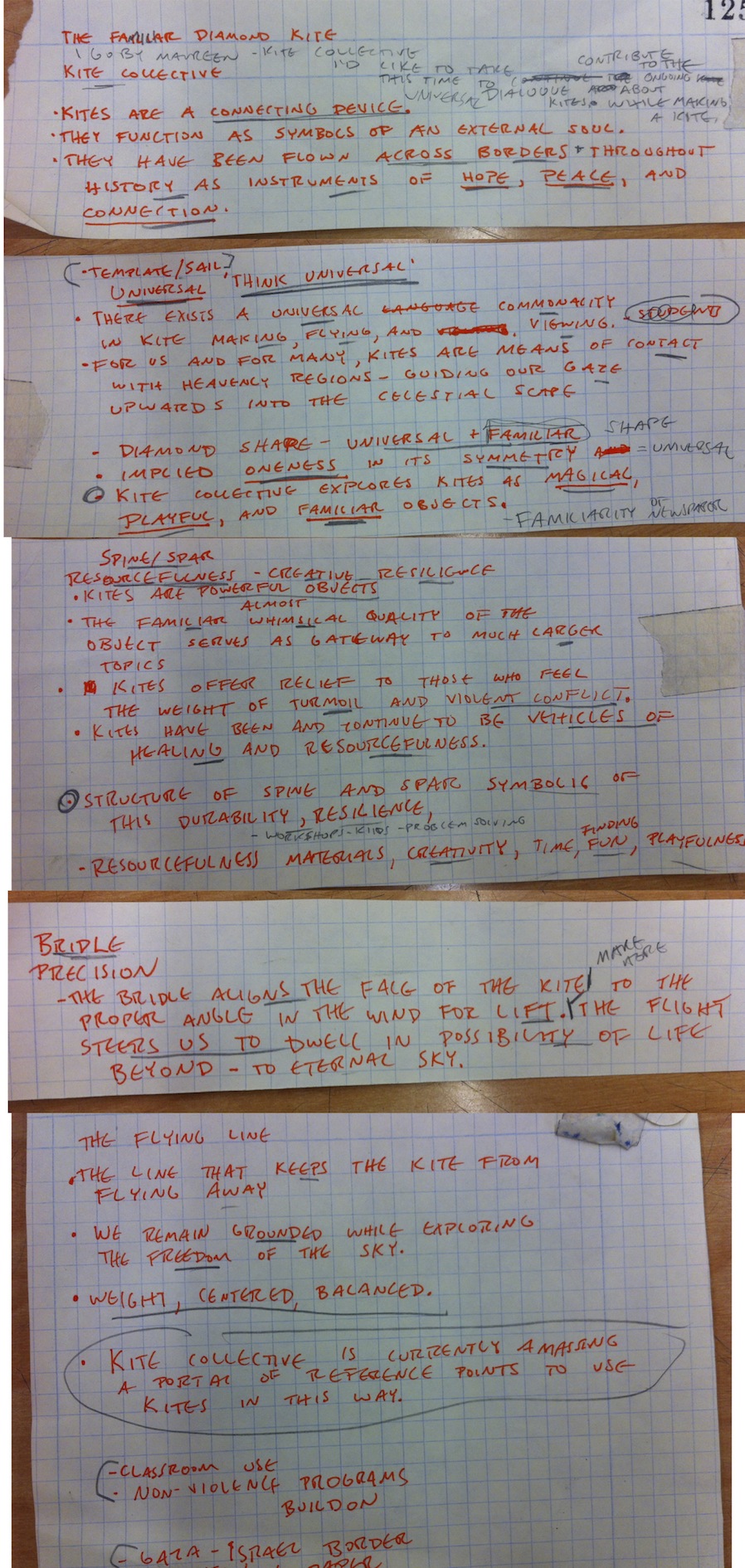 Maureen's notes.  Photo courtesy of Maureen Walrath.
Other initiatives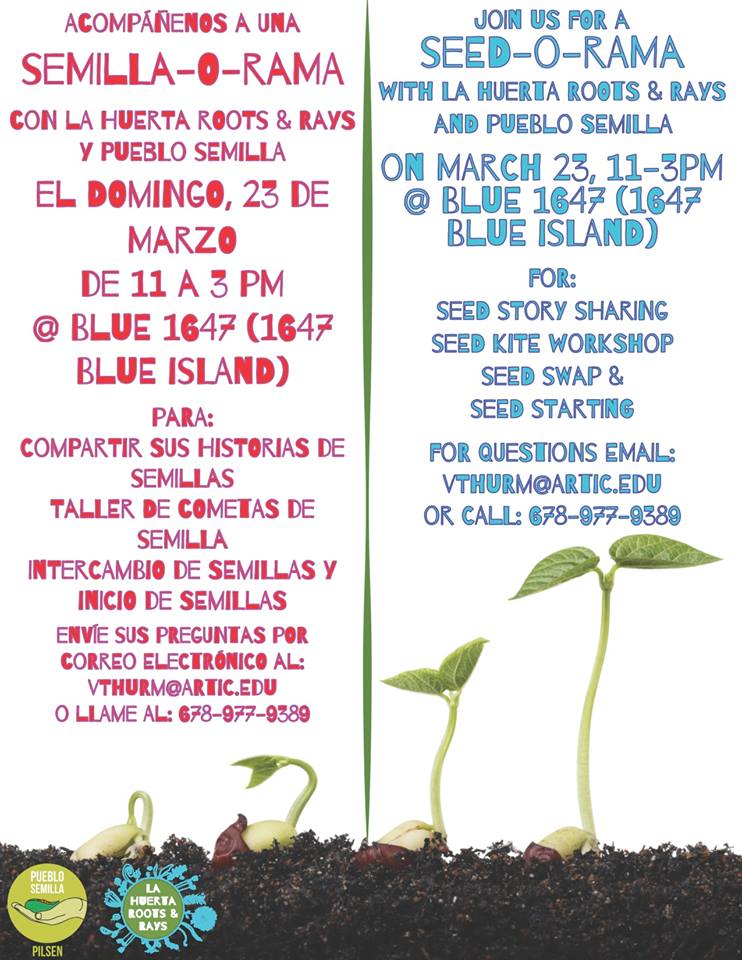 Pueblo Semilla.  Poster courtesy of Victoria Thurmond.
Work is being done on developing apprenticeships and collaborative learning programs, as well as doing performative exercises at music events with kids.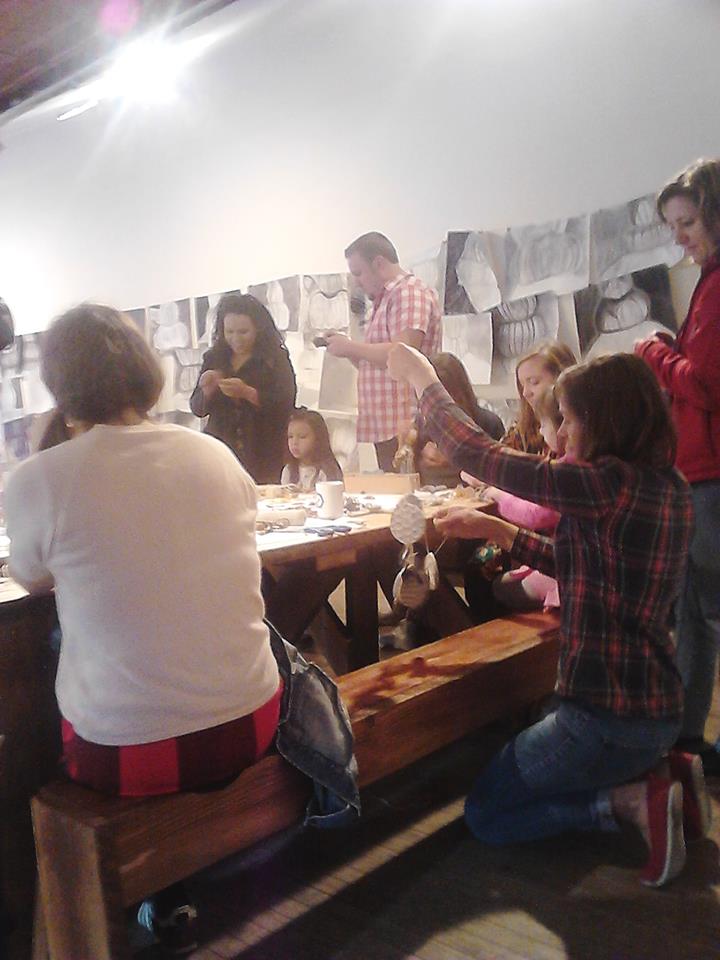 The Kite Collective at Co-Prosperity Sphere.  Photo courtesy of Lily Schmall.
The Collective is now officially collaborating with Sunhouse Craft.
Recently, the Kite Collective signed a lease on a space at the Kimball Arts Center in Chicago to July 2014.
For those interested in keeping up with the latest news and activities of The Kite Collective, be sure to look at their website, like them on Facebook, and follow them on Tumblr and Twitter (@kitecollective).