By Matthew Morowitz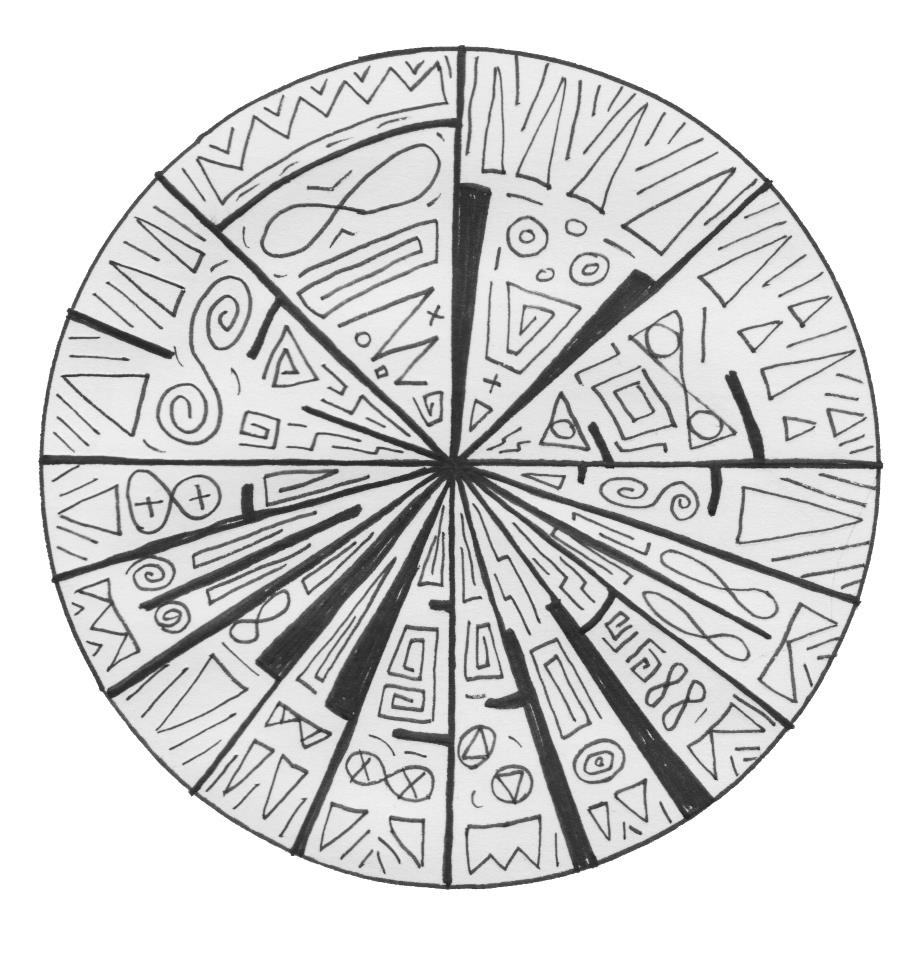 "Kite Collective logo", photo courtesy of The Kite Collective.
To say The Kite Collective goes wherever the wind may take them may seem like a bad pun but the statement is entirely apropos to their activities at this particular time.  While members Lee and Paolo are in New York handling activities in the city and continuing the Kite Relief efforts, Zebediah and Whitney have been in contact mainly through email, as Whitney is currently in Chicago working on getting a kite machine set up there this summer.  Through Kickstarter donations and running different workshops, The Kite Collective has been able to bring the world of kite flying to the general public and, as mentioned above, are expanding their efforts to other cities and places outside of the East Coast.
Although the collective was kind enough to answer some questions via email, after having had a chance to speak with Whitney, I was surprised to learn about the greater kite community, which she described as "bigger than I anticipated initially, not one you come across on a daily basis unless you are seeking it out."  While Whitney has found the kite community to be an aging one, she was surprised to find that the collective has taken on an accidental role in getting younger people interested in making and flying kites.  From this niche community, the American Kitefliers Association and the Drachen Foundation have been the most helpful to the Kite Collective, even though both are based out of the West Coast (Portland and Seattle respectively). Whitney was shocked to find such a large kite community in Chicago, admitting that the NY presence has not been as "vibrant" as what she has found on the West Coast and in the Midwest, but the collective has been working on getting more East Coast fliers involved and has found them to be very receptive to their overtures.  Yet, despite a larger community existing out west, the collective has no definite plans of relocating and foresee themselves staying in the east as "that's where our roots are," but as each of the members have been moving in different directions (although Paolo has no plans to leave NY, Whitney is currently working on a move out west and Lee has been undertaking her own projects in South America, documenting the process of kite making in other parts of the world) they can't definitely say whether or not it will remain there over time.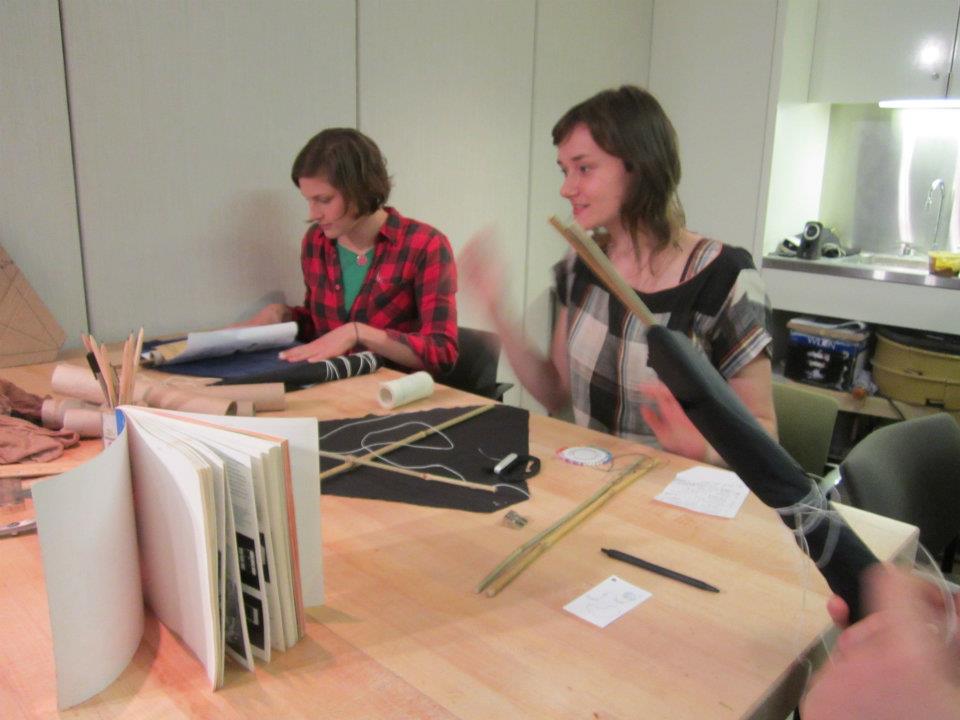 "Trade School Kite Class," photo courtesy of The Kite Collective.
Whitney is excited to see where the next 5 years will take The Kite Collective, as it has already gone a lot further than any of the members expected when they first started making kites.
"It's just really nice to have the opportunity to share a passion like kite flying with others. It's easy to get lost in our own daily activities and to let go by flying kites with others. It's a really nice way of building friendships that you would not normally anticipate."
The collective is made up of very passionate people and their efforts, along with their supporters, are only growing and with their commitment to promoting kite making and flying, hopefully the skies of NYC will become a lot more colorful.  Below are the questions the whole collective had answered via email, as well as some information regarding their current appearance in the Hester Street Fair.
AiOP: How did The Kite Collective come together?
Whitney: We are all very curious by nature. The seed was planted one summer's day on Coney Island while flying store-bought, factory-made kites that required us to assemble the kites blindly. Mine was the only kite that survived assembly. I was being unusually patient after seeing the havoc reeked on the others due to sheer frustration and confusion. Lee took this experience home and began making kites. The rest is history.
Lee: I rediscovered my love for kites while backpacking in Argentina. Kids made kites out of plastic bags and flew them on the mountain-side for hours. They used the resources around them to amuse themselves. Inspired, and with a ton of discarded windbreakers that I acquired while at fashion school, I started playing around with different kite designs. After months of testing and lots of help from my friends, the mysteries of the kite were solved. This is how the collective formed.
Zebadiah: I met Lee after teaching a screen printing workshop held by the Gowanus Print Lab and Etsy. At the time, the Kite Collective was a vision Lee was passionate about; I recognized her sincerity. When I was approached about helping test kites, the kinship felt between creatives compelled me to lend a hand.
Paolo: I arrived a little later after the founding of the Kite Collective by Lee and Whitney.
Whitney: Paolo became involved at the beginning of this year when I introduced him to Lee. They had an immediate connection and started making kites together in Paolo's apartment in Greenpoint. Paolo was the one that got the microkites staying up in the air, which is a big deal!
Paolo: When I met Lee, I had never actually made or flown a kite successfully. Within a week from our second meeting, we successfully fixed the prototype of the microkites and went into production, making more than 600 of them in the following 3 months.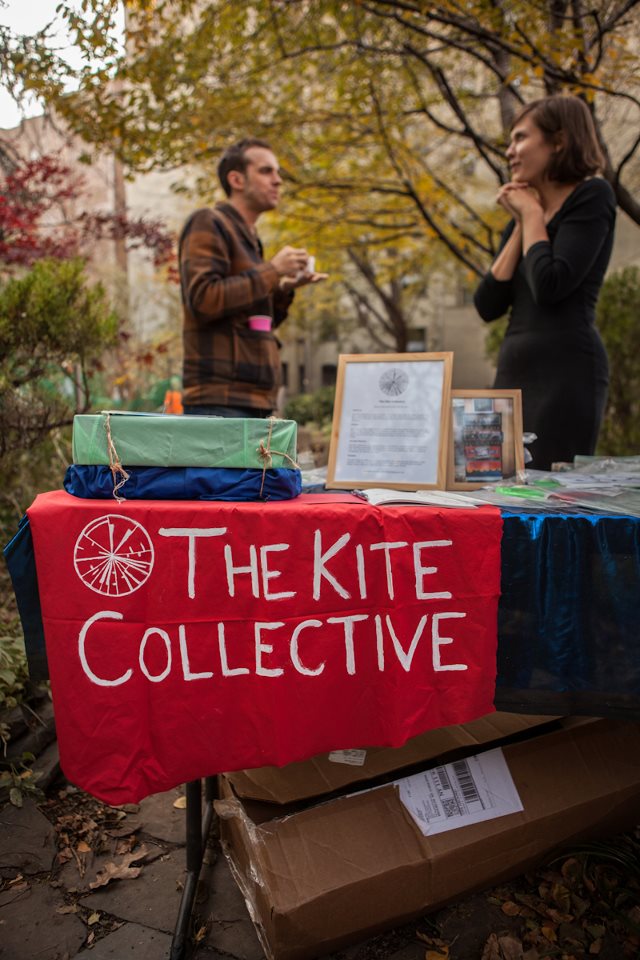 "Kite Collective at Green Oasis and Gilbert's," photo courtesy of Shani Patel.
AiOP: What drew you all to kite making?
Whitney:  The rhythm and sensory experience. When I make a kite, I feel like I'm breathing into a familiar but forgotten set of lungs. Also, I love to play and tinker, and it's a wonderful gateway to creating a reality of magic, beauty and dreaming. Numerous traditions have interpreted kites as externalized extensions of the soul, which I find deliciously comprehensible.
Lee: It's a meditation both making and flying them. Some Buddhist traditions say that women come from the sky and men come from the earth. I figure maybe that's conducive to my love for making them; it's very grounding.
Zebadiah: I hadn't flown a kite since I was a child, so there was a sense of mystery, magic and wonder about flying. What really attracted me was the other members' philosophy: focusing on meditation, gratitude, awareness, kindness, compassion – for human beings and the earth itself. I believe these to be the highest values one can have; the Collective drew a link between these beliefs and the act of flying a kite, which I thought was an incredible way to connect and share with the community.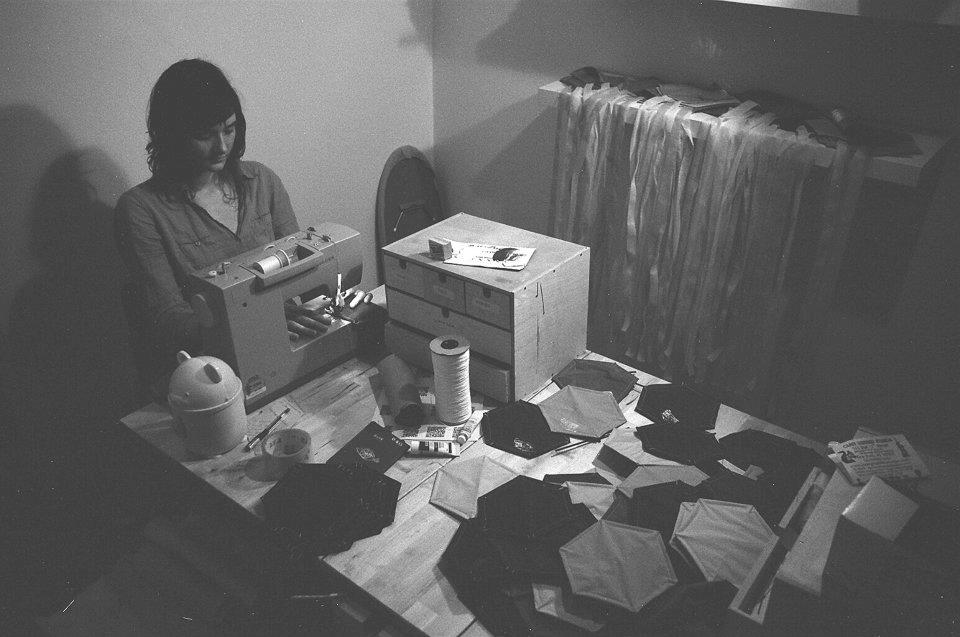 "Kite Collective Studio," photo courtesy of The Kite Collective.
AiOP: What inspired the Kite Machine Project? Will you be expanding locations in the near future?
Whitney: The Kite Machine Project was inspired by musings on the ordinary. Most often we see consumable, profit-driven and disposable objects for purchase inside vending machines. The Kite Machine reimagines this exchange by offering a whimsical, familiar object made with love and care that will stand the test of time. On the practical side, the Kite Machine allows us to share our love of kites without requiring our physical presence and, by design, lends itself to be a breathing grown-up project with a life beyond its creators. Yes, we are in the process of location scouting for 2012 and beyond!
Lee: The Kite Machine is also a way to make kites accessible to people. When you fly a kite, you want to share it with others, and the happiness spreads.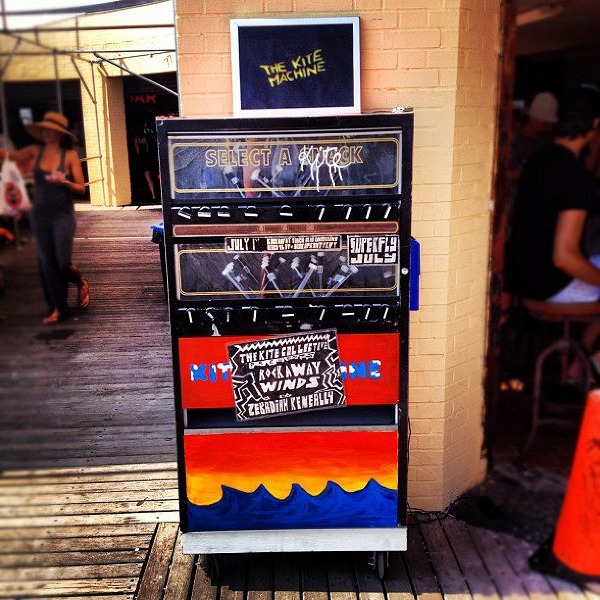 "Kite Machine," photo courtesy of The Kite Collective.
AiOP: Describe the playlabs; what is the atmosphere of these classes? What do you hope to achieve through teaching people about kite making?
Whitney: The atmosphere changes with the environment of each playlab. The objective of the playlabs is to capture the wonder and tickle the curiosities experienced when we learn a new skill, exercise our creative energies and let our inner child roam free. The underlying result is sparking a community built on the ideals of creativity, craftsmanship, skill-sharing and the energy and growth spawned by playfulness and experimenting. I can wholeheartedly say that with these objectives of the playlabs felt in heart and mind, the atmosphere generated is one of openness, heightened energy and a sense of satisfaction.
Lee: Through teaching kite-making, we hope to show how something as simple as making a kite can provide a deep kind of satisfaction that doesn't come from giving in to consumer culture. Living in such a place as New York City where there is so much excess, we lean toward using recycled synthetic materials like used windbreakers to make kites with and this can help break old patterns of consumption.
Whitney: Yeah, the concept of resourcefulness is a major component of the playlabs.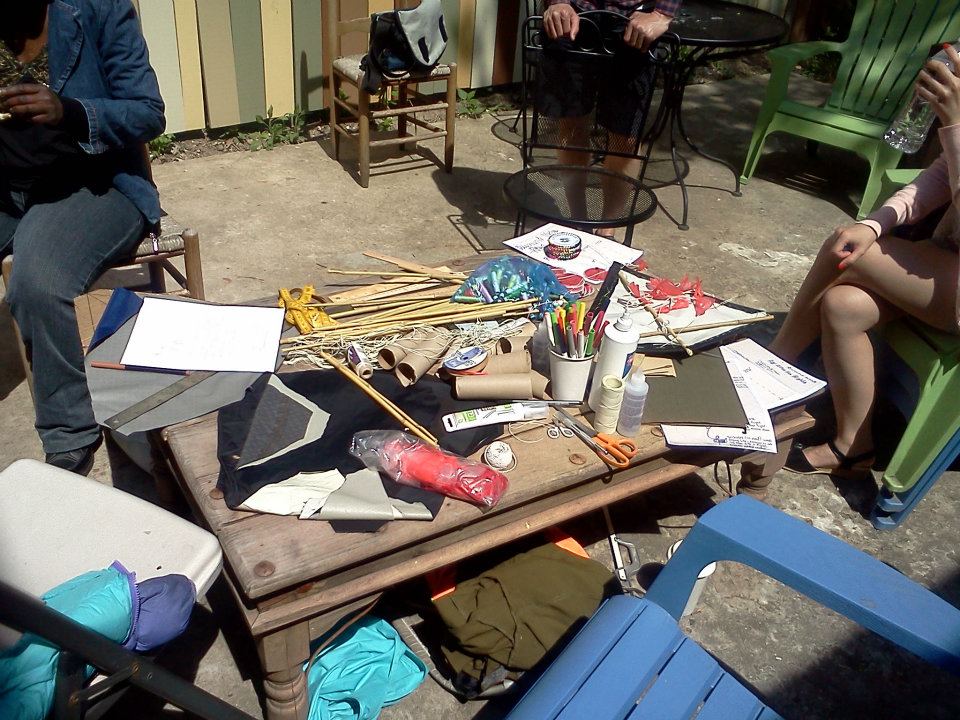 "Built in Brooklyn Craft Fair Workshop," photo courtesy of The Kite Collective.
AiOP: How has the Kite Relief impacted support efforts for hurricane relief in Rockaway?  Has this experience helped inspire any future projects or directions the collective might pursue?
Lee: Kite Relief happened as a natural reflex to the disaster in Rockaway. Paolo and I were at a meditation retreat when Sandy hit and we came back to this chaotic, instinctive effort to get everyone what they needed in the immediate aftermath of Hurricane Sandy. It was awesome to see the community coming together in such a natural way to help out. The Kite Collective was involved in relief at the grassroots level, distributing basic necessities such as cleaning supplies and food at a relief center near the old Kite Machine post. Once those basic needs were met, we started giving out kites and kite-making kits to create a diversion for people and teaching kite-making classes.
Whitney: Our mission as a whole is to offer an outlet or escape for people. The other day, Paolo said that in Italian the word relief carries more of a sense of "diversion" or "change." Being able to offer a lending hand in both the practical sense of clean up and rebuilding and in the more intangible sense of offering a creative outlet in a time of distress is second nature. The latter is an often overlooked, undeniably necessary form of relief to breathe life back in an area that was devastated.
Zebadiah: We were welcomed into the Rockaway community so warmly with the launch of the Kite Machine and our events on the Boardwalk. Like Lee, I felt a desire to lend a hand to a community that treated us so kindly. After volunteering in general relief efforts – cleaning basements, moving debris, delivering food – I realized that what the community also needs is something immaterial; a boost to flagging spirits – hope. As an artist and a teacher I have seen time and time again that creativity and imagination can ignite the soul and illuminate meaning and purpose for individuals and groups alike. Kite-making workshops serve that purpose, giving freedom of thought and spirit, along with a sense of empowerment to those who participate. This idea has inspired me to begin arranging classes that focus on storytelling through drawing in the Rockaways. The goal is to give people a chance to share their voice with the larger community.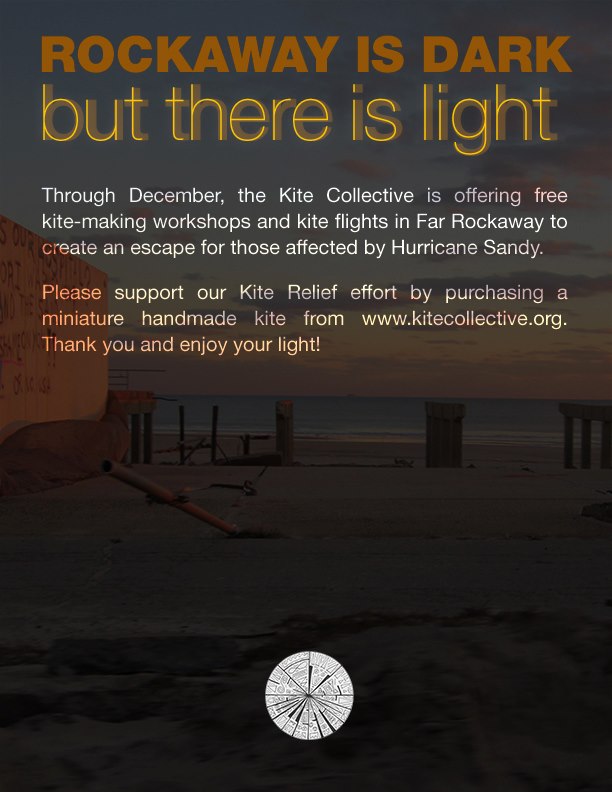 "Kite Relief poster," photo courtesy of The Kite Collective.
AiOP: What types of projects and events does The Kite Collective have planned for the future?
Whitney: We want to continue installing Kite Machines and spreading kite magic in other creative ways. I'm in Chicago right now and am working on getting a machine running here. Lee is going down to South America to work on a Kite Collective film project this winter. The sky is the limit, literally.
Lee: Right now we have an installation of "relief kites" in Room 2C at the Hester Street Fair, 233 Mott St. NYC. It runs through the month of December and concludes with a kite-making workshop at the market on December 23rd at 5pm. (http://www.hesterstreetfair.com/)