In our last post, Sheryl Oring discussed the Art in Odd Places festival in Greensboro, North Carolina and taking her Art in Odd Places class at the University of North Carolina to New York City for AiOP 2015: RECALL back in October.  In this latest post, the students from this class share their insights and experiences observing and assisting works within this year's festival.
Learning on the Streets: AiOP as Laboratory for North Carolina Students
By Paula Damasceno
To be in New York for the first time and attend, participate and immerse in the Art in Odd Places Festival was intense to me. In one hand, as I walked through the city, I realized I was in the core of Capitalism. In another hand, as I landed at Art in Odd Places, there were artists negotiating their existence and their work not with gallerists and critics, but with the people on the streets in a very democratic fashion and for free.
The few works I could see were the ones I wanted to see, nothing was forced into my eyes or anybody else's eyes. Freedom is a privilege associated with the streets, which once upon a time were considered to belong to the people and are now odd places. Nevertheless, on these odd streets you can "seek and learn to recognize who and what, in the midst of inferno, are not inferno, then make them endure, give them space," as in Italo Calvino's Invisible Cities words. Art in Odd Places provides a group of people who "are not inferno" and "give them space."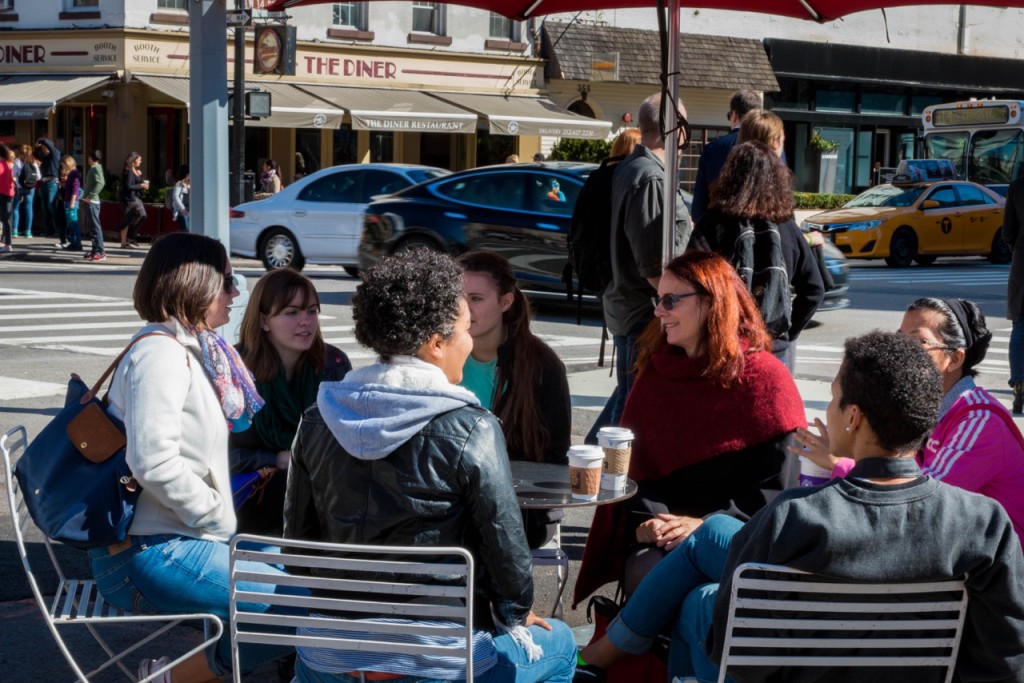 An honors class from the University of North Carolina at Greensboro met on 14th Street to discuss the festival. / by Todd Turner
My experiences started with a quick stop by Laura Mylott Manning's Road Kill Stuffed Animals: Endangered Species, a parade with animals created with junk mail, plastic bags, and cheap clothing. My second experience, and the most deep one, was helping LuLu LoLo with her Joan of Arc of 14th Street, a multimedia performance calling attention to the inequality between the number of statues honoring men (around 150) and women (only 5) in Manhattan. It was a life lesson to see how LuLu created a simple yet effective and beautiful, playful way of questioning the city using the streets to exercise freedom of speech and collective reflection on a social issue.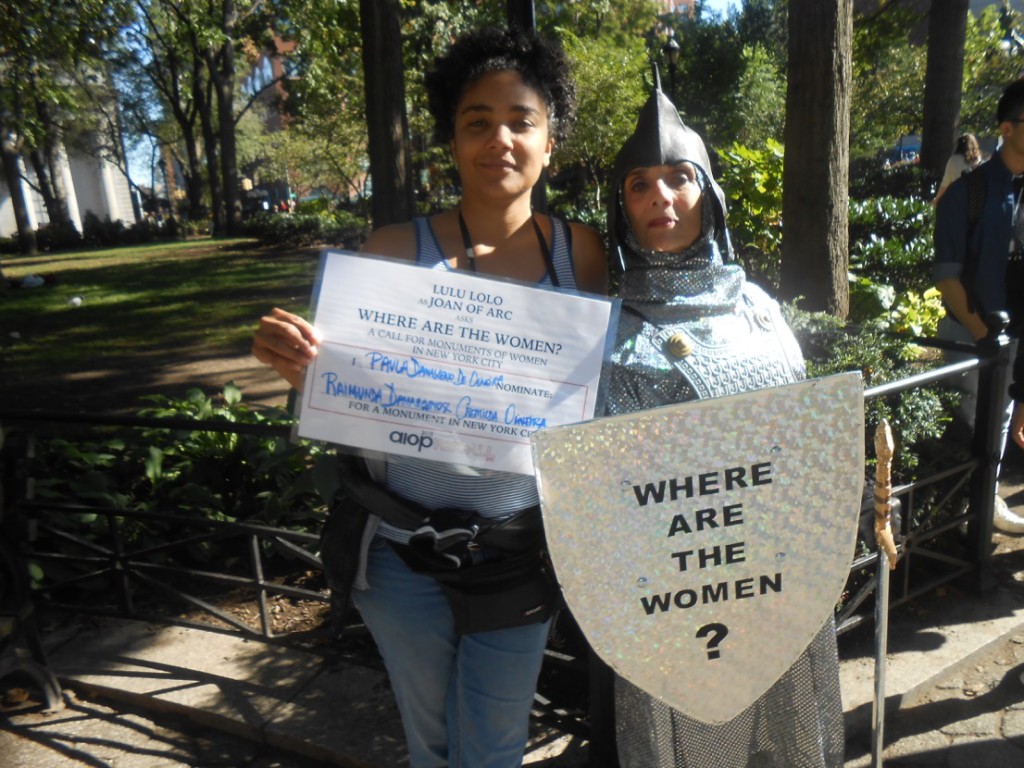 Paula Damasceno (left) with LuLu LoLo. / by Robin Holde
My day ended with my class colleagues in a very relaxed conversation on a sidewalk where people generally do not stop that much, much less have a collective conversation. At six o'clock, Carolina Mayorga offered us a beatific manifestation of "Our Lady of Fourteenth Street", where, as in the best tradition of the streets, the public participation completed the ritual: most of us were sitting in front of her apparition and a boy, enchanted by the smoke coming from Our Lady, stayed there next to her, completing the religious sacred picture of Our Lady and Jesus as a boy, in 2015. There may live my utopic view on AiOP: if the artists are the ones to be recognized as "not inferno," and therefore space is given to them, during AiOP they all went beyond their gift and shared that space with whoever was on the streets. By doing so, they possibly made us all "not inferno," and therefore we all should endure and be given more space, to share with others and so on…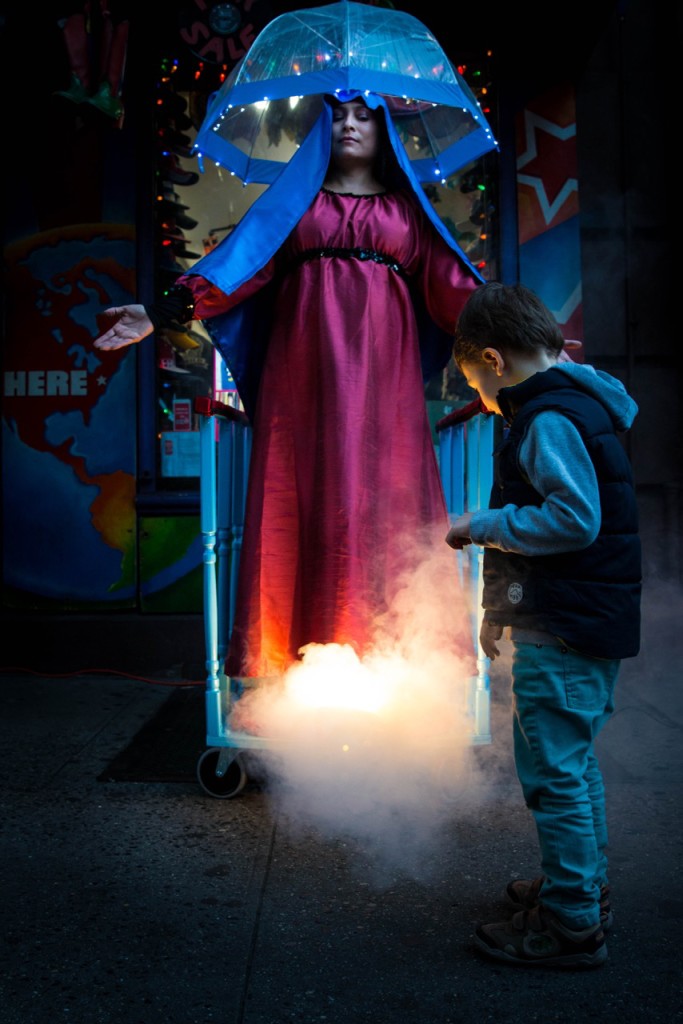 Carolina Mayorga's "Our Lady of Fourteenth Street" / by Todd Turner
Asking "Where are the women?" with LuLu LoLo
By Robin Holde
Working with Art in Odd Places was an amazing experience. I was paired to help LuLu LoLo with her "Where Are the Women?" piece. There are a lot of invisible issues in this world that people would be passionate about fixing if they were informed of the problem, and the lack of women monuments in New York City is one of these issues that is not in the limelight. However, LuLu is looking to change that and bring awareness to this problem, and she's doing it in a wonderfully engaging way. Her role as "Joan of Ark of 14th Street" was such a great way to attract people and make a statement. As people spoke to us and learned more about the issue, we would ask them if there was a woman that they would like to nominate in order to have a monument for them. They would fill out their nomination on a board and then take a picture with LuLu. These photos were going up on Social Media in real time in order to gain even more awareness.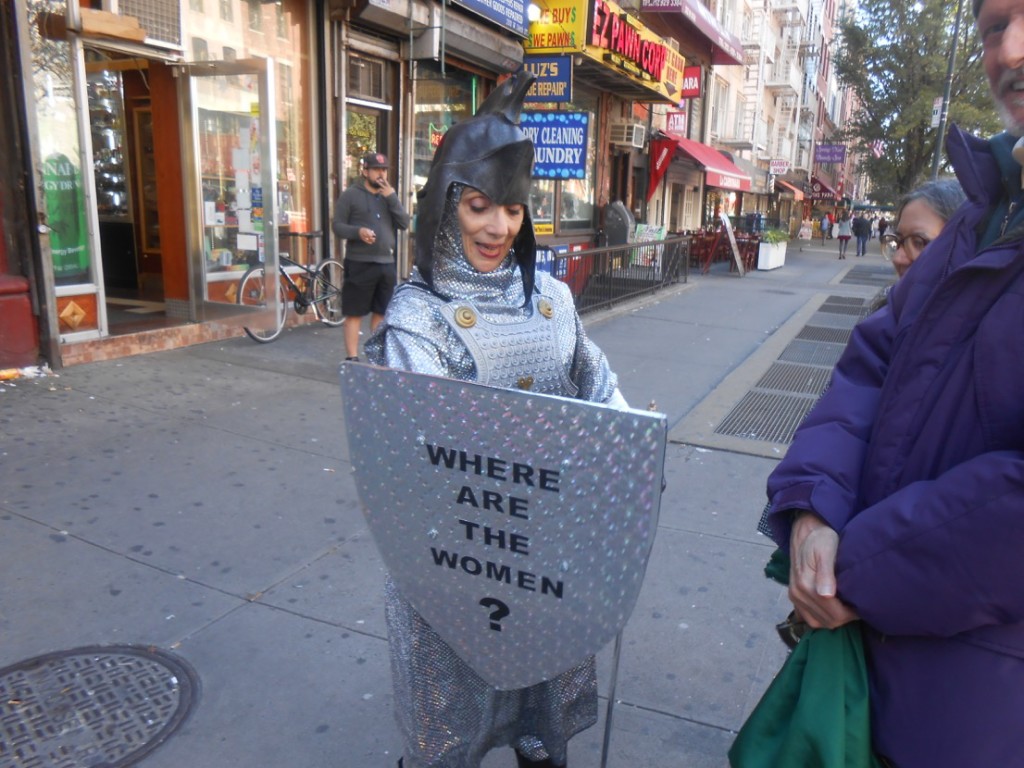 LuLu LoLo asking "Where are the women?" / by Robin Holde
Two women we spoke with stuck out to me. The first was a girl who I made eye contact with, but she kept walking and I was sad to have missed the opportunity to interact with her. Then, five minutes later she was back. She had heard a snippet of what LuLu was saying as Joan of Ark, but was on her way to school. She made it to school, checked in, then got permission from her teacher to come back and speak with LuLu. It was so great to see a young adult so passionate about learning more in order to better her city. While she did not have a specific woman in mind to nominate, she spoke about how decreasing the gap between men and women was extremely important to her. She stayed around for a little while to observe before encouraging LuLu and going on her way.
The second was a pregnant woman with her husband and young daughter. She spoke with LuLu for a minute, then when asked who she would like to nominate, she immediately said the midwife who helped deliver her daughter. She told us how her midwife loved to say that all women need to be strong is another woman by her side to encourage her.
Both of these women were passionate about the empowerment of women, yet knew nothing about the lack of women monuments in NYC, and it was so rewarding to be able to bring awareness of this issue to people that will now move forward looking towards helping make a difference.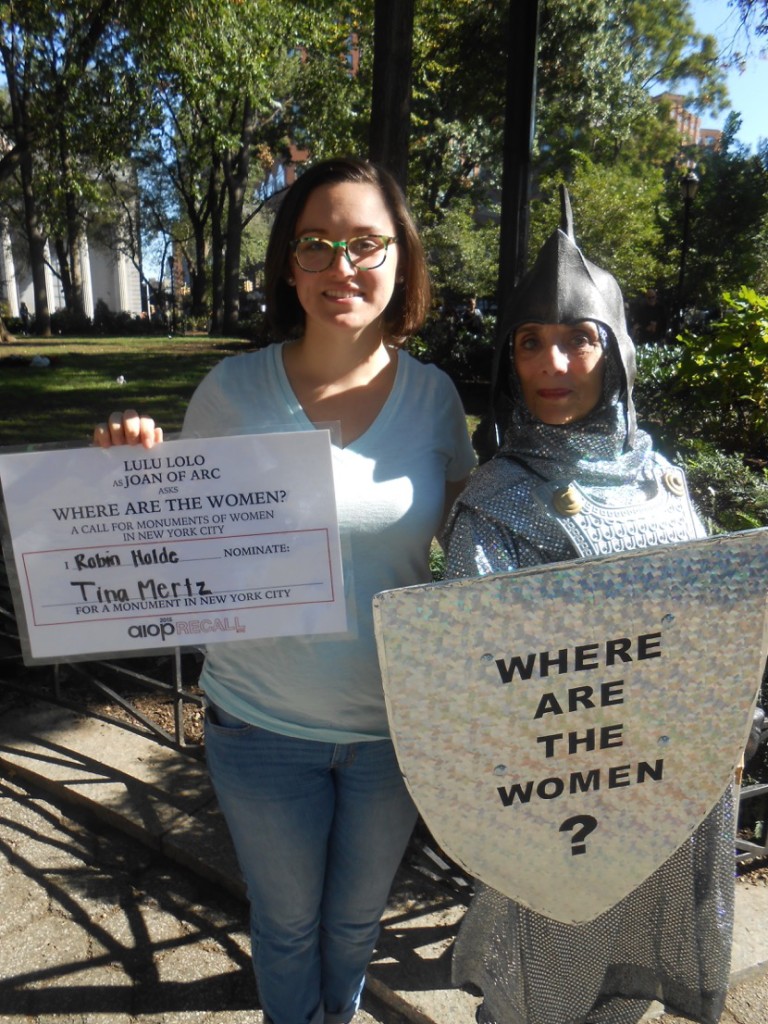 Robin Holde with LuLu LoLo. / by Paula Damasceno
Challenging Interventions
By Diego Vergara
Art in Odd Places allowed me to experience art works in the quotidian and consumerist nature of New York City. The act of observation, participation, reflection, and dialogue played part in the experience of this entire body of work. My time during the festival was mainly invested with artist Edith Raw. I volunteered to document the work, including taking photos and video. And I also functioned as a facilitator, talking to the audience in order to provide information about the artist's intentions and background.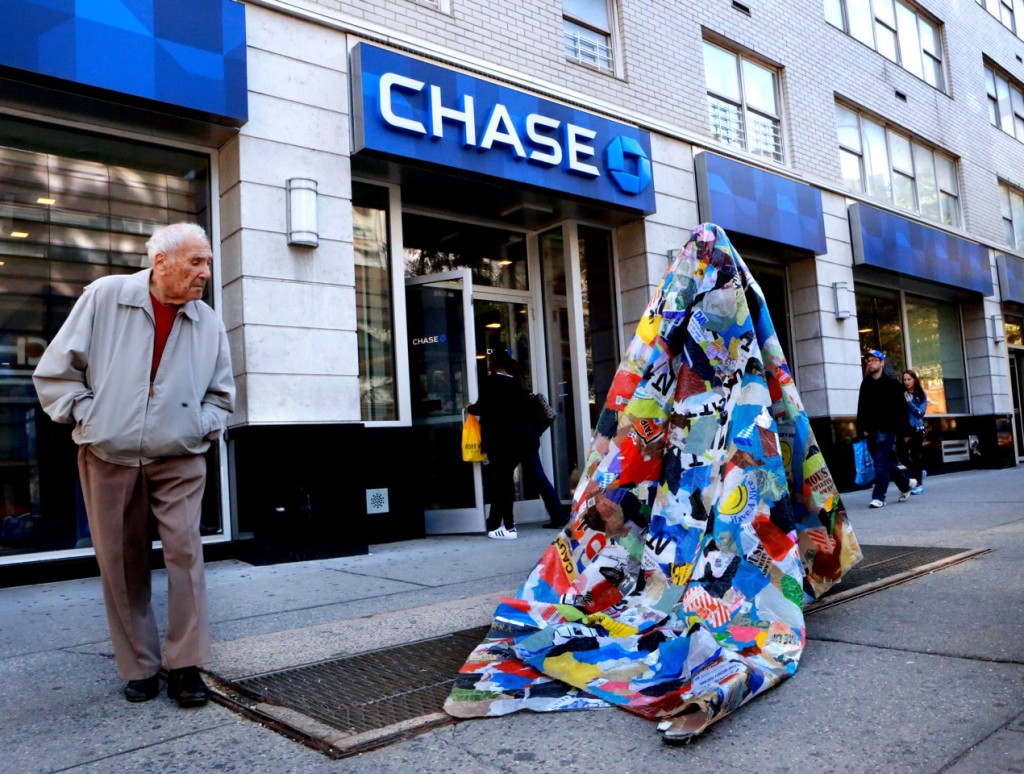 Edith Raw intervened along 14th Street / by Jiyoung Park.
With the "Collapse" performance, Raw occupied 14th Street by roaming through the crowds and simultaneously wearing a quilt made out of plastic bags and packaging made by Raw and Marea Judilla. Raw intervened in consumerist spaces by taking up large portions of the sidewalk, making it impossible to ignore the collected waste gathered on her ghostlike figure. It was interesting to see Raw's bodily transformation when approaching different sites. In banks and shopping centers, Raw performed a contracting motion in front of these establishments, which created discomfort with the audience. At the tail end, Raw's performance took place in Union Square, where she interpreted different forms of leisure reflecting the people around the performance.
As a student interested in pursing socially engaged art, part of my education is to experience these works, which is sometimes hard to find in Greensboro, NC. During my time at Art in Odd Places, I was able to experience an array of socially engaged art works. For a while this type of practice felt out of my reach, but after seeing Jabari Owens-Bailey commit to his performance, "Oprah Wept," a mobile confessional booth where people could make a spoken confession of any cultural insensitivity they once enacted. Even when people were disinterested, it made me realize that socially engaged art works don't just happen, instead they are a process of trial and error. The best part of this experience was that it required dialogue to understand what was going on in front of you. This is nice because most of the time dialogue happens after seeing the art, and not during it.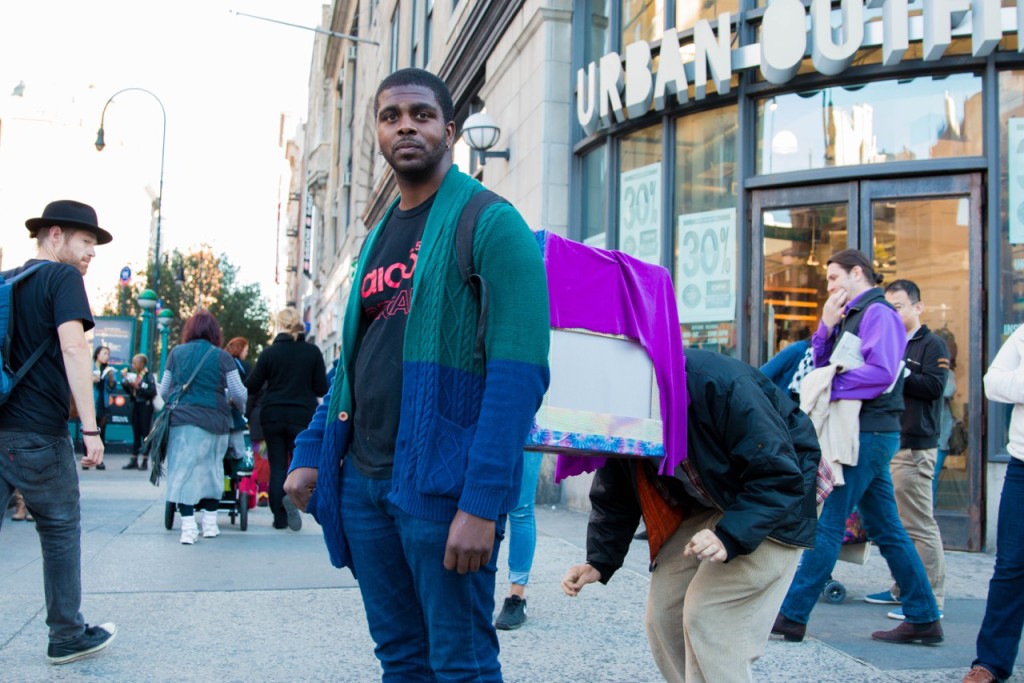 Jabari Owens-Bailey asked people to confess their own cultural insensitivities. / by Todd Turner.
Feeling art spirit
By Jiyoung Park
Fall had arrived in New York with whimsical and artistic vibes created by the art festivity, Art in Odd Places (AiOP). Along 14th street in Manhattan, the street transformed into a huge unbounded public exhibition. The unframed artworks removed the stereotype of art being placed in a museum or exhibition with a limited range of audiences, and the opened public display contributed to a public interaction with the art.
The various forms of art, from installation to performance art, were placed in and roamed around "odd places" on 14th street. As I assisted Edith Raw, one of the participating artists, I observed many audiences being confused with the purposes, concepts, and message of her artwork, Collapse. Edith roamed along 14th street under a huge handmade quilt of plastic bags. Her performance easily attracted the people's attention; however, her message was buried under the unstaged settings. It was accepted either as a meaningless prank, or a work of art that should be highly appreciated with its criticism on consumerism.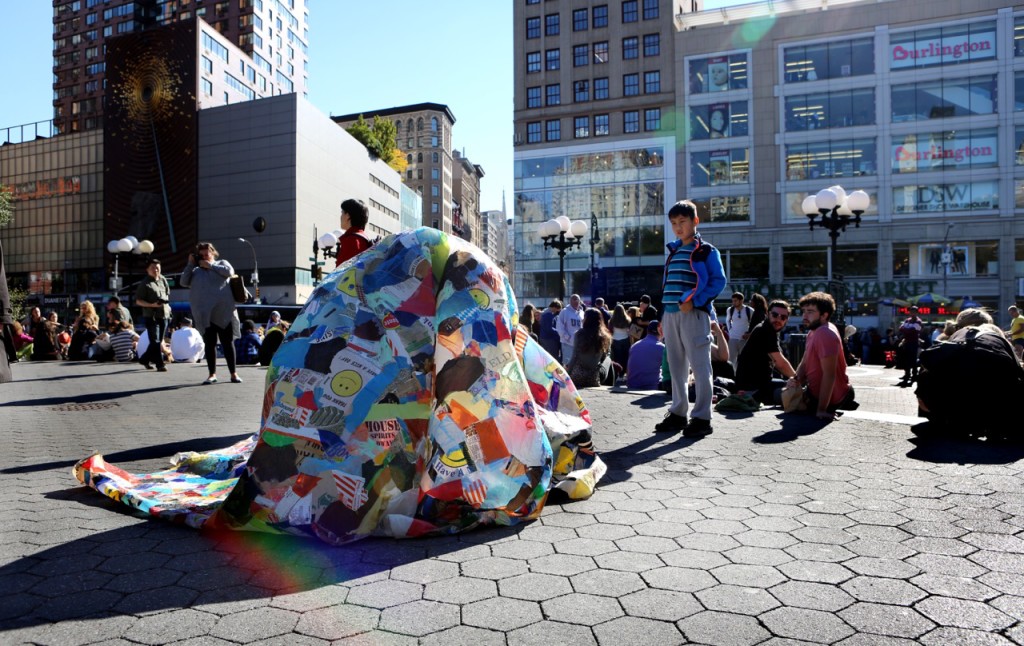 Edith Raw's handmade quilt made of plastic bags. / by Jiyoung Park
The different ways of understanding the work caused contrary responses between the artist being strikingly creative and talented, and just being crazy. However, that is a natural outcome and the charm of AiOP. Even though many viewers did not get the point of her work, they truly enjoyed experiencing the artwork in a daily life setting and interacting with the performance with joy. I appreciate Raw's attitude of being brave enough to do this incredible performance in front of all variety of people and being ready to embrace all kinds of reactions.
I highly value AiOP both as an artist and audience. Participating in AiOP is a chance to get a broad spectrum of unique and unexpected comments from diverse people as an artist, and also a chance to feel the art spirit and enjoy artworks without being pressured to be "formal." I applaud all the participating artists who created this energetic atmosphere in New York with their amazing artistic talent.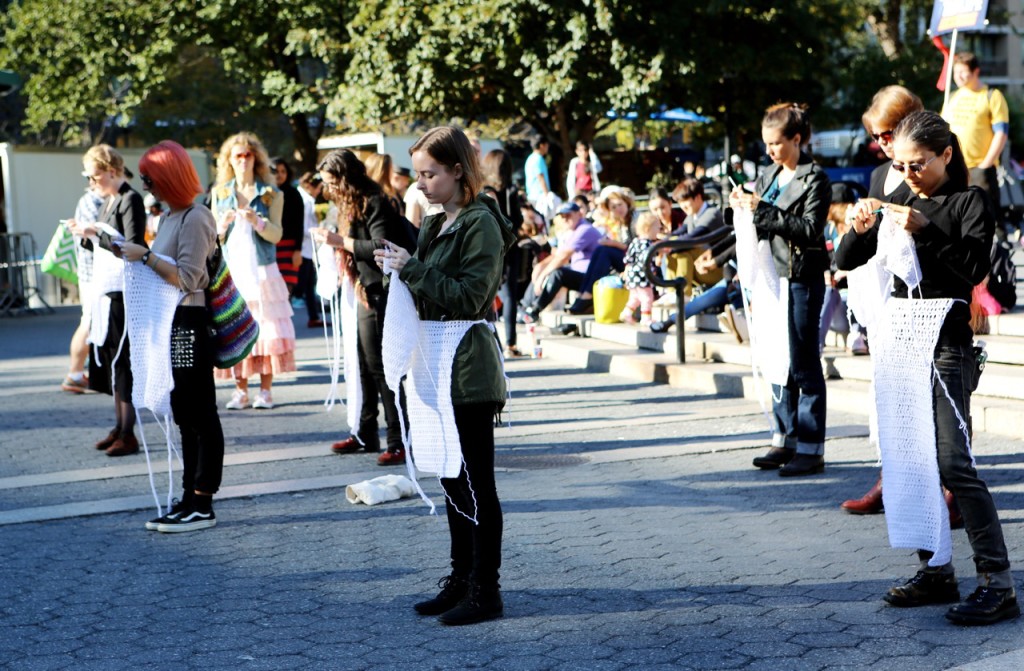 Olek's "Working Woman" performance /by Jiyoung Park
Gathering meaning on the Streets
By Amber Doniere
The bustling New York City landscape filled with people, places and things enveloped me from my first step into the city. How would anything be found within such a place? But with the help of a few dedicated performance artists, Art in Odd Places could be found up and down 14th Street. Sometimes the art was hiding in the shadows, other times it was staring you in the face. I was ecstatic to find the pieces of art, and each time I did, I walked away better than I came. The creativity, distinct voice, and participatory element of each piece really resonated with me. The art inspired me to observe and think critically and it was a joy to encounter on the blocks of New York City.
One of my favorite pieces that I got to be a part of was Jabari Owens-Bailey project entitled Oprah Wept. We walked up and down 14th Street enticing onlookers to "confess" their sins of cultural insensitivity in Jabari's custom built confessional booth that he carried on his back. It was amazing to see people's hesitance turn into willingness to participate and to hear their commentary afterwards. Many people stated that they felt a sense of relief after confessing and even solicited others to participate as well. Once one person was brave enough to try, it seemed as if everyone who passed by wanted in on the action. The beauty of the project lay in its ability to draw people in and interact with people in meaningful ways.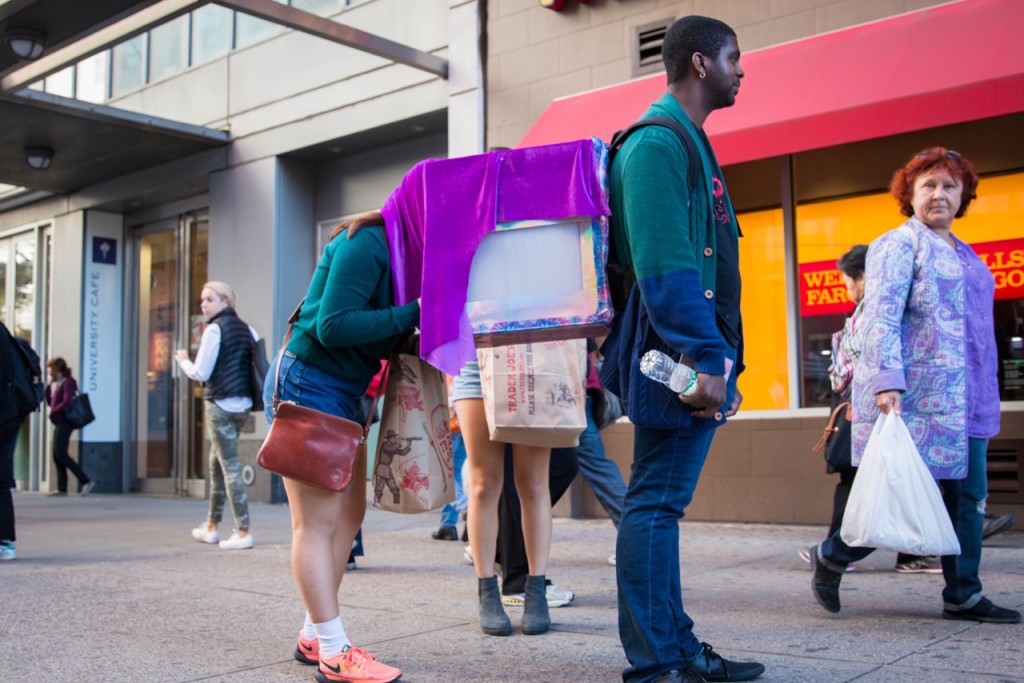 Collecting confessions of cultural insensitivity. / by Todd Turner
Another piece that I was able to participate in was made by Laura Mylott Manning. As I circled the waterfront block in the Meatpacking District carrying stuffed animals filled with shredded junk mail, plastic bags, and disposable clothing, I could see the eyes of passersby begin to wander towards us. What were we doing? Why were we doing it? You could see people's brains begin to ponder and question our activities. The poles the stuffed animals were being carried on displayed signs that said "We Are Endangered" and as a result the gravity of the situation and the message it portrayed was very powerful. I enjoyed how eye-catching the piece was and how a few simple words could convey so much.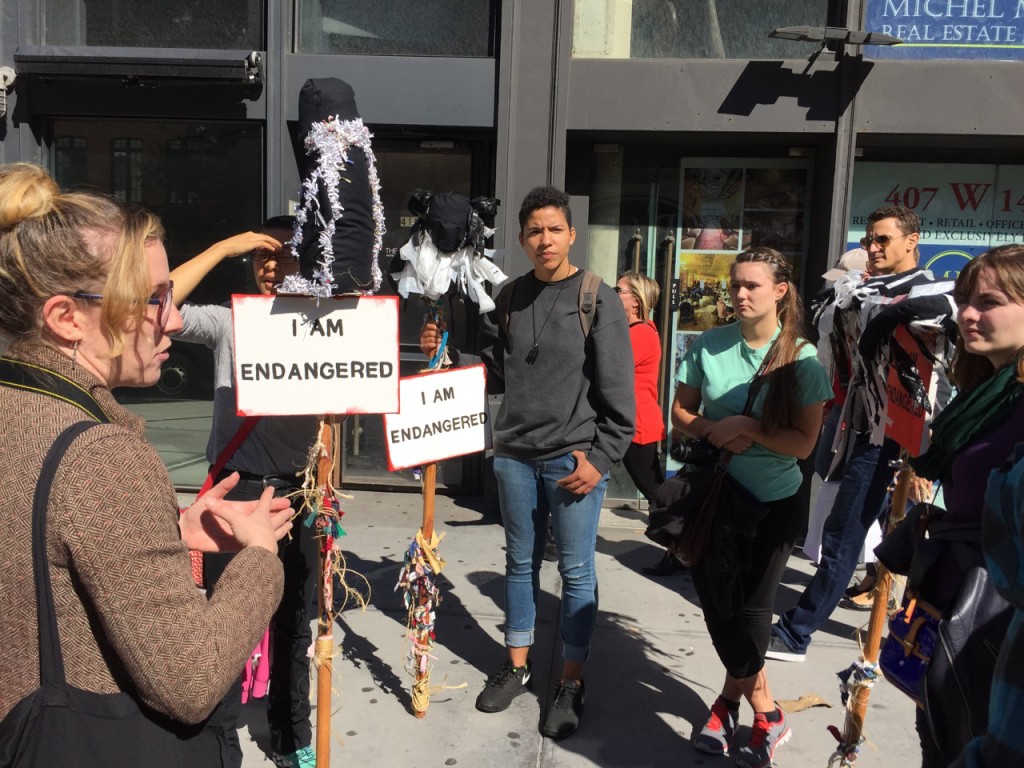 Getting ready to participate in a collective action / by Sheryl Oring
Learning by doing
By Todd Turner
After studying the history of Art In Odd Places for the past few months before our trip to New York, I was eagerly anticipating arriving in the city to meet the artists and experience the festival in the flesh.  No screen or lecture could have prepared me for this opportunity.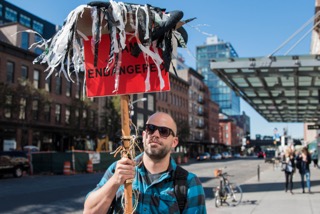 Joining Laura Mylott Manning's protest / by Sheryl Oring
Coming from a town where artistic minds are such a rarity, I immediately felt at home walking 14th Street and taking in all of the performances, installations, and demonstrations of AiOP.  I was fortunate to be able to personally assist Jabari Owens-Bailey, an incredible artist based in the DC area.  He was conducting an interactive performance piece called "Opera Wept" where he had a confessional strapped to his back and he welcomed the public to place their heads inside and confess any sins of cultural insensitivity that they may have committed at some point in their lives.  This was such a powerful experience. To see the growing interest of the public as the day progressed was a testament to Jabari's vision.
Being an adult student, I feel as though I value the personal interactions at this point in my educational career and meeting Ed Woodham was an experience that I will always treasure. It was such a pleasure to meet an individual with such an undying passion for the arts. You didn't have to hang around him for very long to experience the love, admiration, and respect that he receives from the artistic community around him. This class has given me the experience of AiOP and I am tremendously thankful.  However, I plan on making this a habit, visiting this inspiring festival every chance that I can in the future.  I want to send a huge, heartfelt thank you to Ed and all of the brilliant artists that participate in this event.  It is more impactful than you could ever imagine.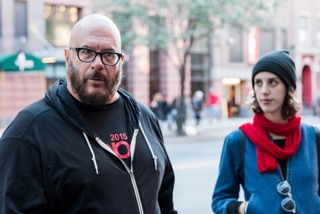 Ed Woodham and Claire Demere / by Todd Turner
Subtitle: The importance of details
By Laura Melrose
Experiencing AiOP as an art student was fantastic. Not only did I get to view interesting and unique art pieces on 14th Street, but more importantly I got to talk to the artists behind the pieces as well as hear about my fellow students' experiences. I worked with Laura Mylott Manning, whose piece Roadkill Stuffed Animals: Endangered Species was about how the human race is destroying the habitats and resources of animals causing many to go extinct or become endangered, that was similar in subject to what I was beginning to develop for my own intervention in downtown Greensboro. It was so interesting to hear from her how she made her piece, what research she did, what she made it out of and why, she had visited other countries since her last AiOP show and had encountered animals such as the koala that are endangered and became interested in further exploring how, why and which animals are endangered. She even selected a particular area of 14th Street because of its history as the Meatpacking District.
Laura's work evolved some from the first iteration, included in a previous AiOP. Working with her was an experience that I couldn't have gotten from standing in an art museum. Seeing people react or ask questions about the piece was also helpful as I began to think of my own piece. Her assistant Chris was also insightful about the lifestyle and work ethics of an artist in a city like New York. After talking to Laura, I began to rethink my entire project and what I was hoping to achieve with the piece I was developing. I started to consider the little details such as material, location, and whether I needed to be present to really make my piece convey the importance of its subject matter.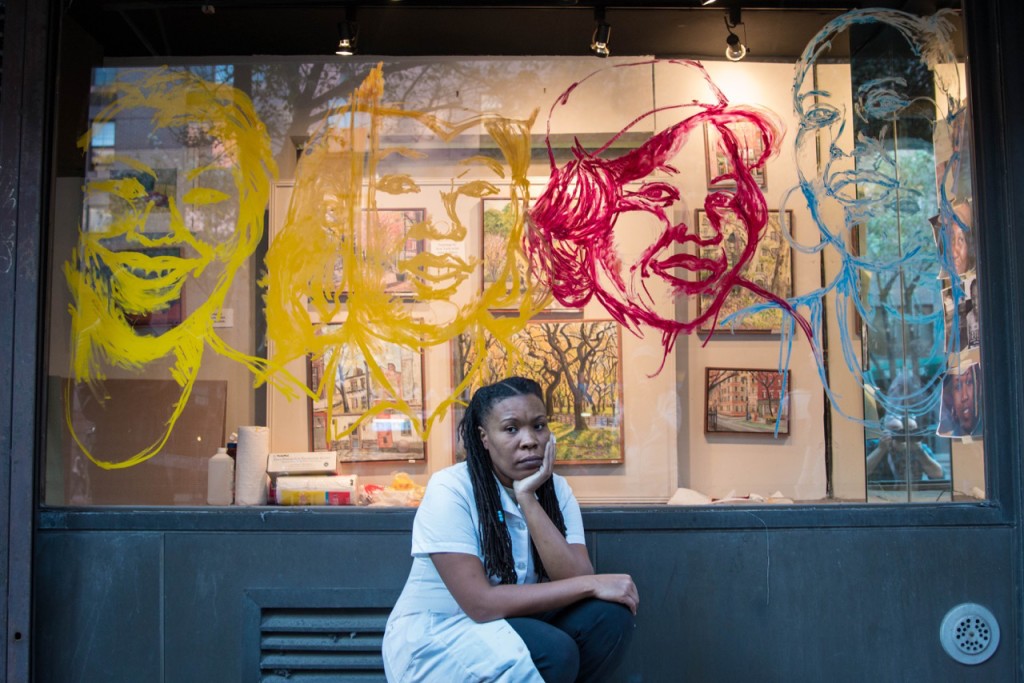 Tomashi Jackson with her portraits of women killed in police custody. / by Todd Turner
This was further emphasized when we talked to Tomasi Jackson, who also had a meaning to each aspect of her piece, Untitled (CMYMe) (Alesia, Alberta, Tanisha, and Me), which was about women who had been killed in police custody. She painted each of their faces on the window of a store as a commentary on their invisibility in society, she further emphasized this by drawing on her past AiOP project that discussed the life of a domestic worker. In fact what most would consider the art of the piece, the physical drawing, wasn't what she felt was at the heart of it. For Tomashi, cleaning the glass was the most important part of the piece. It was beautiful to hear her describe what cleaning the glass meant to her and how it affected her emotionally. It really gave me a drive to find a deeper meaning and something of great importance to me to represent in my own work. I learned to not let the little details just happen but to think of each one and develop them so that they assist and represent my message instead of simply being present or even confusing the meaning of the piece.
Tomashi Jackson (right) discusses her work with the class. / by Sheryl Oring
Subtitle: Gleaning ideas from NY projects
By Alley Deese
The Art in Odd Places festival was a great opportunity to meet different and new artists. Entering the art field is very intimidating so taking the step to show artwork in this festival is impressive. I had the opportunity to help Laura Mylott Manning with her endangered species piece and it was so much fun to work beside the artist and experience the different reactions of people who walked by the endangered stuffed animals that were stuffed with plastic and attached to a rod. Some people stopped and asked questions such as "What is this for?", "Is that a penguin?" or even "Where can I get more information?".
Another great thing about Art in Odd Places is that everything is on 14th Street. As I was working with Laura, Leah Harper's "Complimentary" piece was across the street. I took more than one compliment, not going to lie. One of the compliments that I got said, "You are smarter than an iPhone 6s." I enjoyed looking for and interacting with the pieces that were involved with the festival. There were pieces that raised new ideas for the project that I am doing for class. I found that the work in Art in Odd Places had a lot of meaning to the artists and seeing these pieces made me realize that my work really should mean something to me.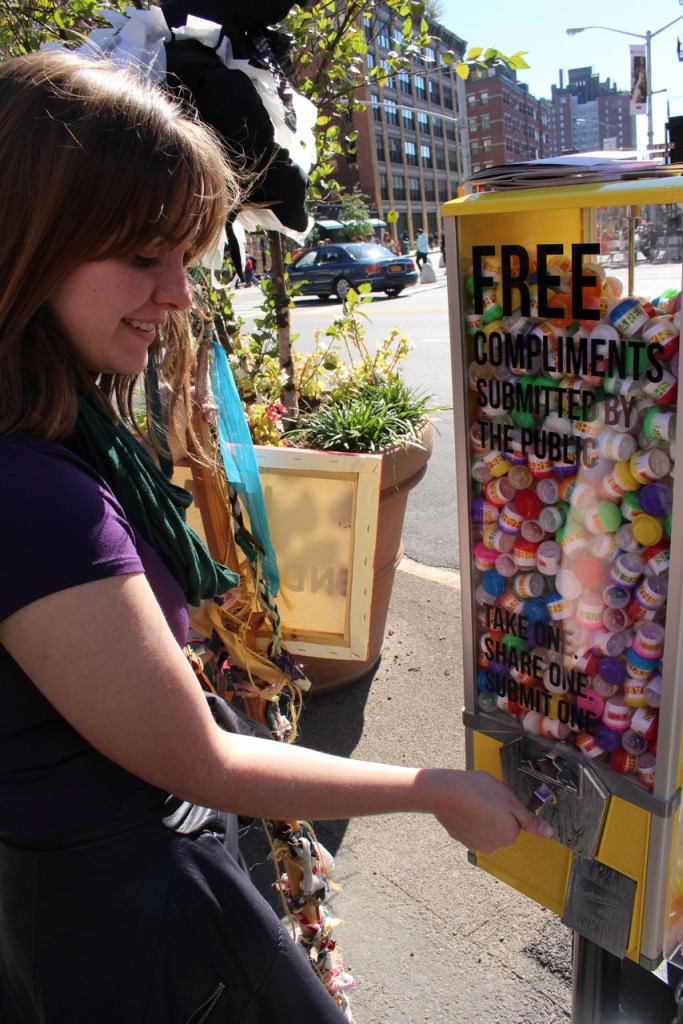 Getting compliments / by Alley Deese
The importance of getting lost
By Lu Xu
The first thing that came to my mind as I was walking on 14th Street in Manhattan for AiOP was that projects and artists blended in with the busy street scene so well that I started to doubt whether or not a window display with torn advertisements at the next street corner was an art project. This ambiguity was powerful. It allows art and everyday life to flow into each other, back and forth, in different ways depending on who was viewing the works.
Among many intriguing projects, I was especially drawn to Daniel Bejar's Get Lost!, which changed subway maps, signs, and place names in the NYC subway trains and stations so that they recalled what they were like before the colonial intervention in 1609. For example, the subway station sign changed from "Brooklyn" to "Breuckelen" at the West 4th Street station, "Manhattan" to "Mannahatta."
The names were very effective to me as a working time machine. I still could recognize the names, but I had to obsessively read them out in my mind slowly. This process slowed down my pace in the midst of fast traffic and rush of time, immediately drawing me back to the particular time period. I once again reflected on the history that I tend to take for granted. At different moments, I was lost in my thoughts and curiosity. It made me crave to know more about the related history as my knowledge about it was limited.
Nevertheless, my imagination was agitated; I physically felt as though I was standing on the land in 1609, penetrating through the concrete of that subway station. In the next minute, all the familiar imageries that surrounded these signs re-registered in me, instantly pulling me back to where I was standing, as if nothing had happened. But that experience had imprinted on me, improvising etches within me to this day when I chew my oat breakfast, when I stroll on the pavement, and when I…
Lu Xu is the curator of the UNCG Gatewood Art Gallery and a recent MFA graduate at UNCG; she joined the honors class for the New York trip.