by John Critelli

Photos courtesy of Carmelo "Snow" Sigona.
This controversial tribute to Trayvon Martin is located at the Messina Deli in Elmwood Park, New Jersey.
The mural drew criticism as soon as it went up in March.  Some residents and city officials demanded its removal, saying such art is associated with gangs.  Other residents said they were fine with it.
John Quinn, the building's owner, gave the artists permission to paint on his building.
The mural was defaced earlier this month, when someone covered the hooded character with white paint.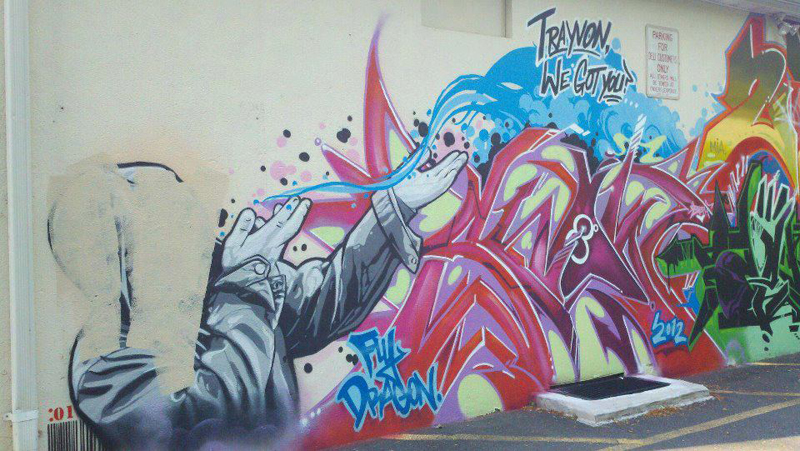 The defaced mural
We recently interviewed three of the mural's five artists: Carmelo "Snow" Sigona, Joe "JOE 01" Iurato, and Luis "2TEK" Mejias.  Here is the (abridged) interview:
AiOP: Who or what does the hooded figure represent?
Joe: I have been painting this character for a few years now. While it's mostly been based on self-portraiture, I began removing the face in hopes that people connect with it personally. Maybe they can see themselves under the hood.
It's always difficult for me to explain the true nature of it, but I often equate it with being a search for faith.
These times are difficult to get ahead in, regardless of where you are in life – whether you're trying to pay for school, keep some sort of job stability, or raise a family.
There's a point every one of us asks something or someone to guide and comfort us, to give us a clue as to where to go and what to do next.
Could be delving deep within yourself, a higher power, a friend, or family member. That's what this character is about. He's always at a crossroads somewhere between victory and defeat. In this case, he represents a letting-go, a freedom of the mind and spirit.
AiOP: The building's owner, John Quinn, supports the mural. How did you get his permission?
Carmelo: I met with him and asked; he ok'd it. John Quinn vehemently patrons the arts.  We are all grateful for his support.
AiOP: Did you expect the mural to be so controversial? Why or why not?
Carmelo: I thought there might be some flack, just because it was 'graffiti-styled' art. But I did NOT think there would be such ignorance about an art piece like this.
It was not done without taste… no bullets, no guns, no blood or depiction of violence.
Joe: No, I didn't. I grew up a few blocks away, my family used to run a catering business out of that deli many years ago. What's happening right now is not the [Elmwood Park] that I know.
The [Elmwood Park] that I grew up in was diverse, rich in ethnicity and culture – and not perfect by all means. I just don't get it.
AiOP: Why do you think so many people associate street art with gang activity?
 Joe: I've learned that people are completely afraid of things they don't understand and can't relate to. Rather than research and draw their own honest conclusions, they go along with the picture the herd has painted.
I often to say that people are content being misinformed.
Luis: Since a spray can is being used, it's portrayed to be vandalism. Gang members normally mark their territory by putting up a tag and that is [very different] from graffiti .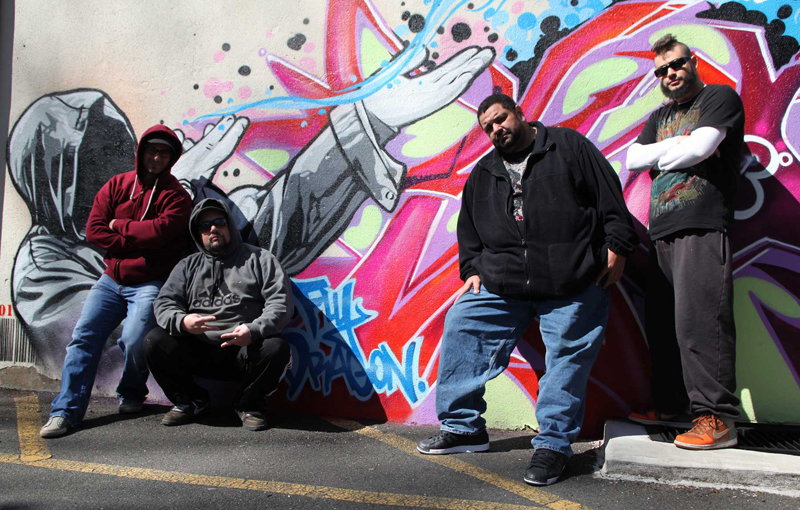 Four of the mural's five artists
AiOP: How would the reaction have been different if the mural had gone up in Newark? Why?
 Carmelo: Ha. Because it's the "hood!" Who cares? Right? That's that destructive and racist attitude that perpetuates most of our problems.
Joe: I think the reaction would be different in any large city. Not everyone will like it, but if it's legal, they probably won't contest it.
This type of art is part of the culture. It's a piece of the fabric that defines the city.
AiOP: Why is it important to have a visual tribute to Trayvon? What did you accomplish with art that couldn't be accomplished any other way?
Carmelo: I think art has always been an integral part of society.  Art brings together and creates or captures the public's voice or ideas.
This piece expresses the voice of many people and their protest of being forced to live with violent tragedy and injustice as part of their lives. No one wants to live with that.
Art, especially graffiti and street art, are a highly visible and therefore, highly scrutinized form of art. People can sometimes be scared of the message and the power it can wield.
AiOP: Do you think the town will succeed in removing the mural? Why or why not?
Carmelo: I'd like to think that our common sense will outweigh our ignorance but you never can tell when it comes to politics and bureaucracy.
Joe: I don't know, but I think we should challenge them if they continue to try. At this point, it's not really about a Trayvon dedication, the artists, or the work itself.
It's about every public artist who has been forced into a corner wrongfully and didn't have enough visibility to do anything about it. For some reason, we have the media's attention, and I feel like we carry an obligation to our fellow artists to do something with it.
What's happening to us is unconstitutional. It's a violation of our rights. We had permission to paint this wall, which is on private property. We did nothing illegal. Nothing wrong.
It's not advertising for the deli, and it's not vandalism. It's art. And had it been a meadow with flowers and two little kids chasing a butterfly, I can assure you there'd be no problem.
Bottom line is: When we begin censoring creative expression in our communities, we fail our children's future and our forefathers' vision for this country.
AiOP: Is there anything else you would like to tell us about yourself, your fellow artists, or the mural?
Carmelo: We have been called gangsters, criminals and the like. We are all positive, contributing members of the communities we live in. We work with kids, participate in charity work and raise families.
Our works have been featured globally and in numerous museums and galleries. We just want the freedom to continue to express ourselves and the issues of our time.
We all may have started out like "a Trayvon," but we have all grown into good men with good hearts and spirit.
Unfortunately, tragedies like Trayvon's that cut a life short will deny us the opportunity to see what the boy may have grown to become.  And none of us can ever know the answer to that.
Luis: People need to understand every artist on this mural is from another race/culture and at the end of the day, we united as one, brought together through the love we all have for art.