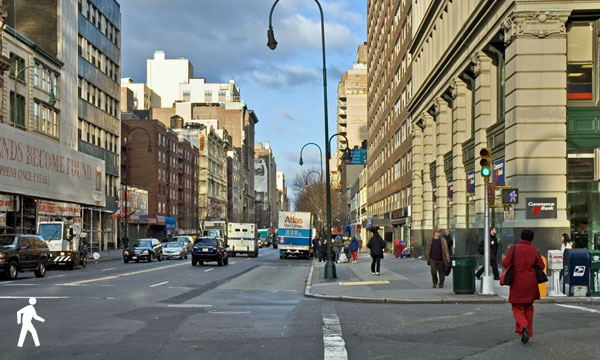 PEDESTRIAN
During the month of October 2008, the fourth annual Art in Odd Places will present Pedestrian on 14th Street, Manhattan - the great divider between uptown/downtown and highbrow/lowbrow. From the East River to the Hudson River, artists of all mediums will encourage the masses of daily pedestrians to rediscover this corridor of diverse commerce, including Union Square, historical site of social and political activism. Projects will explore connections between public spaces, pedestrian traffic, and ephemeral transient disruptions. Like a scavenger hunt, New Yorkers will use a map to discover art in unexpected places along this amazing street.
ABOUT
Art in Odd Places

Art in Odd Places reminds us that public spaces function as the epicenter for diverse social interactions and the uncontrolled exchange of ideas.

Ed Woodham, Director & Curator
George Spencer, Curator
Joseph Alexiou, Assistant Director
David Bunde, Web Designer
Jorge Garcia, Map Designer

Interns:
Idris Brown
Khadijah Brown
Laura Godshall
Tavia Sanza
Ashley Spierer

Art in Odd Places is a project of GOH Productions. Bonnie Stein, Executive Director.
DONORS
Please help support Art in Odd Places and add your name to our donors list:
Anonymous (3)
Alyssa Abrahamson
Ricci Albenda
Alice and Nick Alexiou
Michael Allen
Cookie Brindle
Scott Burland
Greg Fuchs
Phil Hartman
Chris Holstad
Susan Lyddon
Angela Muriel
Yoonhye Park
Sheffield LLC