2014 was an exciting 10th year for Art in Odd Places (AiOP). The New York City festival was the most highly publicized one in recent years, being covered by major news outlets such as Hyperallergic, Vice, and Gothamist. One of the biggest draws to the festival was artist Jim Dessicino's statue of Edward Snowden, which itself garnered even more attention from outlets like Business Insider and Buzzfeed.

The success and visibility of AiOP 2014: FREE is the result of co-curators Juliana Driever and Dylan Gauthier, who not only helped select a unique and engaging assemblage of artists, but also drew other socially and artistically engaged collaborators, such as Free University, into the AiOP foray. The Free University program, along with many of the other puplic programs of the festival, also could not have been possible without our Public Programs Coordinator Meredith Degyansky, who herself participated in the festival as The Work Intern. Curatorial Manager Claire Demere, curated THE ARTIFACTS, an exhibition looking back at the last 10 years of AiOP. Through an invitation from Spontaneous Interventions, THE ARTIFACTS was a 2 week exhibit in September on Governors Island that showcased ephemera and objects from past festival projects. The first weekend of this exhibition also featured talks and panels organized by Meredith featuring Founder & Director Ed Woodham, curators Radhika Subramaniam and Christine Licata, and past festival artists.
Ed also brought the festival to Indianapolis, Indiana, where it was positively received, helping to spread not only AiOP's mission further (a phenomenon that in recent years has been taking place in diverse locales such as St. Petersburg, Russia, Dee Why and Manly Beaches in Australia, and Greensboro, North Carolina), but also create more awareness of and influence for public art practice. The AiOP Indy Curatorial Team included Charles Stanton, Scott Stulen, Jim Walker, Anne Laker, Lindsey Lord, Julia Moore, Nicole Markle; this festival was also made possible by the leadership of Big Car with partners: Classical Music Indy, Indianapolis Museum of Art,  Arts Council of Indianapolis, and others.
We here at AiOP are excited for the 2015 festival RECALL and are already working hard on putting everything together. Stay tuned and refer to the website and our social media for any and all news, calls to action, and upcoming events! In the meantime, please check out the links below to read up on some of the buzz that had surrounded AiOP in 2014. Finally, AiOP 2014 could not have been possible without the continued help and support of our Blog Editor/Head Writer Matthew Morowitz, Social Media Manager Claire Choi, Website Designer+Developer Carey Estes (who was also announced as an honoree at the Webby Awards for his work on the AiOP 2013 festival website), Program Manager Sarah Bronza, Curatorial Assistant Sandra Carluccio, Program Guide Designer Jorge Garcia, Community Liaison Laura Forero, Volunteer Coordinator Elana Grossman, Interns Elaine Choi and Monica Hunasikatti, Fiscal Sponsor Support from Bonnie Stein and Vit Hjordis and everyone who volunteered to make this year's festival possible.
See you next year!
These links below lead to stories that are related to the New York City festival:
Hyperallergic- An Edward Snowden Statue, Slow Dancing with Strangers, and More Art in Odd Places
Gothamist-Enjoy Art In Odd Places All Along 14th Street This Weekend
Time Out New York-Art will make 14th street odd in this year's Art In Odd Places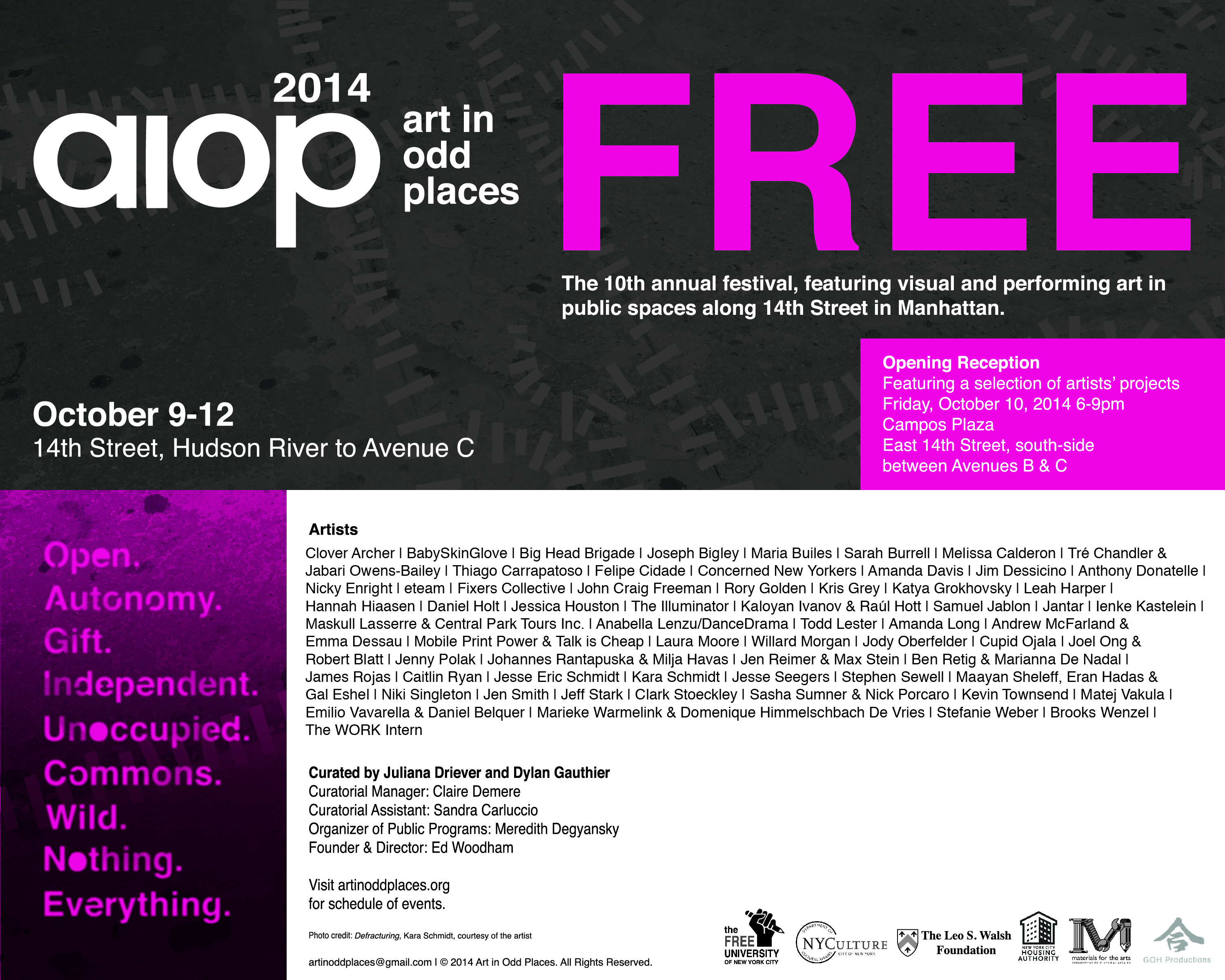 Town & Village Blog- Art in Odd Places returns for 10th year
 Residency Unlimited-RU Residents participating in 2014 Art in Odd Places
The Indianapolis festival garnered a lot of press in it's own right and you can read all about it below:
IndyStar-Art in Odd Places hits Downtown
WishTv-Art In Odd Places comes to Indy
Nuvo-Art in Odd Places comes to Indy 
Indianapolis Monthly-Art in Odd Places Comes to Indy
BigCar.org-Art In Odd Places Indy
IUPUI Music and Arts Technology-Munson presents A Room With No Window at Art in Odd Places Indianapolis 2014
 Indy Arts Guide- Art in Odd Places
The Traveling Museum-Traveling Museum > Art In Odd Places Indianapolis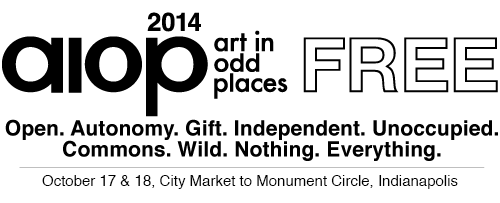 Probably the most well publicized piece from the festival, here are only a handful of the many articles out there discussing Jim Dessicino and his Edward Snowden statue:
Business Insider-There Is An Edward Snowden Statue In New York City, But Hardly Anyone Recognizes Him
Buzzfeed-There Is A Nine-Foot Tall Statue Of Edward Snowden In New York City
Vice-Chatting with the Artist Who Turned Edward Snowden into a Mobile Sculpture
artnet-Did You See New York's Short-Lived Edward Snowden Statue?
Gothamist-Check Out A Statue Of Edward Snowden In Union Square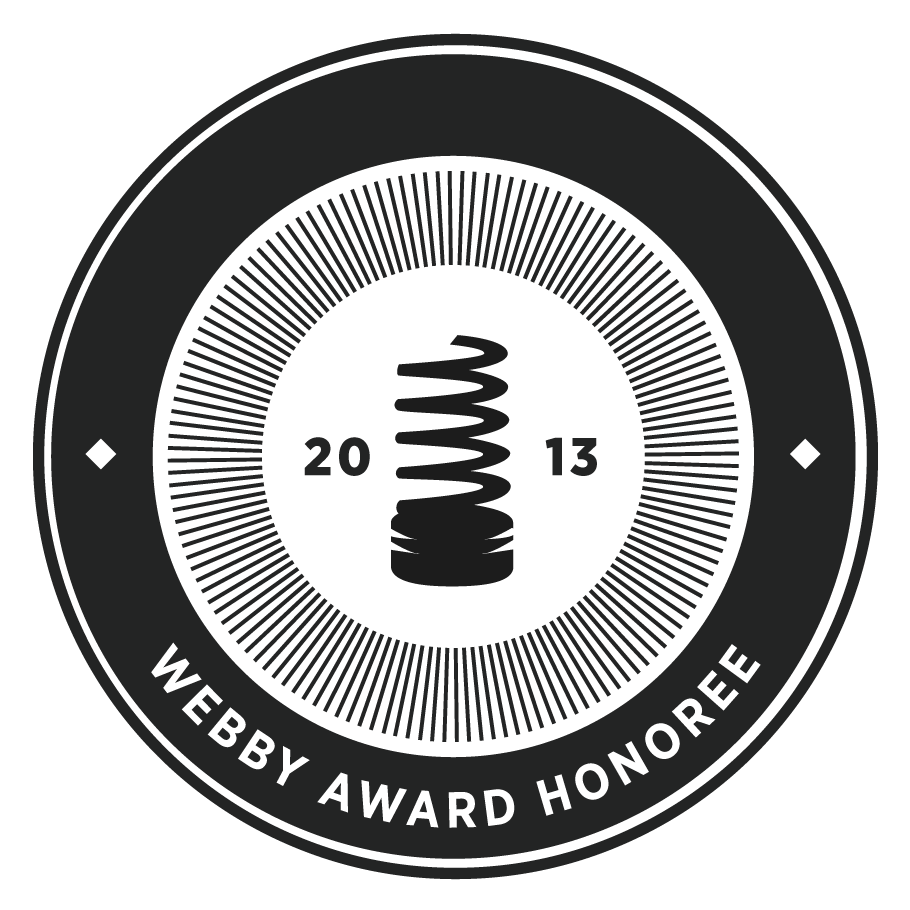 Neural-Edward Snowden Statue in Union Square Park Celebrating What Some Would Like To Forget 
RT-'Seen' in New York: Edward Snowden on the run again
The Review-Grad student's Edward Snowden sculpture attracts attention in New York City
Town & Village Blog-Edward Snowden statue booted from park
Leah Harper's piece, "Complimentary," was also well received and DNAinfo wrote a wonderful feature on her work:
DNAinfo-Toy Dispenser to Give Out Free Compliments Under the High Line
Fox 5 News-Free compliments on 14th Street