Art in Odd Places (AiOP) 2015: RECALL is our 11th year and all about looking back at the artists and projects that made these festivals possible over the years. For RECALL, AiOP has invited back over forty artists to either present their original work or produce a completely new one that explore artworks in all disciplines outside the confines of traditional public space regulations. As we gear up for the festival next month, here is a preview of some of the works people can expect to see along 14th Street in October.
Your name/collaborative or group name
ALICIA GRULLON
The title of your project
REVEALING NEW YORK: THE DISAPPEARANCE OF OTHER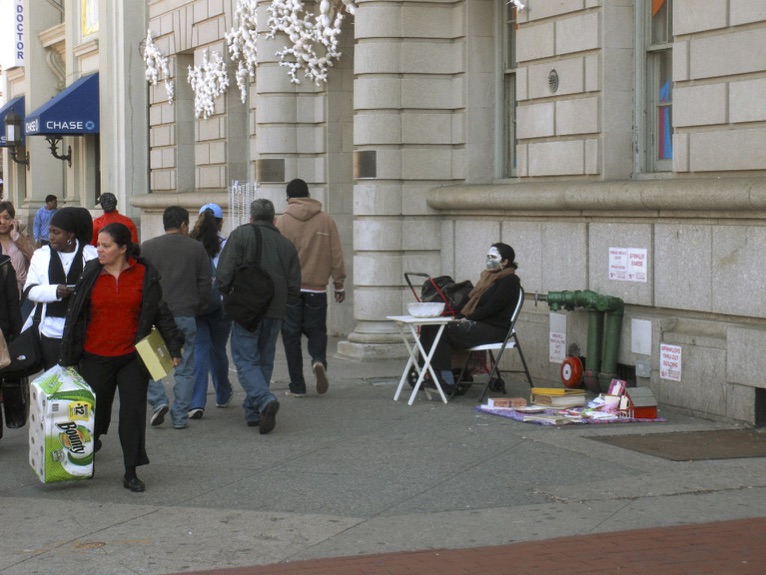 REVEALING NEW YORK: THE DISAPPEARANCE OF OTHER, Queens.  Photo courtesy of the artist.
Links to past AiOP blog features on your works
http://www.artinoddplaces.org/percent-for-green-art-and-environmental-activism-working-together-to-create-legislation/
http://www.artinoddplaces.org/2011/artist.php?subj=75
What was the first AiOP festival that you had participated?
PEDESTRIAN- 2008
RITUAL 2010
What are your thoughts on participating in an AiOP festival again?
It's always exciting to be a part of AiOP. The idea and concept around it are very much inline with my own ideas about public space and the commons being fully used by the people. Art is a great way of exercising that right. AiOP exemplifies how it can work subversively and very public simultaneously. Although many of the projects are ephemeral, their impact is felt on 14th street not felt in a very long time.
Why is 14th Street a compelling site for creative response?
14th street is busy, noisy, and changing. Having grown up in NYC, that area has drastically transformed from its more humble and activist beginnings with labor unions gathering in the park to immigrants on the east side and meat packing business on the other end. Those working class roots are gone. What you find more of on 14th street is young privilege from the near by universities, as well as overall extreme wealth and real estate. It creates an environment preoccupied with speculation, investment, and money. Yet, there is still a huge amount of poverty on the outskirts of this epicenter. NYCHA, the homeless, and the last few standing rent controlled apartments. And all these elements cross paths aware of each other. Some much more than others. To get a response from within this dynamic is exciting because there is so much to crack through in order to get a viable, if not authentic response.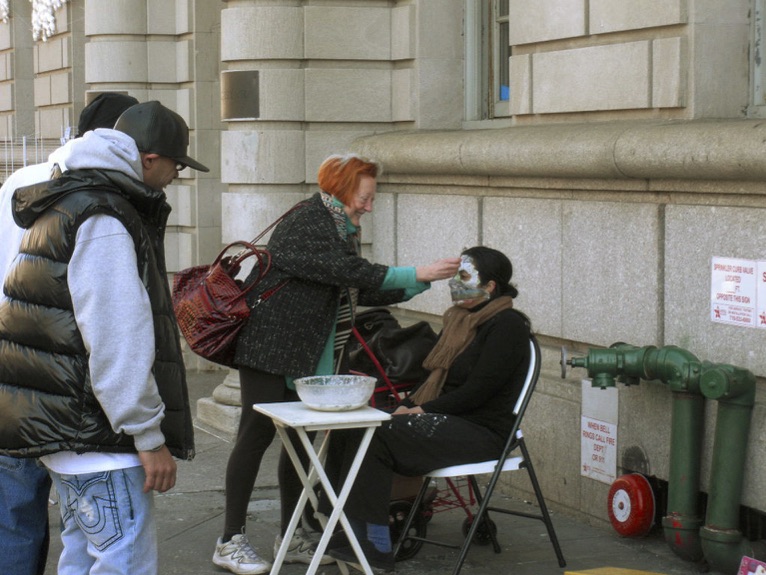 REVEALING NEW YORK: THE DISAPPEARANCE OF OTHER, Queens.  Photo courtesy of the artist.
Are you presenting the same project as last time? Are you incorporating anything you learned from the last staging into this year's festival? What, if anything have you changed? If presenting a new piece, why did you decide on something new?
I will be presenting the same piece from Pedestrian 2008- addressing the changing NYC landscape to a city I am no longer recognizing. Gone are the bodegas, small book shops, affordable housing, community centers, non-profit art spaces, small businesses-from the very odd to conventional, small diners, coffee shops, and overall the differences that have marked NYC unique from other places for so many years.
What reactions did you see the last time you staged your work on 14th Street? What reactions are you hoping to draw from the public this time?
The last time I performed this piece people would tell me what they were going through. That is making ends meet…finding it hard to survive. At other times, people simply stood with me. Together we were Present.