This has been an historic week for LGBT history and rights! In a ruling today, the Supreme Court decided in favor of nationwide marriage equality, while on Tuesday the Stonewall Inn was designated a NYC landmark. We here at Art in Odd Places (AiOP), in honor of these events, the upcoming Gay Pride Parade on Sunday, and in the spirit of this year's festival RECALL, have decided to take a look back at projects from the past couple of years that tackle LGBT identity and politics.
Jennifer Smith- Free Kisses For Allies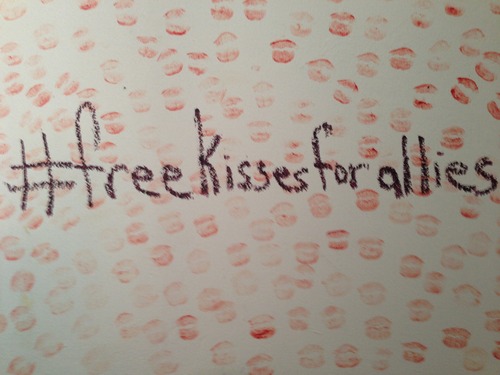 Photo courtesy of the artist.
Jennifer Smith, in addition to being an artist participant for AiOP 2014: FREE, was also our former Digital Content Editor. Her project, Free Kisses for Allies, was, "a participatory performance that challenges passersby to take on the identity of an "ally" in order to receive a free kiss from an artist manning a makeshift kissing booth. The color of lipstick the artist applies to administer each kiss represents a certain marginalized group." Passerby's would then choose what color they wanted their kiss to be, demonstrating their allegiance with that group or issue. There were three and the colors and corresponding issues were: Pink- Transgender, Blue-Indigenous Peoples, Red- Sex Workers.
Kris Grey- Procession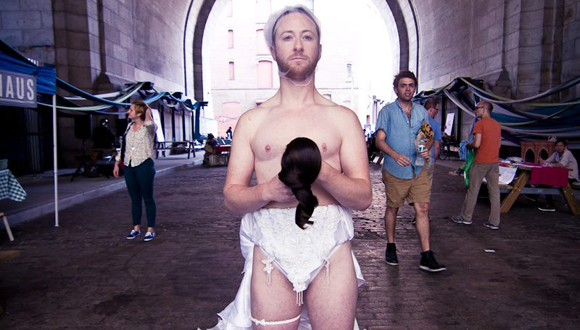 Procession.  Photo courtesy of the artist/AiOP.
Another AiOP 2014: FREE artist, Kris Grey's project Procession was, "a durational drag performance walk inspired by Jean Carroll, the bearded lady of Coney Island. After fifteen years of courtship with John Carson, who would not marry Carroll because of her beard, she removed it––transitioning from bearded lady to tattooed lady. For Procession, the artist dresses in a kind of wedding drag and walks the length of 14th Street. This walk is in solidarity with those who make a body and life of their own design despite the social pressures to normalize, assimilate, and conform."
Ed Woodham- Homopropganda Series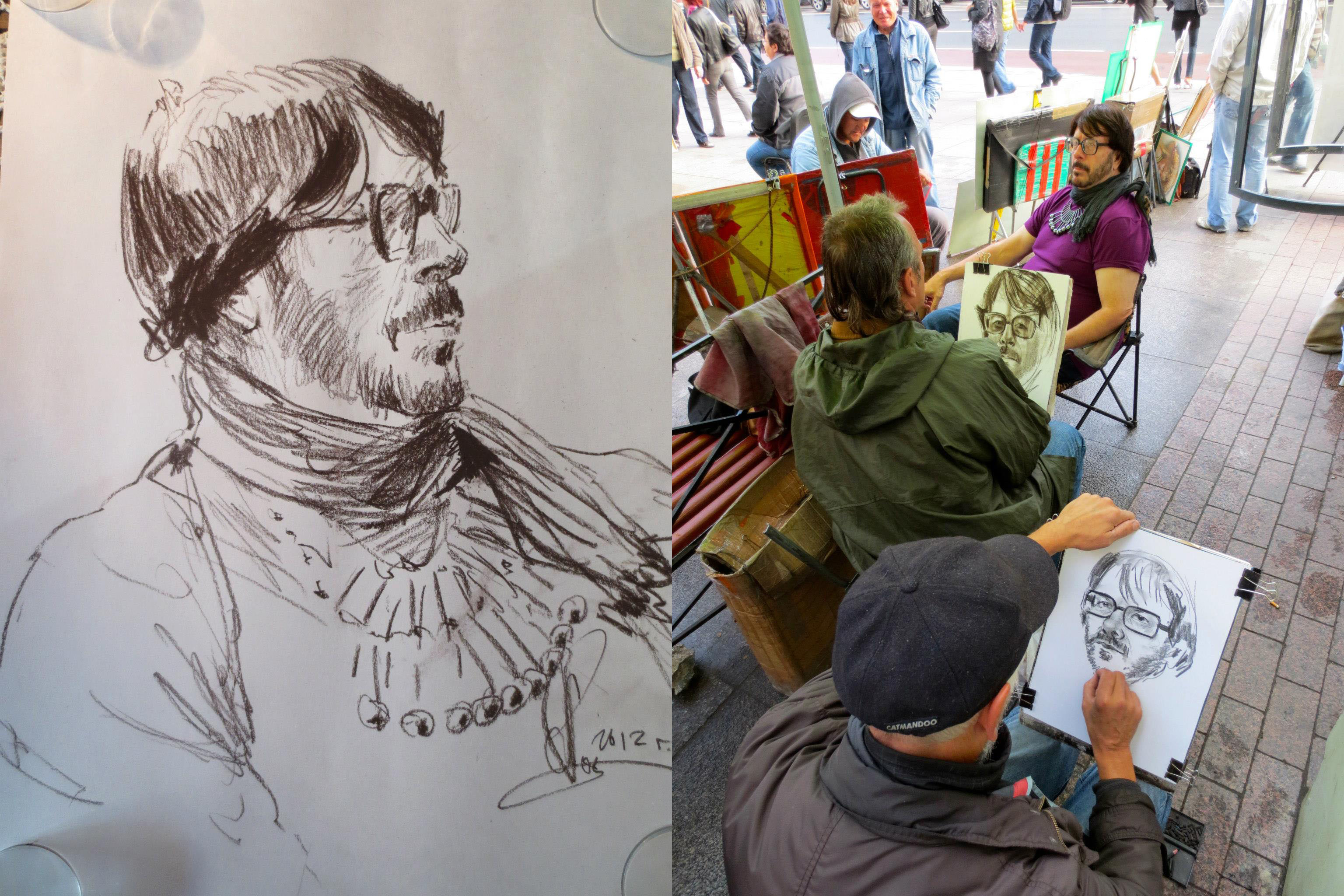 Sketch of Ed by Russian artist. Ed being sketched. Photo by Terry Hardy.
AiOP Founder and Director Ed Woodham was invited in 2012 to come to St. Petersburg, Russia to participate in the first ever large-scale festival for public art in the city, Art Prospect. Here is an excerpt from a previous blog feature that discusses Ed's Homopropoganda piece that was inspired in reaction to the anti-gay laws Russia had been passing:
"For Ed, coming to St. Petersburg was not only an opportunity to share AiOP's mission but also a chance "to create a subversive, gay expressionist performance as part of his Homopropoganda series." Right before Ed came, Pussy Riot had just been imprisoned and the governor of the city declared being gay to be illegal. Having heard this news, Ed knew he had to do something "for his own well-being." So he took on the role of Fancy "a flaneur of sorts who was 'out' on the town," donning an outrageous costume, a wig, flamboyant jewelry and, with the help of Terry Hardy, crafted a photomontage of his character walking the streets of St. Petersburg and posing throughout the city."